Does size matter? When it comes to your business card, definitely! We all have different requirements from our business cards, whether that be the amount of information we want to include or the quality of the stock that they're printed on. With a wide range of options available, printed double or single-sided, it's important that you find the size or stock that's right for you and your business.
To help you do this, we've put together a handy guide to our business cards sizes and stocks. From the timeless Standard to mighty Mini, there's a style to suit all.
Standard
Dimensions: 85mm x 55mm
An oldie but a goodie; this standard-sized business card will suit all designs and is the go-to choice for most. Similar in size to a credit card, it fits nicely in your purse or wallet, so it will always be on hand to whip out whenever you see an opportunity to network.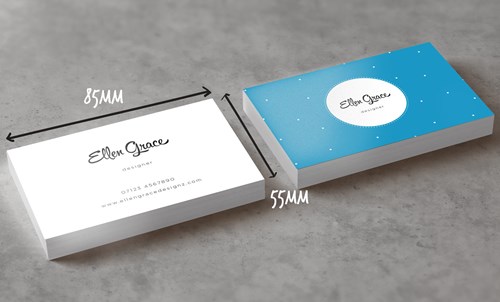 Stock: Silk
So just how thick is your Standard business card? This one is printed on thicker-than-your-average 450gsm Silk stock, with a choice of three laminations if you're feeling fancy. With plenty of business card templates available, it's easy to create a memorable design that will make your service look anything but, erm, standard!
Top Tip: The Standard works wonders as a loyalty card too, so why not reward your customers for their valued repeat business?
Square
Dimensions: 55mm x 55mm
These days, it's definitely hip to be square! At least where your business card is concerned! This stand-out size is quick to grab the attention of any potential clients or investors. As it's the same depth as the Standard business card, there's more than enough room to include your contact details, as well as your logo, Facebook name or Twitter handle.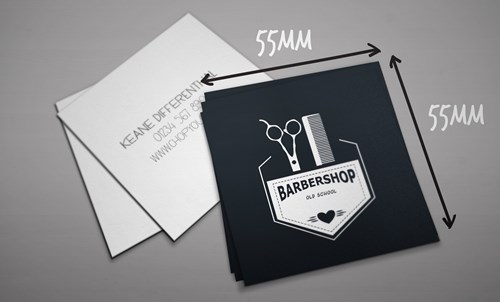 Stock: Silk
But what are our Square business cards made of, you ask? None other than tough stuff, of course! Printed on top-quality 450gsm Silk stock with lamination available, there's nothing more equipped to make a memorable first impression; so perhaps it's time to start thinking inside the box?
Top Tip: Tilt your text 45 degrees and voila! You have yourself a snazzy diamond-shaped business card!
Mini
Dimensions: 25mm x 85mm
Our slim-line card may be small but it's sure to make a big impression! With its modest and unique specifications, there's just enough space on the Mini business card for all your vital details, without any room for unnecessary waffle that nobody will read.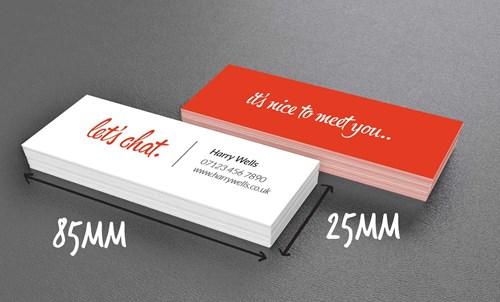 Stock: Silk
Printed on sturdy 450gsm Silk stock with a choice of Matt, Gloss or Velvet lamination, the Mini business card lends itself beautifully to alternative layouts and gives the impression that you're not afraid to try something different.
Top Tip: Use your Mini as a social media calling card to boost your following. Have your Instagram name or Twitter handle on one side and your business name and tagline on the other.
Metallic
Dimensions: 85mm x 55mm
It may be standard in size, but it certainly isn't standard in style! The Metallic business card is dressed to impress and will add a touch of 'dazzle' to your networking.
Stock: Ice Gold
Produced using quality 350gsm Ice Gold stock, this pearlescent business card has an air of decadence that will flatter any design or layout. Hand it out to potential customers at trade shows and networking events to cut through the noise and make a shining first impression.
Top Tip: If your service is tailored to entertainment or leisure, the Metallic will help to enhance the feel of luxury and fun. After all, nothing says footloose and fancy-free better than a shimmering business card that catches the light!
Uncoated
Dimensions: 85mm x 55mm
The standard-sized Uncoated business card is a classic, no-nonsense marketing tool. Ideal for any design and with plenty of room for your all-important details, it does exactly what it says on the tin by getting straight to business!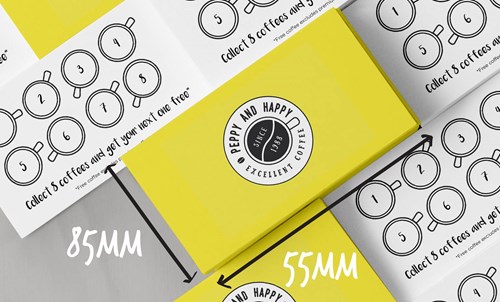 Stock: Uncoated
Printed on 350gsm uncoated stock, it can easily be written on without any smudging, making it perfect for loyalty or appointment cards to keep your customers coming back.
Top Tip: Use the Uncoated as a voucher to send out in the post with promotional packs. Pop your company details on, along with an offer or voucher code to encourage potential customers to try out your service.
Now you're an expert on business card sizes, why not have a go at our highly accurate quiz 'Which Business Card Are You?' And while we're on the subject of sizes, have you seen our Guinness World Record breaking big business card? If giant-sized is your cup of tea, you can get your hands on one here!