You heard it here first – the days of earning 10p for every online survey you answer are over! If you're dedicating 2022 to trading your free time and skills for hard cash or looking at how to monetise an online audience, we've gathered all the best ways to top up your income. From side hustles to full-blown business ideas, here are the biggest start-up trends and ways to make extra money in 2022.

How to Make Extra Money from Home in 2022
1. Monetise an audience
Monetising an audience is certainly no easy feat, but in recent years is becoming a much more viable option for content creators. With social media platforms such as TikTok taking the world by storm during the pandemic, aspiring business owners are presented more opportunities to find their niche and sell to them.
Some influencers on the viral video-sharing platform earn up to $5 million dollars, and while that is unachievable for the majority of users, there are still many who use the app to supplement their income.
A great example of a business that used TikTok to build up its brand is Nice Shirt. Thanks!, an apparel company that asks its customers to describe the T-shirt they want. They then interpret the design based on how they perceive the description, and hilarity ensues.
User-generated content was a huge marketing tactic employed by the 18-year-old and 21-year-old founders of the clothing business, as their customers took to TikTok to share the business's creations.
TikTok isn't the only way to monetise your online audience. You can also try:
Growing an eCommerce website and selling your products online
Using Instagram and Facebook shopping posts
Running ads on your YouTube videos
Adding Google AdSense to an active blog
Shout about your latest products in videos and podcasts
Link Pinterest posts to your online shop
2. Print-on-demand business
Print-on-demand means working with a supplier to customise printable products (such as T-shirts and mugs) with your designs to sell. One of the best things about setting up a business with a print-on-demand supplier is that they handle a lot of the hard work for you, including printing the item and shipping it to your customers.
All you need to do is set up an online shop where customers can place their orders. Then, go to a print-on-demand website, choose your product and upload your design or logo to the garment. When a customer places an order on your website, all you need to do is print off what they've ordered and the print-on-demand company will print your design and send it off in the post.
3. Subscription boxes
The last few years have seen an incredible rise in the popularity of subscription boxes and services, meaning it's the peak time to set this kind of business up. In the past, subscription services were mainly reserved for magazines or TV packages, but these days it's not uncommon for us to have subscriptions for everything, from streaming music and TV shows to clothes, food and books.
One of the biggest factors driving the boost to the subscription model of business is price and value for money. Businesses like the Dollar Shave Club sold razors cheaper than traditional brick-and-mortar shops, and they were delivered directly to the customer's door.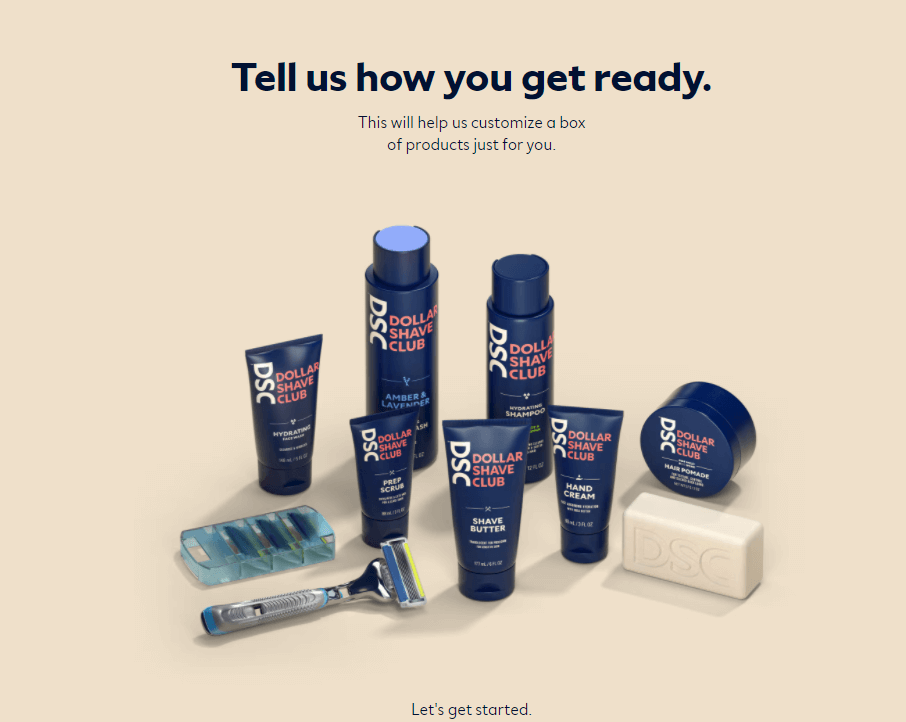 (Source: Dollar Shave Club)
As well as being convenient, these services are often personalised, or even curated, to our likes and interests. Take Spotify as an example: the algorithm creates perfectly tailored playlists for users with paid accounts to enjoy.
As for the business, subscription services provide benefits such as predictable revenue, meaning you can budget accordingly, and lower customer acquisition costs, as customers pay you regularly, you won't need to convince them to make additional one-time purchases.
The most successful subscription businesses fall into one of two categories:
A replenishment model – subscribers receive the same products each month or cycle, such as the Dollar Shave Club, or HP Ink subscription. The idea behind this model is that the consumer receives refills of the product once they've used their initial supply.
A membership model – subscribers get access to exclusive products or content in exchange for a monthly or annual fee, such as the online streaming service Netflix.

4. Freelancing
Freelancing isn't new. But with nearly half of the UK workforce going remote during the pandemic, this option has become a lot more practical and appealing to workers who found working remotely gave them a better work-life balance. Freelancing has an added benefit of flexibility, as you are able to choose the number of hours you work and when. However, it also means that you're fully in control of your work schedule, so managing your time will be crucial.
Nearly every role that a business would hire for can be performed as a freelance service to a client that doesn't have in-house capacity. Some of the most popular freelance services include:
Creative writing and copywriting
Graphic design
Marketing
Transcription
Software developer
PR manager
If you've already developed skills (and built up a portfolio) during in-house employment, this can make the transition to freelancing even easier as potential clients will be able to see proof of your previous work.
5. Virtual assistant
With the number of online businesses growing at record speed, there's been an increase in demand for virtual assistants to support their growth. Just like a traditional personal assistant role within a business, a virtual assistant could find themselves performing a wide range of admin tasks to support a business, including:
Responding to emails
Setting up meetings
Organising team training
Managing online or social media content
Bookkeeping and invoices
Paying bills
Planning business trips
Content editing
Each VA will have their own set of skills and experience, but the key job for this role is to streamline tasks to help CEOs run their businesses more efficiently. This is an excellent way to make money working from home as you can choose the right role to suit your availability and experience.
6. Pet services
A total of 3.2 million households have acquired a new pet since the start of the pandemic. More than half of new pet owners were found to be young people between the ages of 16 and 34 – AKA a huge bulk of the workforce that are now finding themselves in a position where they need to return to the office.
An increase in pets, means increased demand for walking, training and other pet services to help serve this demographic.
While many have created services to help first-time pet owners find their feet, such as creators of the Paway app which shows pet owners the safest neighbourhood walks for their dogs, there's still a lot of demand for those who have less free time to look after their pets now that they've returned to their place of work.
To make some extra cash during the day, why not set up a housesitting service where you visit, walk and feed these pets? Websites like Holidog allow you to list your pet-sitting services, including your availability, your location and what type of pets you're able to provide care for.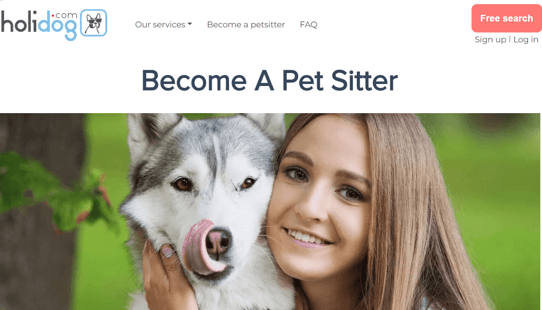 7. Reseller
Not everyone is born to create their own new, revolutionary products. That doesn't mean you can't still make money from selling products from the comfort of your own home.
A reseller buys products directly from a manufacturer, liquidator or other retailers at wholesale price, and then sell them on to their own customers at a higher price (known as the retail price) for a profit.
One of the benefits of not creating your own products to take to market is that it saves you a lot of time. You won't need to go through product development or building up an audience for the brand from scratch.
Examples of resellers include supermarkets and corner shops, computer retailers, furniture shops and car dealerships, but if you can find products at the right prices, it's easy to make profit this way in a range of different industries.
8. Vintage clothing
We've already mentioned reselling above, and one way to make money from reselling is through vintage clothing – especially if this is an area you already have an interest in. Vintage clothing is a huge trend right now, especially as many consumers are keen to cut down on buying into the fast fashion industry. Second-hand products and upcycling are all alternative solutions for green-minded customers.
If you've got a good eye for second-hand fashion finds, you can use your savvy-shopping skills to turn your bargains into profit. Next time you go thrifting, keep your customers in mind. Then, set up an online shop to sell your discoveries to vintage clothes lovers at a higher price.
9. Rent out your space
Most people have got a spare room but would never think of renting it out. But this is a really easy way to make passive income with very little effort. Websites like Airbnb allow you to list your spare rooms or properties out to renters, whereas sites like Just Park are great for renting out parking space if you live in a busy area, like near a football stadium.
Alternatively, why not host foreign exchange students who'll be looking for somewhere to stay within their budget? If you've got unused space in your home or in another property, make sure you're utilising it to make money in 2022.
10. Sell CNC projects
A CNC router is a computer-operated cutting tool that can be used to cut various materials such as wood, metal, plastic and glass into complex shapes. This means you can carve out various creations to sell online, such as home décor, office supplies, toys, cake decorations and even jewellery.
CNC routers work in a similar way to 3D printers, where you use software to create 'routes' for the tool to cut along.
The routers themselves can cost as little as £300, meaning the upfront costs to run a small business from home using one is minimal. But when setting your product prices, you'll need to consider the material costs as some materials, such as wood, will be cheaper than others, like aluminium.
11. 3D printing
3D printing is being used by more and more businesses. Whether it's to create cost-effective prototypes for manufacturers before the final product is made, or consumer goods like ornaments, being able to print a design using printing filament can be a great option for technology-minded entrepreneurs to make money at home.
The price of 3D printers has dropped in current years, with household sized machines available for around £200. Once you've learnt the ropes with the software needed to design the 3D elements, you'll be able to earn back what you've invested in no time. You can offer to make custom jobs for consumers, or sell a product you've designed.
Once you're a pro at setting up designs to print, you can also make extra cash selling those designs to beginners online, which is a great form of passive income.
12. DIY cosmetics & candles
If you're an avid DIY-er, turning your hand to making soaps, bath bombs and even candles can be an effective way to earn extra money at home.
Not only is this type of business low-cost to start, but it also only takes a little know-how to create custom products. Plus, items like soap and candles don't last long, meaning consumers will need to repurchase often. As a nation, the UK spends £1.9 million a year in the candle market, meaning there's definitely an audience for this type of product.
However, there is a lot of competition in these fields, especially with many turning their hobbies into side hustles during the pandemic. To stand out from the crowd, it's essential to target a niche audience. Etsy seller ClassicCandleCo achieves this perfectly, by offering classic literary books and matching candle bundles through their store, making them perfect gifts for book-lovers. It also expresses the seller's creativity and interests while building a brand.
13. Tutoring
Many teachers were required to move their practice online during the Coronavirus pandemic, and some found that they preferred it that way. If you're thinking about making a move to virtual teaching permanently, this is a totally viable option for making money from home.
This type of work is ideal for those already experienced in a specific field or subject but offers more flexibility than a full-time role in the classroom. Although you don't need any particular qualifications to become an online tutor in the UK, it does help to have some in-depth knowledge of your core subjects.
Video conferencing platforms – such as Skype and Zoom – tend to be the most popular way to offer private tutoring services as communicating face-to-face with your pupils is the most effective way to gauge their confidence and abilities in the tasks you set them. But to list your services and find customers, you can use websites like Lessonspace.
Find out exactly how to set up your online tutoring business here.

14. Food business
Over the last decade, the food industry has grown by 14%. We've all got to eat – but it appears that more and more of us are opting to eat out (or order in!) than create recipes from scratch at home. That means there are lots of people willing to pay for various food services, giving plenty of opportunities to foodie entrepreneurs.
Setting up a restaurant or café can be a very expensive way to start a business. However, there are cheaper ways to get into the food industry from the comfort of your own home. For example, you can set up a home baking service or catering company at a fraction of the price.
Here are a few more ideas on how you can monetise your culinary skills:
Brownie boxes
Wedding cake shop
Recipe kits
Sauces
Food truck/stalls
Homemade jams
Coffee kits
Online cooking classes
15. Fitness
As a result of the reduced access to gyms throughout the pandemic, the fitness industry has drastically changed over the last couple of years, giving way to hordes of fitness fans getting their workout fix at home.
With this huge change in how people approach their fitness routines and discovering the ups and downsides of working out at home, there also came a huge opportunity for personal trainers and fitness instructors to offer virtual, online services to help replicate the same support their clients would have previously received in the gym.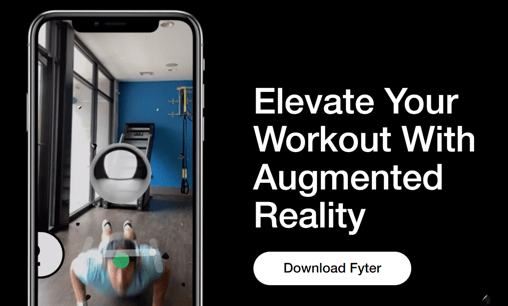 For example, fitness company Fyter has addressed the key drawback to exercising at home (the absence of trainers to give feedback on proper form) by using augmented reality technology to monitor your form and track your progress.
16. Home improvement
With the stamp duty holiday ending, June 2021 saw a flurry of home buying and was the busiest month for buying a house since records began, with 213,120 sales recorded by HMRC. Not only did this mean increased business for estate agents and mortgage advisors at the time, but it also means there's now a huge audience of new homeowners ready to tackle their DIY projects.
Even many of those who didn't buy a house during the pandemic caught the DIY bug, seeing it as a chance to freshen up their interiors.
If you're a painter, decorator or have a passion for DIY, now's the perfect time to earn money doing something you're passionate about! From creating décor to sell online and offering full interior design services to creating DIY tutorial videos, get creative to make the most of this growing market.
17. Create a passive income stream
If you're looking to make a little extra income on the side, you may have heard the phrase 'passive income'. Passive income is a source of revenue that continues after the work is complete – like royalties from a book. There are lots of little ways to earn a passive income in the UK that take up minimal time and effort and can help supplement your main income.
Passive income ideas in the UK include:
Switching bank accounts to make the most of cash switching initiatives and higher interest rates
Earn interest on savings by setting up fixed-rate accounts and bonds
Renting out a room or parking space
Sell digital products, like printable PDFs
Run ads on blog and video content
Sell stock images online
Create and sell online courses
Property investment
This list is not exhaustive and there are plenty of ways to make money from home in the UK – the key is to use your existing skill set and interests and find different ways to monetise them. We hope you've now got plenty of ideas on how to start your new business venture. All that's left to do is empower your business with an iconic brand!