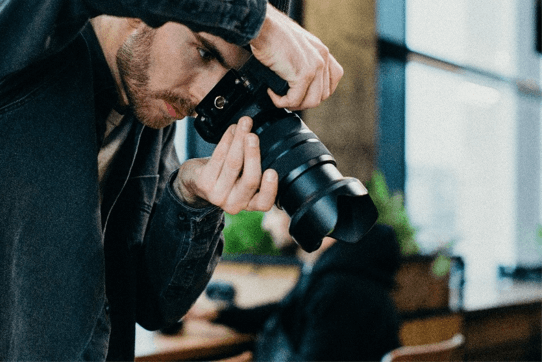 Starting a photography business is a great way to make money doing something you love. Not only does this type of work allow for flexible working hours, varied tasks and the sense of freedom that comes with being self-employed, but it's also a rewarding career.
Due to these desirable benefits, how accessible good quality photography equipment is and the rise in young people turning away from the 9-5, photography is a highly competitive industry that at first might seem hard to crack into.
We've created this step-by-step guide to help you start a photography business that stands out from the crowd.
Step 1: Find Your Niche
If photography is already one of your hobbies, you've probably already thought about what your speciality would be. When deciding what kind of photography you'd like to offer to clients, consider both your interests and what's going to make your service unique.
Market research should be your first port of call when it comes to deciding on an innovative photography business idea. A quick online search of local photographers in your area will bring up plenty of examples of who's already offering what. You could also attend events for the area you want to go into, such as wedding fairs, to see which photographers have stalls set up.
Here are a few different industries you could go into as a photographer to give you an idea of what opportunities are out there:
Wedding
Events
Fashion
Landscape
Portrait/Headshots
Stock photos
Product advertising
Pets
Food

Step 2: Write a Photography Business Plan
Writing a business plan is one of the most important parts of starting any business, and by setting out long term goals for your photography business, including the financials, it'll help you immensely when it comes to pricing for your first customer a little later down the line.
Start off by giving a quick description of your business – who are you catering for? What do you hope to achieve? Is this a side hustle or do you want to grow it to a full-time business? How are you going to do that?
Check out our guide on how to write a business plan to set yours into motion.
Step 3: Set Up Your Photography Business
Next, the legalities for starting a photography business in the UK. To make sure you're paying the right tax on anything you earn, you'll need to register with HRMC as a sole trader on the Gov.uk website.
At this point you'll also be able to register your business name and, if you earn over £85,000 in a year, you will need to register for tax.
If you're setting up a photography business with a partner or team, you'll need to register as a limited company, which separates the business's finances from your own personal ones. Here's how to do this.
Step 4: Invest in Photography Equipment
Kitting yourself out with the right gear will be crucial for your photography business's success. As well as choosing a high-quality camera, it's important to choose something you're comfortable using.
Your starter kit should include two cameras – a good quality DSLR, and a cheaper back up one just in case – a range of lenses depending on your chosen niche, a high-quality flash, a tripod and photo editing software.
Make sure you've created your business plan with these investments in mind, and make sure to budget for investing in new photography tools as your business grows.
Step 5: Branding
Deciding on your niche will make it easier to brand your photography business as you'll have an idea of what kind of design, colours and styles will best appeal to your clients. Once you've decided on your brand colours and fonts, you can create a logo, build a website and get your photography business cards printed ready to start handing out to potential customers.
Your brand is how people will recognise your business, so it's important to pick a style you like and stick to it with all your marketing materials.
Step 6: Create an Online Presence
Building a website is one of the best ways to communicate to potential clients who you are and what you do as well as showcase some of your best work. If building your own website isn't something you're comfortable with, you can invest in a professionally created site or hire someone to build one for you.
Think about the words people would use to search for your business using a search engine and optimise the copy on your website to make it easier for them to find. You should also include your contact details so people know how to get in touch.
You should also create social media profiles dedicated to your business – when choosing which channels to set up on, think about where your customers will be. People planning a wedding might be on Instagram and Facebook, companies in need of commercial photography are more likely to be on LinkedIn.
Step 7: Get Experience
Many customers are likely to want to see your portfolio and reviews of your service before they commit to purchasing your services. If your current photography portfolio is a little thin, you'll need to venture out to build it up.
You could apply for a photographer's pass at an event shoot for a magazine, or ask friends and family if you could provide your services for them – it all depends on what niche you're going for.
If feasible, you might want to try offering your services for free or at a heavily reduced cost to begin with to build your portfolio and reputation.
Step 8: Growing Your Photography Business
To grow your business, you'll need to attract clients by promoting your business. Once you're established, you might find that a lot of your work comes through word of mouth or repeat customers – but in the meantime, marketing your photography business will require a bit more leg work.
As well as using your social media channels to promote your services, you can also network with people in real life. Make sure you have plenty of business cards to hand for when your career comes up in conversation.
You can also research potential clients on the internet, such as websites and publications, and reach out to them via email to let them know what you can offer and a link to your website.
Starting a photography business is a worthwhile endeavour and a great way to make your hobby profitable. Successful photography businesses prioritise quality because that's what appeals to their customers. Make sure the quality of your promotional print matches the quality of the work you produce to make a lasting first impression.