Have you ever received mail that you've been excited about? Maybe it was a wedding invitation, a letter from a friend or long-awaited tickets to a show. No matter how far we progress with digital communication, there's just something special about the physical act of receiving something through the post. Not only does it create a sense of anticipation as you tear into the envelope or packaging, it's also much more personal than the likes of email or social media messaging, therefore more intriguing. This is backed up by a survey from Huffington Post, who revealed that 74% of consumers can't wait to find out what's in their letter box.
If you want to spread awareness for your business, sending out direct mail is an opportunity not to be missed. As one of the most cost-effective ways to deliver your message, it's always worth including in your marketing budget, especially as 79% of recipients will act on it immediately, according to Huffington Post. Unlike email marketing which often goes unread, direct mail has a high likelihood of being opened as it's something that has physically entered a recipient's home. Because of this, it can seem much less like spam and more like something of value (which of course it is!).

The best thing about direct mail is its scope for creativity. Whether it's a folded leaflet, pop-up card, expanding mailer or something more bespoke, there's so much opportunity to make something that's eye-catching and unique.
To help give you some inspiration and show you how innovative direct mail design can help your business stand out, we've put together a roundup of 8 creative mailers that we love…

The Moving Van
If you've recently uprooted your business and moved to a new location, take a leaf out of Cyprus-based car importer, Fairways' book and let your customers know with an interactive mailer! All you'd need is a postcard with some handy instructions printed on the front so your customers can cut out and create something fun. Just don't forget to add your logo for a good dose of brand recognition!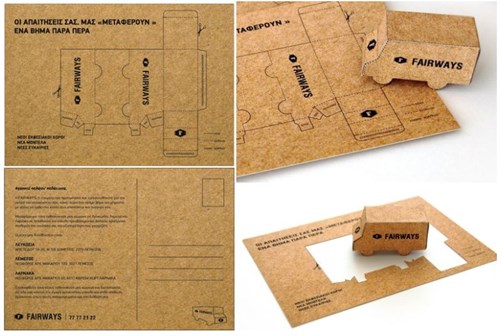 Image: behance.net

The Power Tool
Beacon offers a do-it-yourself professional survey tool that's both powerful and easy to use. To enforce this idea on their target audience, they created a slide mailer that works brilliantly. We love how the image of the scissors represents the 'easy-to-use' benefit while the power tool that appears when you slide out the inner slip signifies how the service offers powerful advantages. The tagline hammers home the message to great effect, making it a mailer to remember.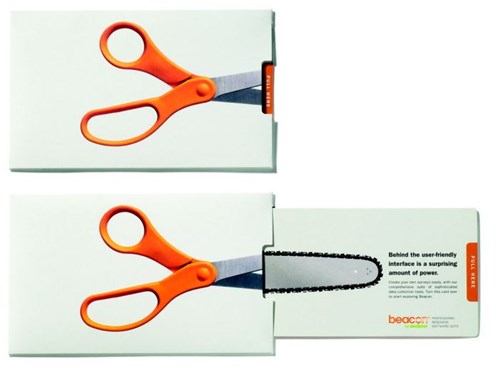 Image: coroflot.com

The Dining Experience
We'd definitely be impressed if we got this through our mail box! Chumatskiy Shlyah offers a delivery service for fresh home-made food. To promote their service locally, they created these incredibly fun mailers out of folded leaflets that open up into a perfectly laid table. Not only would this work to make you hungry (just us?), but as it goes against convention of the standard takeaway menu, it's a great way to ensure that the company stands out.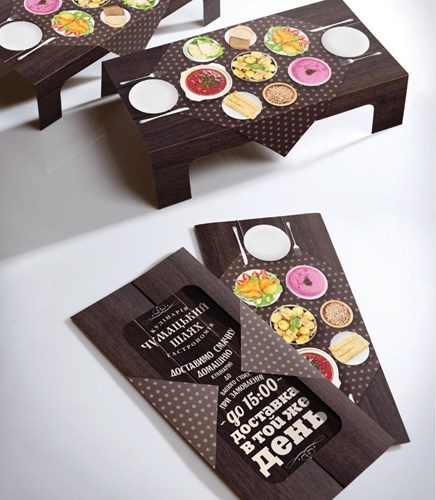 Image: adsoftheworld.com

The Hand Puppet
This fantastic mailer was created by primary care providers, Planet Kids as a way to promote their Annual Day celebrations. The simple but effective concept uses a DL flyer that's folded in three places to create a fun hand puppet that can be used to engage children. What's particularly brilliant about this is that it's playful, eye-catching and perfectly constructed towards its target audience, while also being easy-to-use, informative and almost literally a mailer that has a lot to say!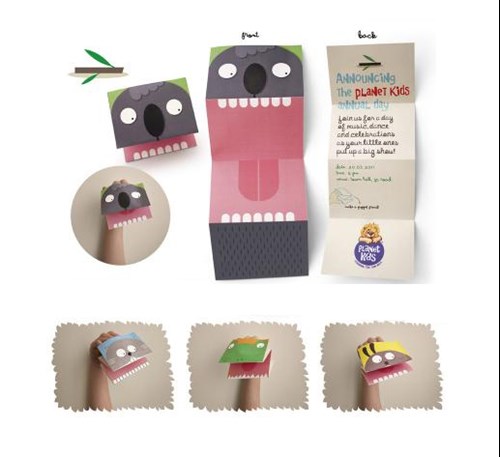 Image: pinterest.com

The Picnic
This clever mail campaign from insurance company, Prospera challenges the idea that the insurance industry is 'boring' with a design that is anything but. Everything from the metaphor itself (peanut butter and jam are a match made in Heaven!) to the picnic blanket style packaging wrapped in a sandwich bag (genius!) works to make the message stand out. The best thing is how easy it would be to recreate something like this using bespoke cut flyers and an envelope made to fit. If only we'd thought of it first!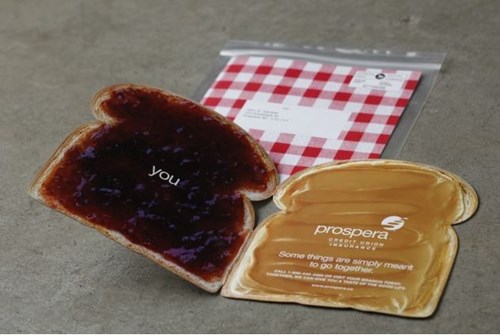 Image: pinterest.com
The Pop Up Home
Trust Ikea to create a mailer that not only looks great but plays on the idea that their functional, flat-pack furniture makes it easy to achieve our dream home. Realising that their catalogues were sometimes too muddled, Ikea wanted to get people excited about their new range in a simple, more direct way. So they brought it to life using a pop up mailer that's shaped as a flat-pack box. When recipients open the mailer, an entire 3D bedroom appears, not only to inspire us with their stylish range but to get across the idea that Ikea furniture is both fast and easy to assemble.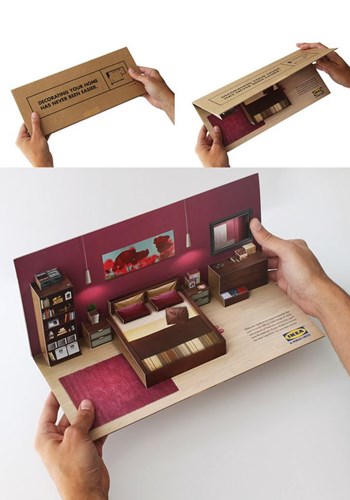 Image: cgpin.com

The Inside Track
If you work for a rail company or tourism business wanting to promote a new campaign, this train track concept is one to remember! All you'd need is a DL flyer or invitation for the mailer itself and a sturdy folded leaflet to case it. To finish it off just add two elastic bands that not only work to hold the whole thing together, but also create the illusion of train tracks when placed in just the right spot! Practical, stylish and inspired, bravo!

Image: pinterest.com

The Makeover
We're obsessed with this brilliant mailer from a hair salon. Rather than sending out the usual flyer flaunting shiny haired models and expensive products, they've gone with a message that their audience can relate too which is executed in a fun and creative way. We particularly like how the design is minimal with barely any text. It's the perfect example of how less is sometimes more.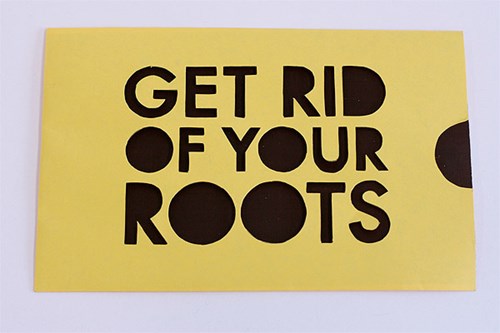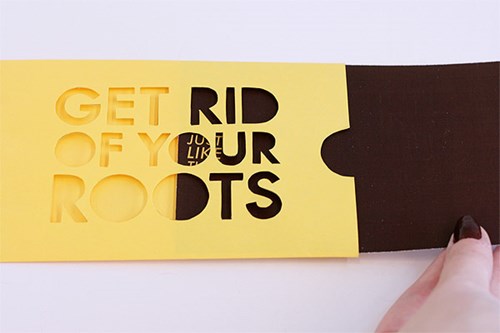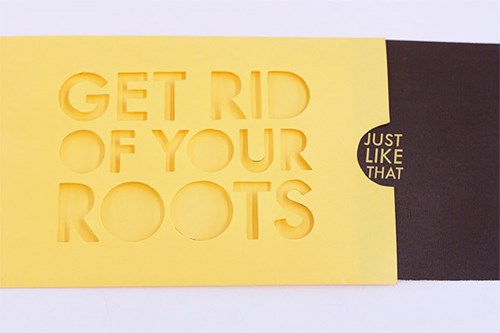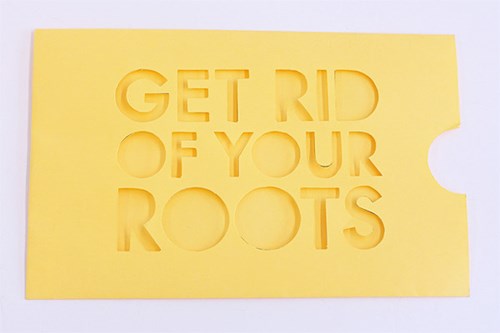 Images: behance.net

With direct mail, there's huge potential to create something that will not only impress your target audience, but make you memorable to them. With a strong message and an innovative design, you are likely to stand out amongst other forms of direct mail.
Have you got an example of a brilliant mailer? If so share it with us on Twitter using @instantprint.