As a nation, we love customer loyalty schemes. In fact, 92% of us use our loyalty cards every month! As well as being fantastic for customer retention, membership cards are great for brand loyalty and an essential part of your marketing strategy when drumming up repeat business. Whether you choose to stamp it, write on it or indent it, there's no denying the power of it for your business.
The best bit about loyalty cards? You can get really creative with the design. We've picked out our favourite reward card designs ideas to give you inspiration for your own…
Fill in the Gap with a Custom Stamp!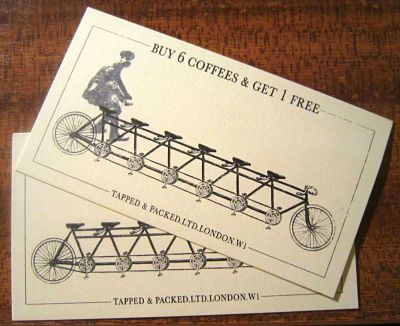 (Source: Pinterest)
Cleverly named after the action you perform when dosing a coffee machine, Tapped and Packed Ltd.'s fantastic loyalty cards have definitely got us pumped up! Although we've always had an affinity with the past, vintage style is really popular at the minute – from second-hand shops and vintage clothes, we're mad about old-school designs.
Custom made stamps really make this design shine. And the reason it's such a smart idea is because it makes the customer want to finish it – after all, someone needs to steer the bicycle, right?
Appeal to Your Target Audience
(Source: Waterstones)
Appealing to their bookish target market, Waterstones have styled their loyalty cards to represent bookshelves. The stamp leaves an old-school 'late books' mark reminiscent of libraries – another 'good old days' approach to design, romanticising a traditional approach to reading.
Our favourite part of this loyalty card design? By filling up their actual bookshelves, Waterstones customers are also filling up the shelves depicted on their loyalty cards!
Incorporate Your Logo
(Source: Made Graphics)
We love how Momofuku Milk Bar use their custom designed stamping tool to literally stamp their logo on the various types of cups. The chances are, this product is likely branded with the company logo on the cup anyway – so as well as being a really fun idea, it's also instilling brand awareness for their customers.
If your business has a really recognisable logo featured on its products, why not give this style of loyalty card design a go? The best bit? This idea could work for pretty much any kind of business.
Match Your Brand Style
(Source: Wakaberry)
Every single message or marketing material your business uses to communicate with its audience should adhere to your brand style guide. This way, you can help build better brand awareness and customers will instantly be able to recognise your adverts and marketing as you! Wakaberry have incorporated their crazy colourful style into their loyalty card to reinforce who they are as a business.
The design matches their slogan of being 'real fun' – the bright colours and wacky font infer that you'll be getting a lot more of an enjoyable experience than simply eating frozen yogurt. As well as this, customers are definitely going to be able to find this loyalty card easily in their wallet!
Inject Some Humour
(Source: Je Suis Personality)
Have you ever noticed that the funniest things are often the things you remember? You might be terrible at memory tests, but can recite your favourite comedian's stand up jokes by heart. If so, you'll not be surprised to learn that research suggests that humour leads to higher recall.
Irish coffee shop Two Pups take advantage of their quirky, well-known dialect to add some humour to their loyalty cards. Although no reward is explicitly mentioned, the idea of completing each term of endearment is really fun – and doesn't everyone want to achieve the title of 'ya little beauty'? We know we'll definitely remember this example!
Keep it Sweet and Simple
(Source: Emporia Fabric & Craft)
As well as cafés and restaurants, loyalty cards work great for any kind of retailer – especially craft shops! The whimsical style of design really suits this type of industry. In particular, we love the handwritten style of font that points towards the 'DIY' element of crafting.
You could easily adapt this to your own business' brand – just pick a product or service you want to promote, and create a rule. For example, you could say:
Get your 5th haircut free

For every £10 you spend on pet food you get a stamp

Buy 9 smoothies and get your 10th one free!
Loyalty Card Quick Design Tips and Advice