All couples desire their wedding day to be special and unique, no matter how big or small the event will be. We believe that every bride and groom can make their dream wedding come true, even on a small budget, if they think creatively!
For example, most couples will naturally use a lot of print for their wedding, so why not be a little more inventive with the design and idea behind the print? Have some fun and think outside the box when creating your wedding invites, thank you cards, food menus, etc. It's a low-cost and simplistic way to add charm and character to any wedding.
Keep on reading to discover unique print ideas for your big day…
Create Personalised Tags
Whether it's personalised tags for wine bottles, sauce jars or drinking glasses, it's a simple but lovely way to give your day an intimate touch. You can also be creative with which fonts you use, depending on the style and tone of your wedding. For example, if you're having a formal wedding then a traditional italic font would work perfectly for the tags.
Our business card selection is a great place to look if you're seeking templates to then create personalised tags with, especially the square business card selection. Additionally, it would be a low-effort way to have a substantial number printed.
You could then hole puncture the card and tie ribbon, or string, through the hole for a shabby chic and vintage effect.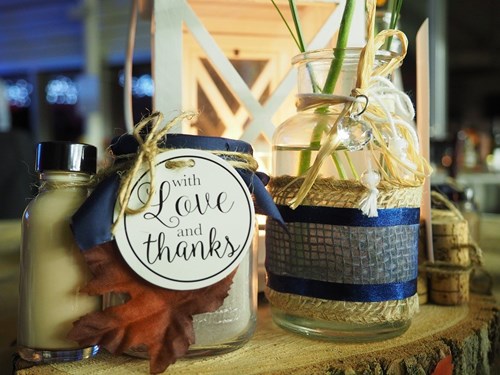 Unusual Guest Book Ideas
Seeking unusual and creative guest book ideas?
Consider stepping away from the traditional guest book route and think of other ways you could ask guests to write a special message to you and your partner…
A creative and thoughtful idea could be to lay out a large glass bowl with a selection of blank compliment slips and pens. Ask guests to write down their favourite memory of you and your partner on the compliment slips and pop them into the glass bowl. You could at some point read out all the memories of your wedding day and keep them to transform into a beautiful collage or sketch book to display at home.
For the compliment slips, consider using one of the instantprint compliment slip templates or create one of your own, and be sure to include some personal text to your guests on the slips to let them know what to do! As simple as, ''Share your most loved memory of us, love from Sarah and John" is perfect.
Additionally, a poster would make a fun and visual guest book and would be a wonderful way for everyone to read what other guests have written without crowding around one book. After your wedding day, you could then frame the poster and display as an original and special piece of wall art for your home.
Match Your Food And Drinks Menu To Your Overall Wedding Theme
Add character to your wedding day by coinciding your food and drinks menu with your overall wedding theme. So, if you're planning a beach theme, have a beachy template for your menu with palm trees and coconuts, and maybe even give your drinks and food selection special names relating to your chosen theme.
Table Talkers would make the perfect menu for your wedding, as there's plenty of space for you to include a personal message to your wedding guests, such as a 'thank you for coming', and to include an extensive food and drinks menu.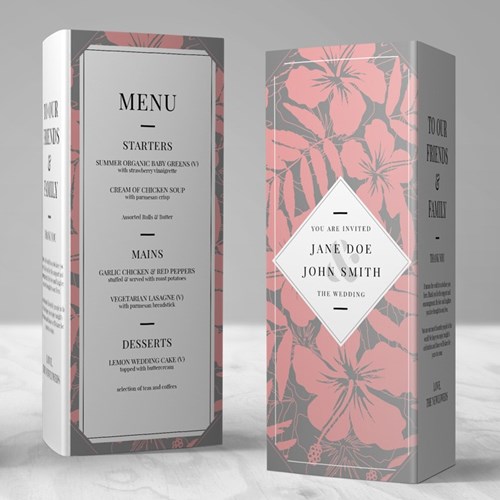 Host Your Own 'Selfie Booth'
Although you can hire professionals to host a 'selfie booth', why not keep costs low and host one yourself? It can be a lot more personal this way too.
All you need is a large roller banner saying 'Come take your selfie here', and you could even create your own hashtag for your wedding too if you wished. Then, all you need is a few fancy-dress pieces and a camera. An instant print camera would work perfectly for this, as then guests can stick their photographs onto a corkboard for other guests to see, which you can take away as a keepsake.
Create Unique And Personalised Wedding Invitations And Thank You Cards
You have a huge opportunity to do something personal and special with your wedding invitations and thank you cards to let your guests know how welcome they are to attend your wedding and then how grateful you are that they came.
There's so much you can do with a simple wedding invitation template to make it unique and personal. Try adding a favourite image of you and your partner onto the invite, a special message personalised to the guest or maybe a map of the venue?
If you're keen to read more on wedding invitations, we previously wrote a blog post on ways to create extraordinary wedding invitations, which could offer some food for thought.
Use Postcards To Share Your Favourite Love Quotes
Print a batch of postcards with a range of you and you partner's favourite love quotes and spread them out across all the tables at your wedding - they could be lyrics from your favourite songs or popular film quotes.
Your guests will appreciate having something special to read and to then take away with them after the day is over. Plus, it's another simple way to add more of you and your partner's personality to your day.
Leave Personal Messages On Your Place Names Cards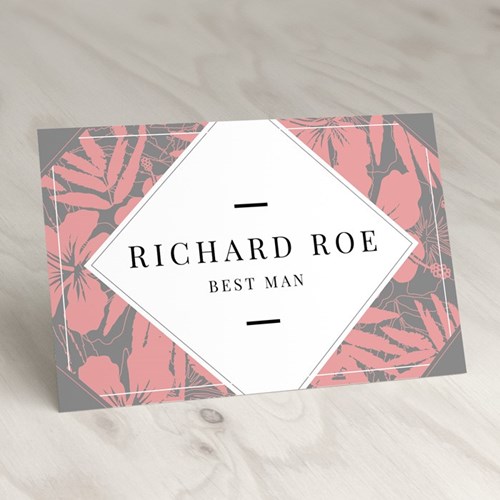 Make each one of your guests feel super special by leaving them a personal message on their place name card.
It could be something sentimental, such as thanking someone for helping to plan the wedding or for being such a good friend, or something humorous, like telling the best man it's their job to embarrass the groom. Every guest will then feel valued and appreciated, even if you don't manage to get around to thank everybody personally.