Toxicity. Red flags. Gaslighting. Cancel culture. These incredibly emotive phrases are rampant in the news and social media right now, with workplaces, in particular, taking quite the battering. But is it justified?
Take BrewDog for example. In an open letter from more than 60 ex-employees that went viral on Twitter back in June 2021, the brewery and pub chain faced accusations of creating 'a culture of fear', where 'being treated like a human was sadly not always a given'.
The letter served as the perfect reminder of how important maintaining a healthy company culture really is and that businesses need to be the ones taking responsibility for nurturing their biggest asset: their people.
If anything, working through a pandemic has made many people reflect on what's really important to them. And if their workplace's values or the way they're treated don't match up to this, we're sure this won't be the last we hear of toxic workplaces in the news.
Is the Modern Workplace Toxic?
With the increased news coverage of toxic workplace practices taking the spotlight, we wanted to know how the rest of the UK's workforce felt regarding their employers.
We surveyed 1000 UK office workers to uncover whether they believed they were working in a toxic environment – and which specific behaviours they thought were the biggest red flags of toxic workplace culture.
Perhaps shockingly, almost 7 in 10 (69.8%) claimed to have worked in a toxic workplace environment at some point in their careers.
However, the present-day results show that we're a little more optimistic about where we work. When asked to rate their current office culture out of 10, with 1 being extremely toxic and 10 being not toxic at all, the mean score was 7.3 – far closer to the non-toxic side of the scale.
Only 8.5% rated their current workplace 1-4 on the toxicity scale. Maybe we're more likely to view past workplaces as toxic after we've left and had the chance to reflect on their practices?
If so, it would make sense that 55.8% of survey respondents told us a toxic work environment would be enough to make them switch jobs.
21.7% of us would actually choose to stay in a toxic job, whilst 22.5% have learnt to ignore upsetting behaviours and claim to be indifferent towards them.
Women are slightly more likely to agree that their current workplace is toxic, scoring it on average 7.2 vs men who scored on average 7.4, indicating that women are either more susceptible to being targeted or more likely to notice tell-tale signs.
They're also more likely to have previously worked somewhere toxic. 73.8% of women have worked for a toxic company compared with 66.2% of men.
Our female respondents were also found to be more likely to leave a workplace due to a toxic culture (60.3% vs just 51.7% of men).
However, the story differs for those who are transgender, as they ranked their current workplace a 7 on the toxicity scale, which is the most toxic score when separated by gender. Sadly, all transgender respondents indicated that they have experienced a toxic workplace at some point in their career.
The Biggest Red Flags of a Toxic Workplace
According to our survey results, 46% agree that the most toxic trait in any workplace is bullying, followed by passive-aggressive communications (45.5%), cliques (37.3%) and the boss showing blatant favouritism for certain employees (35.3%).
Also scoring highly on the list of toxic traits was gossip and rumours (35%), while 32.1% agree that a lack of clarity or poor communication around projects and outcomes is one of the worst signs of bad company culture.

Not having room to grow was deemed the least toxic workplace trait (16.7%), along with being told you're lucky to even have a job (17.2%).
Shockingly, only 1 in 5 (19.8%) agreed that timed toilet breaks were a workplace deal-breaker.
While men are more prone to call bullying the biggest red flag for bad office culture (43.2%), women find passive-aggressive communication to be the worst (49.5%).
Women are also more likely to be affected by cliques (42.4% vs just 32.8% of men) and gossip and rumours (40.3% vs 30.4%).
According to the New York Times, 70% of women say they do the bulk of childcare at home, so it comes as no surprise that women score poor work-life balance and out of hours communications as more toxic than their male counterparts do (28.6% vs 24.7% and 21.1% vs 19.6% respectively).

Which is the Most Toxic Industry?
If you're job hunting and trying to avoid a toxic workplace, we'd recommend staying away from the marketing, PR and advertising industry. According to our survey, 87.5% have experienced a toxic workplace during their career, making it the most toxic industry to work in.
This is closely followed by environment and agriculture (85.7%), healthcare (80.7%) and charity and voluntary work (75.9%).
The least toxic industries were revealed to be science and pharmaceuticals (45.5%), property and construction (55.3%) and media and internet (57.1%).
Bullying is least tolerated in the law enforcement and security industry with 66.7% claiming this was the worst toxic trait in the workplace. However, only 14.3% of those working in the media and internet business would deem bullying as toxic behaviour!
When it comes to passive-aggressive communication, a whopping 87.5% of those in marketing deem this as a sure sign of bad company culture.
Perhaps frustrated at vague briefs, the creative industry voted for lack of clarity and poor communication around projects as a classic sign of a toxic workplace, gaining 60.6% of their vote.
Most Toxic Work Locations Revealed
If you're working in the north, it could be more likely that you're in a toxic office than those down south.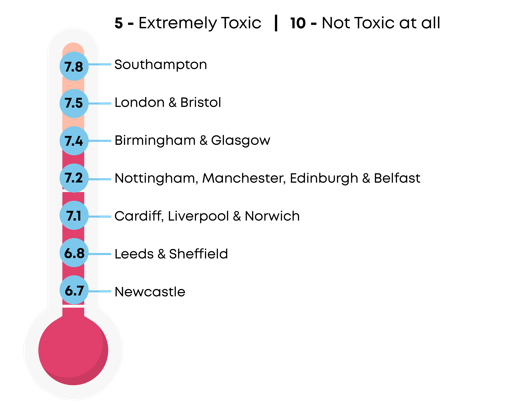 When asked to rank their current workplace out of 10, with 10 being not at all toxic, the cities scoring lowest included Newcastle (6.7) as the most toxic city, followed by Leeds and Sheffield which each scored 6.8.
The healthiest work cultures are to be found in Southampton, as residents of this south coast city scored their current workplace at an average of 7.8.
Other non-toxic working cities included Bristol and London, each scoring 7.5 respectively.
It is common knowledge that the north-south divide renders two halves of the country socially, economically and culturally different – but could this rupture also be one of the venomous causes behind the toxic workplace?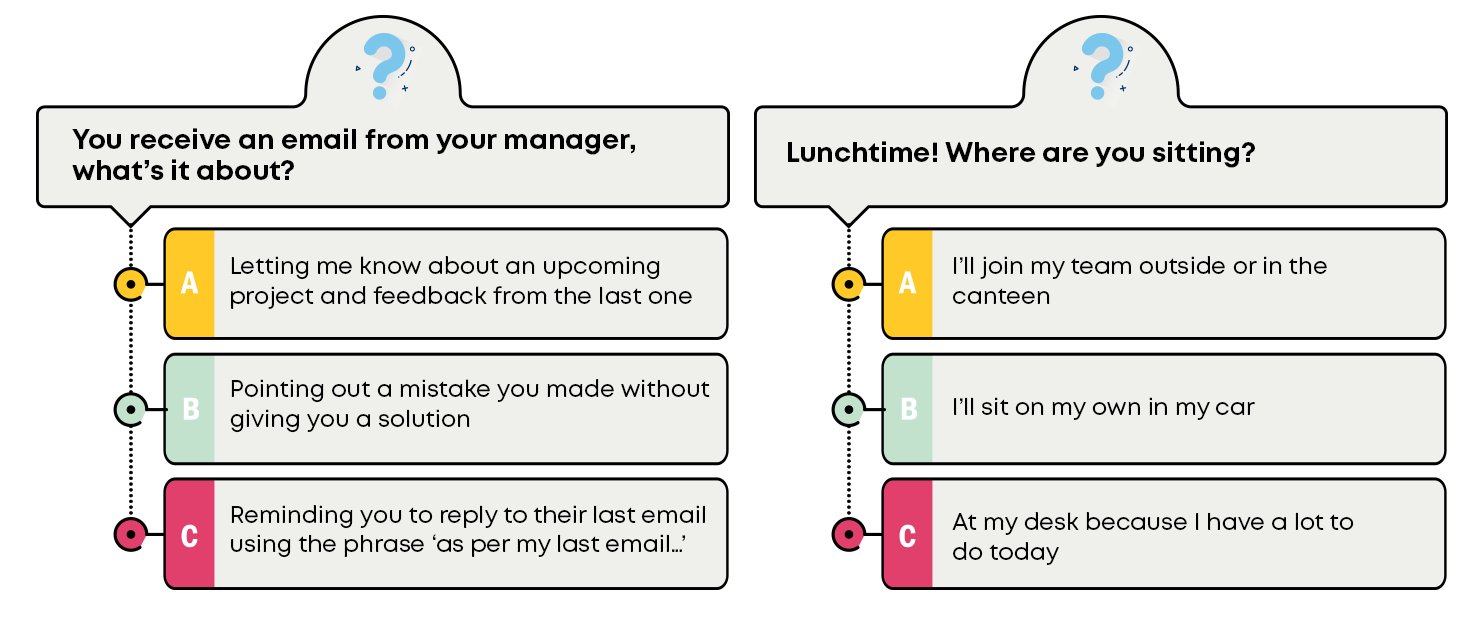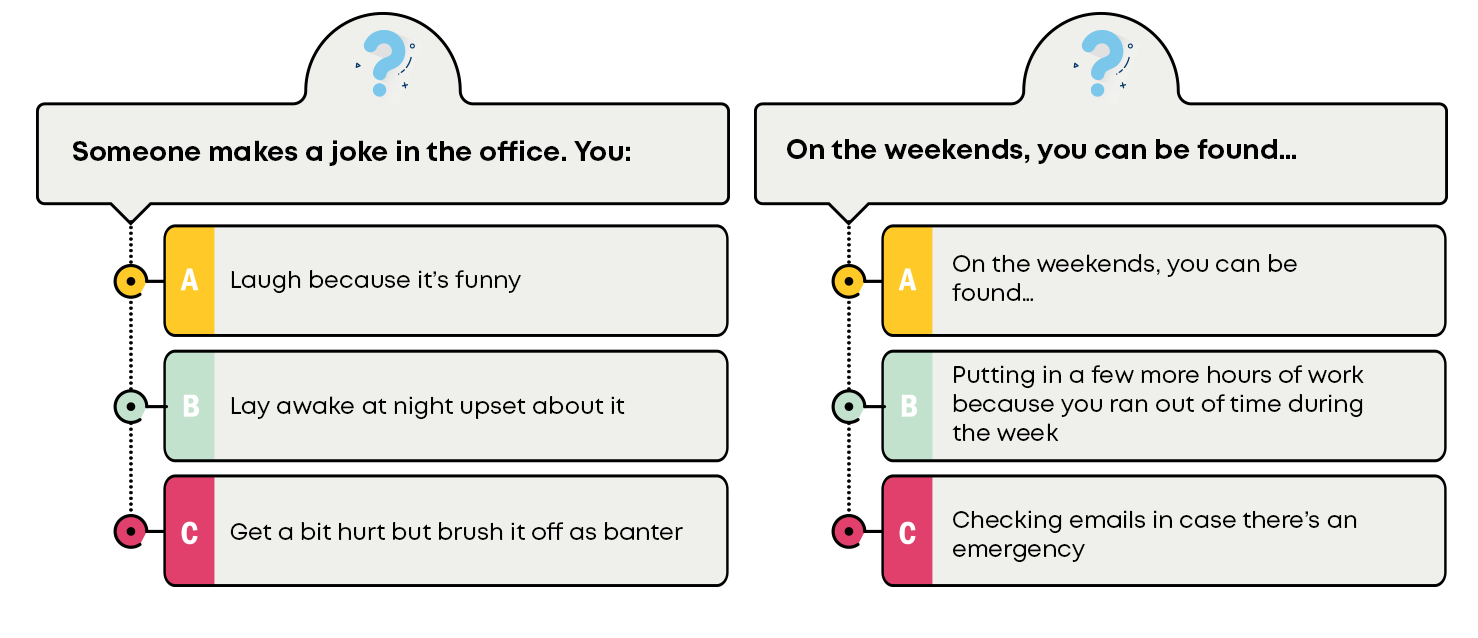 Top Tips for Creating a Healthy Company Culture
Here at instantprint, we pride ourselves on our employee culture. It's not just having our brand values stuck on the walls as a reminder of who we are and how we act (which we do, by the way), it's living and breathing those values at every stage in the employee life cycle.
Team Experience Operations Manager at instantprint, Angela, shares her top tips for bolstering a strong and nourished company culture.
1. Value-based recruitment
We always say that skills are something you can teach. What you can't teach is having the right attitude. One of the biggest secrets to instantprint's successful culture is that we take candidates values very importantly at the hiring stage. By asking scenario-based questions based on our values, we can assess whether they'll make a great fit with the rest of our team. This helps us make sure everyone's working towards the same goal.
2. Monthly 1-2-1s
Your team should always feel comfortable coming to you with issues, whether that's something they want to change about their role, or something's not working in the wider team. It's not healthy to keep it all in and can lead to staff feeling unmotivated and not listened to. At instantprint, we run monthly 1-2-1s, giving employees a dedicated time to reflect on what's gone well and what could be improved going forward to know they have a platform to be listened to.
3. Internal NPS surveys
Sometimes it's just easier to share suggestions or make complaints if it's anonymous! Just like you might use NPS (Net Promotor Score) surveys to gauge how likely customers would be to recommend your business, we run internal NPS surveys to assess employee happiness and satisfaction as well as give the team an anonymous platform to voice concerns and suggestions. These issues are then discussed in managers meetings to find a resolution and keep the team happy.
4. Training opportunities
A lack of motivation and poor mental health are tell-tale signs of a toxic workplace. To empower our team to feel their best – and therefore work their best! – we offer both product knowledge and wellbeing training to our teams, covering issues like sleep, communication and building resilience.
5. Inclusive events
We have multiple highly-anticipated teambuilding events throughout the year, including fancy dress at Halloween (which we managed to do virtually last year!), summer sports day, regular charity fundraising events and the Christmas party. Effective team building activities engage your staff and encourages communication and collaboration – all of which are important skills inside and outside the workplace.
Any workplace has the potential to turn toxic. Establishing clear goals, calling out toxic behaviours and encouraging positive and professional communication will be key in ensuring your business stays productive and healthy. Share your toxic workplace experiences with us on Twitter by tagging us @instantprintuk!