A Team-First Approach
One of the things we pride ourselves on here at instantprint is our commitment to our team.
With our customer advisers alone helping over 215,000 customers each and every year, we're the crutch for many small businesses who've possibly never ordered print before, who need a jargon-free, reliable service, and a helping hand along the way.

For this reason, we take a team-first approach so we can make sure all of our team are in the right place to help customers to the best of their ability – after all, a happy team means a happy customer!
Keeping Seasonal Events Going
Like many businesses, we run a series of seasonal events so our team can bond outside of working hours. This has proven effective throughout our frequent staff satisfaction surveys in boosting engagement, retention, productivity and communication.

While our full office teams are working from home during the Coronavirus pandemic, we've been keen to maintain this same level of commitment, especially since it can be (understandably) more difficult to feel engaged and connected during lockdown.
Happy Halloween from instantprint!
Our latest 'treat' for the guys and ghouls behind the scenes at instantprint was our annual Halloween fancy dress competition – only this year, we took the festivities online!

Judged by a randomly selected member of the team, staff were encouraged to go all-out with a spooktacular costume and could enter to win an individual prize or as a group, who would win the coveted title of 'Halloween Champions 2020'.

A competitive bunch, we knew we couldn't go without our Halloween tradition this year, so pulled off an entirely COVID-secure version of our much-loved competition via video call one evening after work!

The result? A pretty scary looking (but honestly lovely) bunch of monsters! Here's the final snap: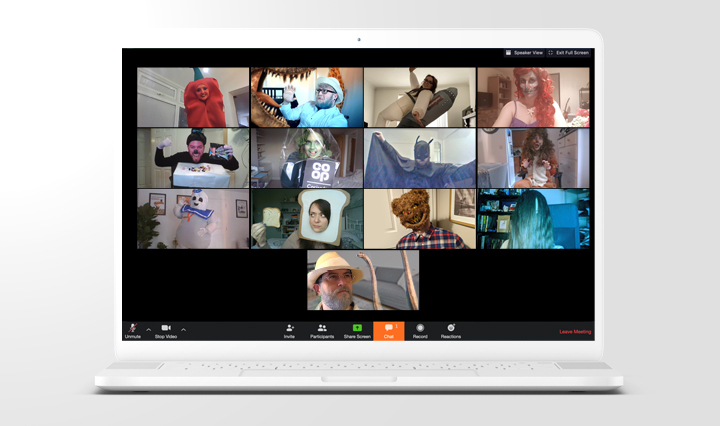 The Virtual Halloween Contest
Just like with the usual live event, the contest was split into two categories: single and group entry.

Single Entry
The single entry category allowed the team to individually have fun dressing up and using props to create a spooky backdrop. This meant that everyone could get involved, meaning high levels of engagement for the activity and a sense of being part of the instantprint community.

Group Entry
The group entry encouraged departments to work together, which alongside building up relationships was also designed to help develop soft skills such as decision making in a team, communication, co-operation, compromise and working towards an end goal.
What Do Virtual Team Events Achieve?
We're keen to keep our traditions like team events alive whilst the vast majority of our office team works from home because of the multitude of benefits this presents.

Togetherness
Working from home means it's easy to feel separated from friends and colleagues who you would otherwise be spending upwards of 40 hours a week with. To then only see them in an occasional meeting is a huge difference!

Boosting engagement
We've found that the more engaged our team is in working towards our overall goal of helping small businesses order print online, the better this is for everyone. Our managers noted that they have also seen an uptick in motivation and productivity following our Halloween event.

Maintaining culture remotely
We have a huge emphasis on culture here at instantprint. If you were to visit our offices, you'd be greeted by bright colours, walls covered in our famous dots and our brand values, cosy seating areas and framed photos of our teams taking part in our annual events. Although we can't go an instantprint-ify everyone's houses for them (as much as we would love that), we can spread a little of what makes us who we are through competitions like this!

How to Keep Disengagement Demons at Bay
Following our event, we spoke to Head of Team Experience, Vicki, to get her top tips for keeping a remote workforce engaged this Halloween and beyond. Here's what she recommended for raising spirits whilst working from home.
Don't be terrified by the tech
One thing we had to learn quickly was to embrace technology – we still have a lot of face-to-face meetings, just over video call now. As well as offering all of our in-house training digitally, we also provided every member of the team with the equipment they need to complete their jobs to the best of their abilities, including laptops and extra screens.

Value your heroes
Every story, especially the scary ones, need a hero to save the day. One of the ways we banish disengagement demons is by encouraging the team to nominate each other as brand heroes, or value champions. Not only is singing each other's praises engaging, but creates a positive work culture as the team is always on the lookout to show their appreciation for one another.

Dust away the cobwebs daily
Not saying we have any lazy Lucifers here at instantprint, but by introducing daily check-ins for our teams, we can help make sure everyone's on track with their tasks. We have team meetings every morning to catch everyone up on where we are with our latest projects and troubleshoot any progress blockers and find solutions to these as a team.

Exorcise the demons
One policy that hasn't changed during the pandemic is our dedication to providing monthly 1-2-1s to give employees a chance to give honest feedback on the month to their managers. Scheduling regular 1-2-1s is a great opportunity to refocus any negative mindsets and offers both parties the chance to give feedback to each other which is a fantastic way to keep staff engaged.

Apparition appreciation
A little staff recognition goes a long way! As well as sending out

certificates

for our brand heroes, we also celebrate milestone employees' anniversaries with the business by giving them a special gift and

handwritten card

from a manager.

Channel your spirits
There's no such thing as over-communication. Not only does effective communication between staff lead to better relationships, but it also means a smoother journey for the customer. No need to get out your crystal ball – just have a team leader in each department send out a team-wide email with any important updates once a week to keep everyone in the loop with business developments.
Planning a Team Halloween Event Virtually
We had a fantastic time getting dressed up and catching up with our colleagues. Both on a personal and professional level, hosting our traditional Halloween competition virtually has had a huge benefit on team morale, engagement and happiness, and we can't wait for our next virtual seasonal event!

If you'd like to organise your own Halloween event for your remote working team, here's how:
Plan what you want to do for the event and how and where it will take place – include a small prize to incentivise entries and raise the stakes

Send a company-wide email giving details of the event (whether it's a competition, what categories there will be, when it will take place, the rules etc.), giving people enough time to think about their costume and get ready for it

Ask your team to send in pictures in their costumes, or organise a big video call meeting and do the judging live
And there you have it! We hope you have a happy Halloween, whatever it is you've got planned this year.