We're all for spreading the #printlovin' during the month of February, but we've noticed a growing trend: billboards declaring one's love for another.
A bit cheesy, right?
Well, it certainly gets you noticed. If you're considering a billboard advert to declare your undying love (or simply passionate attraction) for someone else, perhaps take these as good examples of how not to do it…
The Over-The-Top Proposal (#1)
One man proposed to his beauty queen girlfriend in (very expensive) billboard style.
He made up what looked like a movie poster, entitled The Proposal, but included pictures of his girlfriend on it instead.
That wasn't enough for him, though.
He also advertised this billboard proposal by paying to be on the front cover of the local newspapers.
The actual proposal took place and included a custom heart-shaped diamond ring. She said yes, obviously.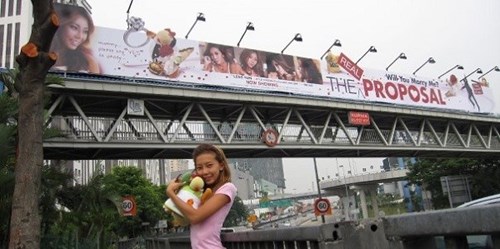 The Over-The-Top Proposal (#2)
An advertising manager used his experience (and inside contacts) to create a proposal billboard for his girlfriend, Kelly.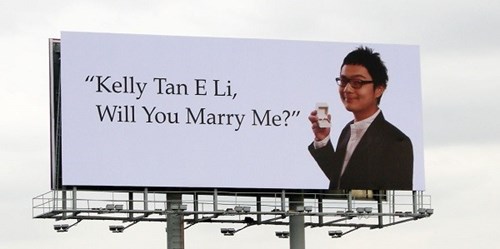 On a relatively-normal drive home after dinner out, he pointed out the billboard. They pulled over to the side of the road, and out came the ring (the same one he's holding in the picture).
The reception of this proposal billboard was mixed: it soon became a meme for single people on Valentine's day who were sick of such cheesy romantic gestures! What do you think about it?
Valentine's Billboards For Brands: Savvy Marketing Or So-Overdone?
It's not just loved-up couples using billboards to latch onto Valentine's day, though. Brands across the world have been using large out-of-home advertising stunts to maximise profits with memorable Valentine's promotions…
In 2012, MasterCard let a competition winner promote his love on a huge billboard in London: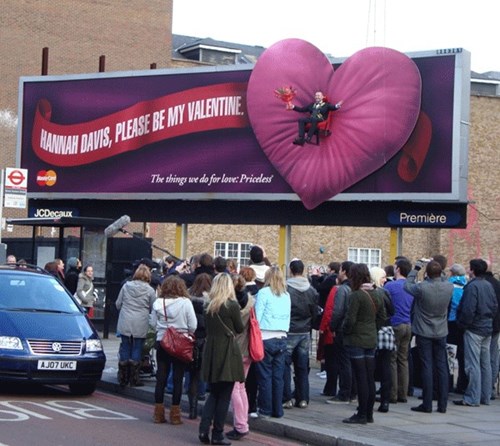 And managed to tie in their all-too-famous one word tagline: Priceless. Clever yet simple, this is a great demonstration of using customers to bring 'real stories' to your business marketing.
A Personal Message To Spread The Brand
Brad, seen here on the billboard confessing his love for Melissa, was the one that approached the brand in this case. Seems like he's a romantic with savvy negotiation skills!
Instead of paying out of his own pocket for this, erm, romantic billboard, he asked a brand if he could use their space.
The brand, short of a Valentine's marketing ploy, agreed.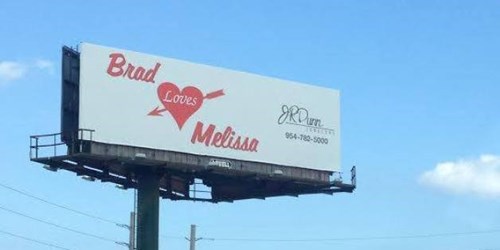 And our final favourite piece of brand marketing, that (of course) used print in a fun way: Snickers. In 2017, their street-level billboard was covered in free Valentine's cards for passers-by to take with them. The message? "You're forgetful when you're hungry".