'Tis the season to be jolly – well, maybe not, if you completely embarrass yourself at your work Christmas party…
If you're fretting about embarrassing yourself at your office Christmas party, then don't fear, you're not alone. Our recent survey revealed that 72% of office workers admit to being 'drunk' at their work Christmas party, and 16% said that they were 'embarrassingly' drunk. With only 5% sticking to non-alcoholic drinks, this makes sense!
We surveyed 2,000 office workers, asking a range of questions to discover which department is the worst behaved, embarrassing stories and top tips from office workers on surviving the much-anticipated work Christmas do.
HR Department Revealed to Be the Wildest at the Office Christmas Party
You heard it here first. In our survey, it was revealed that HR are the wildest, with a shocking 40% of HR workers having considered handing in their notice after their Christmas party because of the way they acted or something they said. Can you imagine your HR team being branded as the worst behaved?
However, make sure to be nice to them the next day, as 51% of HR workers have felt nervous about going into work after the party. Since 20% of workers in this department admit to being 'embarrassingly' drunk at their Christmas party, is that a surprise? Have you ever been nervous about going into work after your Christmas party?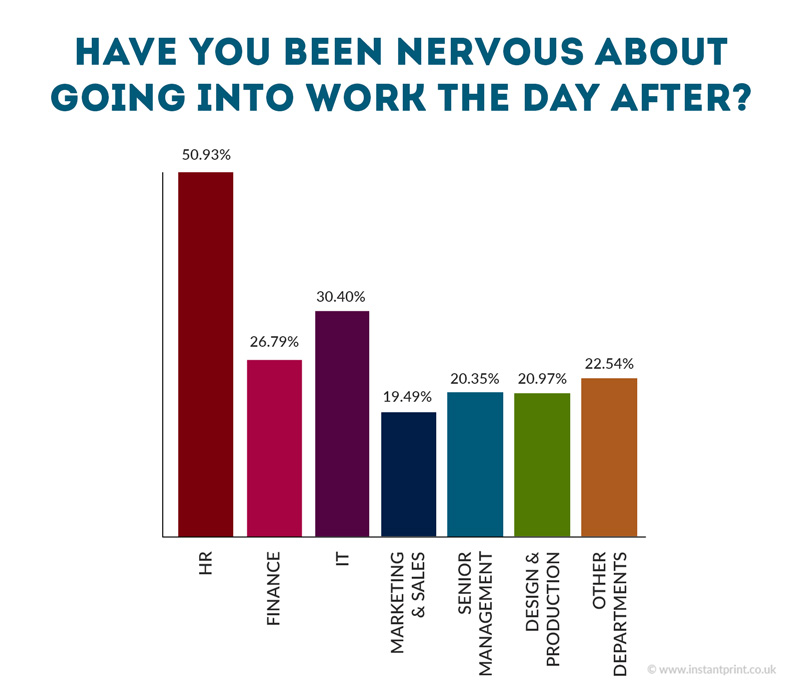 However, it's the senior department who are the most likely to behave differently and reveal their true colours, followed by Accounting and Finance.
Interestingly, office workers largely considered their own department to be the rowdiest or causing the most trouble at the work Christmas party.
Despite HR being the wildest, Marketing and Sales were considered the department which cause the most trouble at the work Christmas party, so watch out for that team!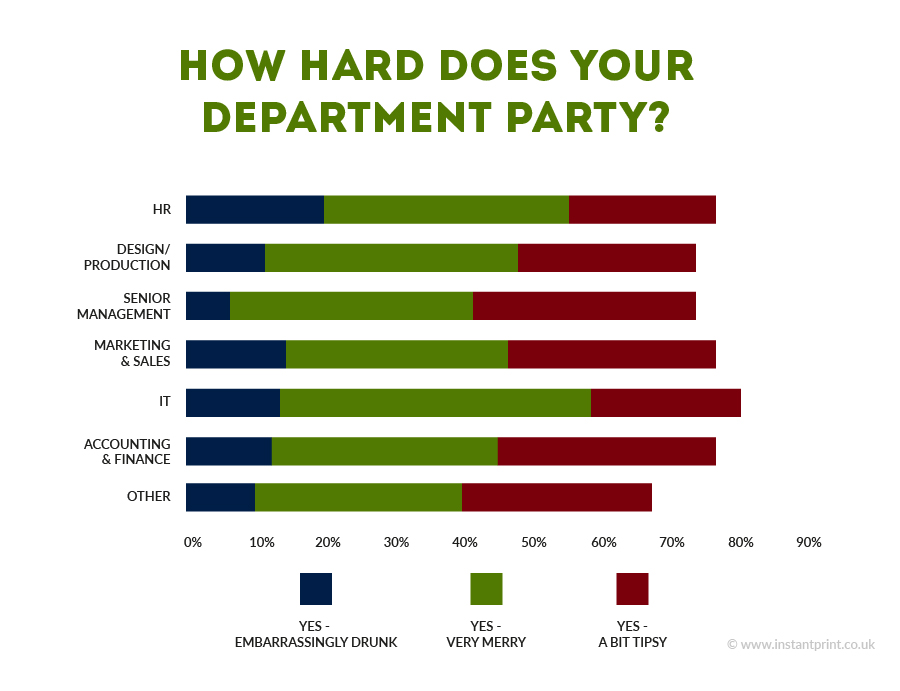 Our Survey Also Revealed the Average Cost of a Work Christmas Party Outfit by Department and Location
On average, men spend more on their outfit than women with a £99.22 hole in their wallet come December! Yet no-one can beat the Londoners, whose average Christmas do outfit sets them back an eye-watering £181.25. Again, HR top the polls with a £181.61 price tag set against their suits or LBDs.
The Biggest Party Regret By Location…
Our survey revealed that office workers in the North East are the most likely to have been embarrassingly drunk at their work Christmas party and to also feel the most confident to talk to colleagues which they wouldn't usually speak to.
North East are the most likely to get drunk (86.51%) while the West Midlands is the best behaved, with 33% not drinking at all
Only 0.7% of people in the North East make it out to 3am! Yorkshire has the most stamina, with the largest amount of people making it to the early hours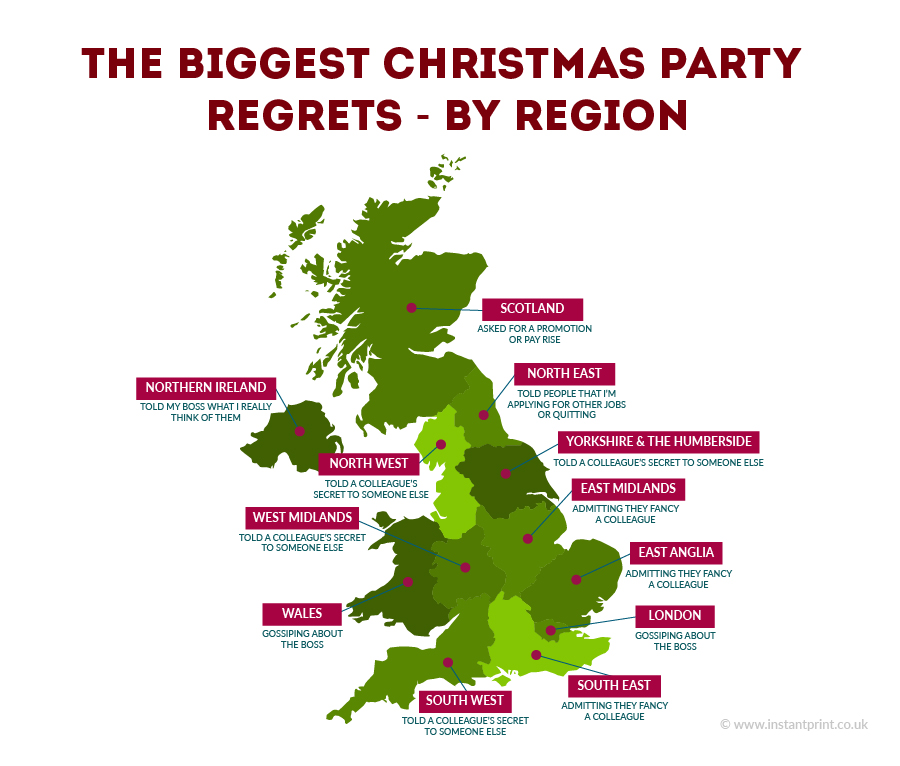 Also, office workers in the North East and North West are the most prone to kiss a colleague (shhh) – but cupid's arrow struck hard, since 66% of those in the North East are still with their partners after getting together at the work Christmas party.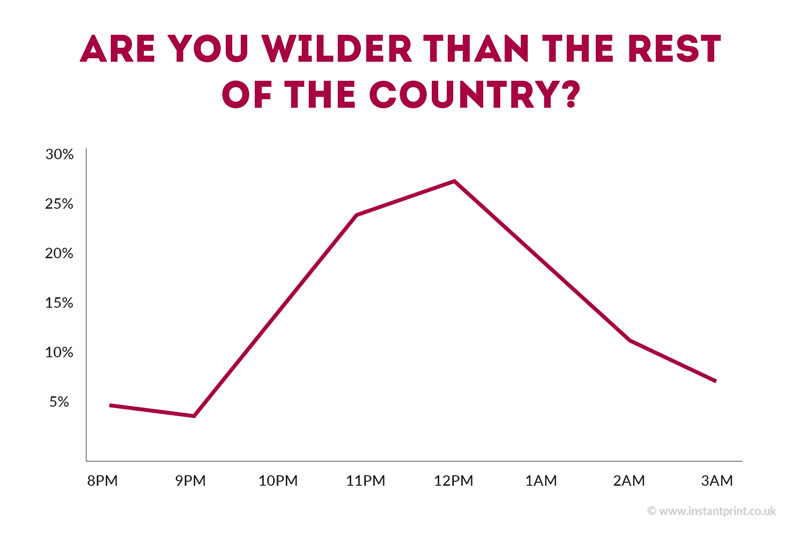 Are You Standing Under the Mistletoe?
The open fires and eggnog must be injecting some romance into the air. Kissing, swapping numbers and telling someone you fancy them came out as some of things people have done with their colleagues.
54% have had a lasting relationship that stemmed from a Christmas party love confession and 31% of them are still together! Perhaps telling a colleague you fancy them isn't the worst idea you could have.
Top Christmas Party Confessions
We asked 2,000 office workers what their biggest Christmas party confessions are, and we must admit, some of them are a little bit strange.
9 Top Tips From Office Workers On Surviving Your Work Christmas Party
Have a glass of water in between alcoholic drinks
Don't tell colleagues what you really think of them
Make sure you eat dinner beforehand
Book the next day off work
Avoid deep conversations with your boss
Avoid the office creep
Dress appropriately
Shots after 11pm are not a good idea
Give yourself a curfew
We hope this will help you navigate this year's Christmas do and ensure you and your colleagues have a great time. Do you have a funny Christmas do story? If so let us know on Facebook or Twitter.