Notebooks are great, aren't they? Even in today's ever-more-digital world, we all love an old-fashioned notebook, whether it's to scribble notes on while you're at your desktop, or create a personal journal, paper will never go out of fashion.
That's why notebooks are so great for businesses: they're used by everyone, all the time. Branded notepads are a great way to get your company name seen by many people. If you give someone your notebook, it's guaranteed they'll be using it where others can see it. Whether in their office, or at meetings, or even at home – it'll be seen by others, making it a great bit of sneaky long-term advertising.
Wire-bound notebooks are particularly handy, thanks to the natural lie-flat design and range of sizes, paper types, and orientation depending on what you need it for. When printing customised notebooks for your business, it's worth thinking about their purpose: are they going to have the same branding and message on each page, or is it an inspirational journal with a different quote, reminder, or action for every page?
It's entirely up to you how you want to design and use your company notebooks. You might want them for internal use, to create consistent branding inside and out of your business, or maybe they're conference goody bag giveaways. Take into account who will be seeing and using your notebook, and you'll find it much easier to come up with a memorable design.
If you're stuck for ideas, fear not! We've scoured the internet (OK, spent hours on Pinterest) for some top inspirational notebook designs to get your creative juices flowing.
Square Notebooks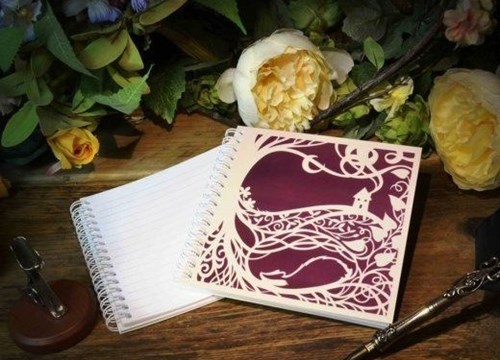 A square notebook like this is sure to make the writer take notice! Perfect for handy jotting, this is a great design with plain ruled pages and an elegant wine and cream cover design.
Bold, Bright, And Simple Notebooks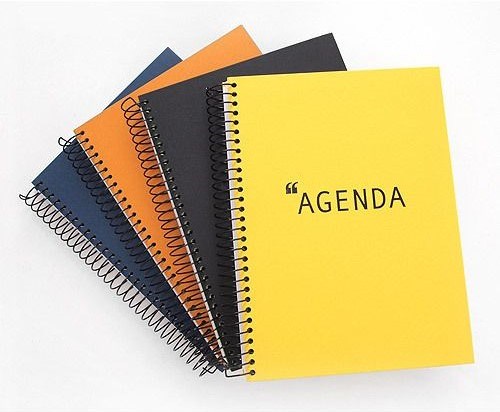 Bright, simple, and to-the-point, these wirebound notebooks certainly can't be missed in a pile of paperwork! A title on the front really makes an impact without detracting from the practicality of notebooks.
Portrait Wire Bound Notebooks

Another from fallindesign.com, this portrait A4 spiral bound notebook would make a perfect study jotter, as it's easy to quickly flip the pages over when needed. Having the wire binding on the short edge also means you can create an unusual portrait design on your inner pages – ideal for calendars, planners, or sectioned jotter pads.
Wirebound notebooks make perfect planners, as you can print different things on each page! Sections could include a month-to-view, week-to-view, or even blank pages like this one for brainstorming and note-taking.
Custom Planner Notebooks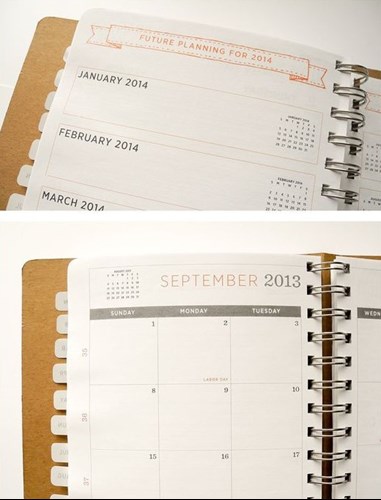 Wirebound notebooks make perfect planners, as you can print different things on each page! Sections could include a month-to-view, week-to-view, or even blank pages like this one for brainstorming and note-taking.
Black-On-Black Notebooks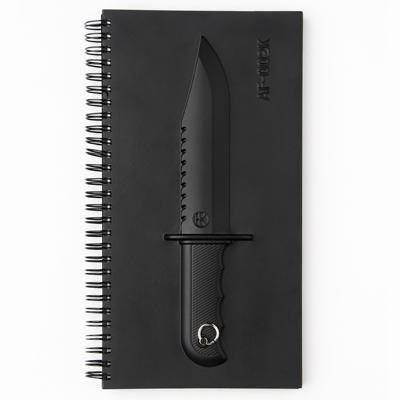 Working the monochrome for a subtle image, with black-on-black adding to the rebellious design, this DL size notebook is ideal for pockets.
The slim design makes it easy to hold with one hand and take notes with the other, making this size suited for out-and-about notetaking.
DL Desk Notebooks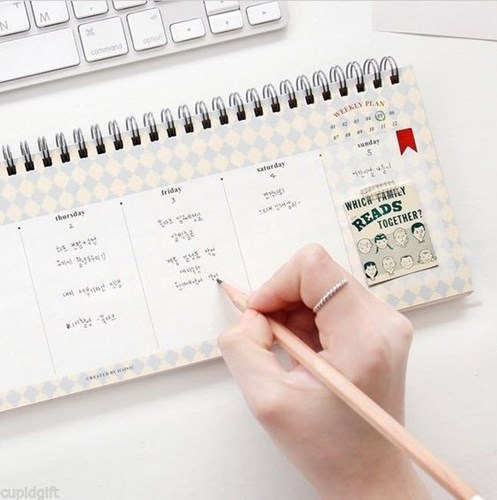 Turn a DL size on its side and voila! A desktop planner is born. Wire bound pages make it easy to rip them off when tasks are complete, so you'll always have a clean page close to hand.

This type of notebook is especially suited to company branding, as it's the type of notepad regularly used when given away as freebies at trade shows or similar. A planner-style layout like this will make it more useful, meaning people are more likely to use it too.
Slimline Portrait List Notebooks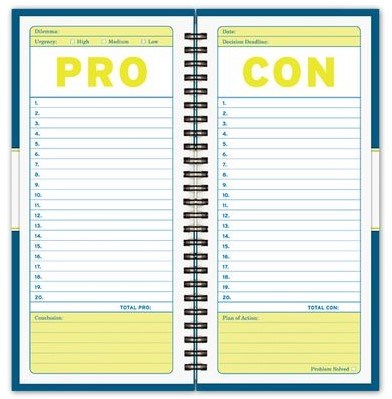 This slimline DL jotter is a perfect example of varied printing on inner pages.
The slim design is ideal for lists and notes, and this example demonstrates the usefulness of printing different designs on each page for variation, interest, and practicality.
Monochrome Notebooks - Using Wire Binding In The Design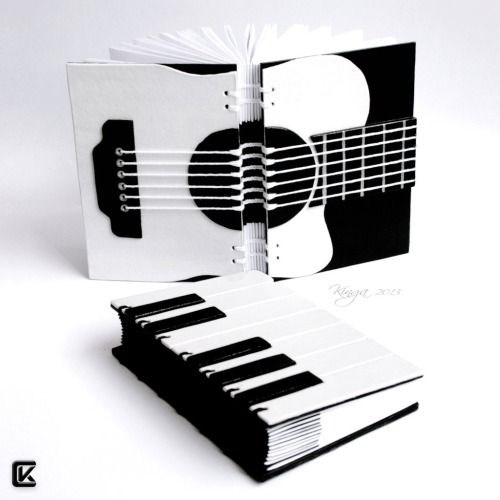 These cool monochrome designs are eye-catching and a great example of using the wire bound spiral within part of the design.
There are tons of ideas out there, but these are our top eight notebook designs. When you're ready to create your planner, notepad, trade show giveaway, or whatever it is you're planning to use notepads for, you can upload your design here.