One of the reasons we're able to offer so many popular print products with same day dispatch is due to our commitment to investing in the best printing technology. Not only does this mean we're able to produce a high capacity of printed items with a high-quality finish; it also means we can make savings in time and cost that are then passed down to you with competitive pricing across our whole range.
Our most recent round of investments has seen us install an HP Indigo 100K digital press in our Rotherham-based headquarters. Installed in January 2022, the machine was up and running ready for production at the start of February and is set to drive efficiency through the roof.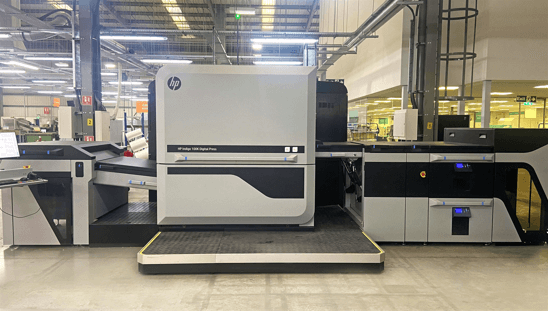 The press is the first of the HP Series 5 presses and is hailed as the world's most productive B2 digital solution, with a processing speed of up to 6,000 sheets per hour. The 100K is also highly automated and has nonstop digital print capabilities, producing jobs back-to-back, with continuous feeding, stacking and colour calibration. This is set to increase productivity to allow us to keep up with an increased demand for print whilst maintaining our industry-leading turnaround times.
The non-stop colour calibration also ensures that print quality remains high and colours are consistent across print runs.
The Indigo 100K joins a number of other HP digital presses at our site, including the HP Indigo 10000 B2 digital press installed in 2016, which has been consistently listed in the top five performing machines in Europe in terms of output. It will also run alongside the company's HP Indigo 12000, purchased in September 2021, which is a newer version of the 10000.
The 100K has a 30% speed increase in comparison to the 12000 and the 10000, and when all presses are up and running at the same time, this will offer a phenomenal amount of capacity for our online printing services.
Following our investment into tech, we're also investing in the team, with a recruitment drive ahead of the print industry peaks in March and September. The recruitment drive sees up to 30 new vacancies across the business, with machine operator and office roles available. Want to shape the future of print? Check out our vacancies today!