On average, we spend around 1,800 hours a year with our colleagues, so there's no wonder why many of us find our significant others in the workplace. Although we can't choose our co-workers, spending that much time with them means personal relationships are bound to form alongside professional ones as we find common interests.
With working from home becoming the new norm over the last couple of years, our previous research has shown that the number of office romances is dwindling – it seems that sending someone a Slack message isn't quite as romantic as dedicating an in-person journey to their side of the office to ask a question that could have been an email!
Now that many workers are headed back into the office, does this spell a return for office romances? To find out, we surveyed 2000 UK office workers on their office romance opinions.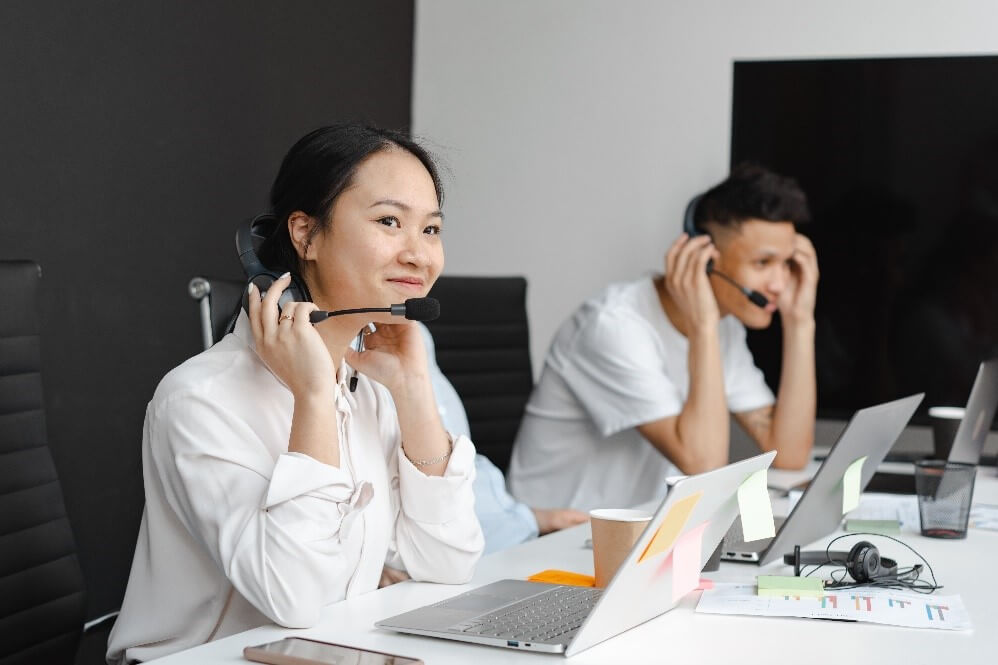 Office Flames Extinguished for Good?
Our previous survey noted a definite dip in the number of workplace romances, with only 10% of us getting together with a colleague between 2020 and 2021. Since then, the statistics have taken an even more drastic turn, as only 3.1% of us have engaged in an office romance in the last 12 months. So, does this indicate the end of finding your perfect match across the desk from you?
2021 marked a return to the office, albeit in masked and socially-distanced conditions, for many, meaning you might not have been wrong to predict a rise in office romance. However, research has shown that we're a lot more conscious of our colleagues' gross office habits since the outbreak of Coronavirus, which could make getting close to others problematic.
Kiss greetings and hugs were deemed worthy of the top five grossest habits we want to ban from the office, so we could be unintentionally avoiding physical contact therefore and stunting intimacy.
Our most recent survey also revealed that the majority of people who have engaged in an office romance did so over 5 years ago (32.8%) or within the last 2-5 years (10.2%).
44.9% admitted that they've never had an office romance, although 15.4% of those have fancied their colleagues.
We also found that the workplace is the most common place to meet your partner, with 19.1% of respondents claiming to have met their current significant other in the office. Does this mean that the shift to remote working might be dampening our chances of finding the one?
But what other options are available to love-seekers? Along with 'in the workplace', here are the five most popular ways to meet the one: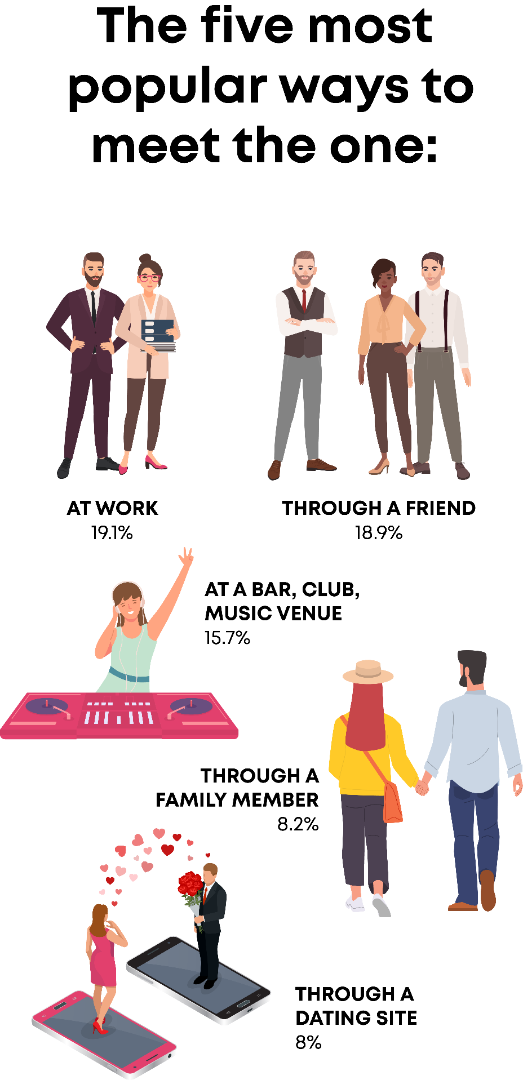 Grab the Popcorn – It's Getting Dramatic!
With less exposure to our colleague's romantic dramatics, only 19.2% of us are opposed to office romances. Although this percentage is higher than last year (16%), we're still a lot more tolerant of our co-workers' romance drama than we were pre-pandemic in 2020 where 56% of respondents wanted to ban the office romance for good. Could this rising figure indicate that we notice just how annoying office romances are when they're in our immediate vicinity?
8% also agreed that having an office romance would make them less productive at work, with men proving to be more easily distracted than women (8.3% vs 7.7%).
On the flipside, 16.2% agreed that getting the chance to be near their workplace crush would make them more motivated to go to work. Again, men are more swayed by their emotions, with 17.3% stating that they'd be more inclined to work from the office if their crush was there, compared with 15.2% of women.
An Age-Old Love Story
You may be thinking that love is a young person's game, but our survey results beg to differ. 18–24-year-olds were found to be the least tolerant of all age groups when it comes to office romances with 26.4% of them stating that they aren't appropriate and 25.5% agreeing they'd never engage in one.
They were also found to be the least likely to say that an office crush would motivate them to go into the office at just 10.4%. That's in comparison with nearly 1 in 5 55-64-year-olds.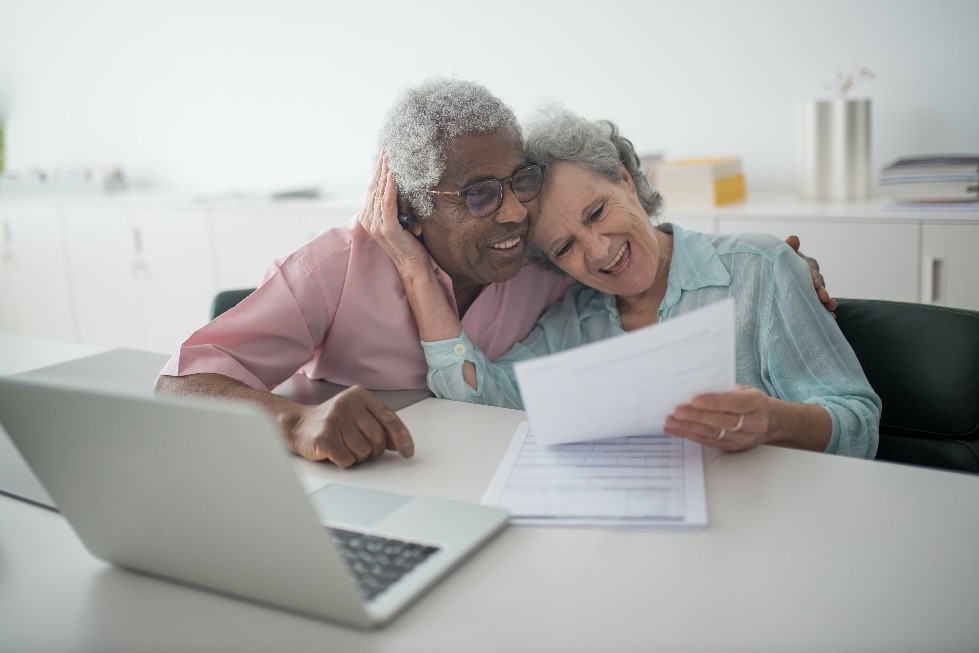 In fact, our survey found older generations are more inclined to find office romances acceptable across the board, with 39% of 45–54-year-olds, 55-64-year-olds and 65+-year-olds in agreement that, depending on people's job roles/responsibilities, there's nothing wrong with an office fling. Does this indicate that office romances are becoming an old-fashioned tradition?
Signs Your Colleague Has a Crush on You
Our survey also revealed UK office workers' top tactics for getting their work crush's attention, so if you've experienced any of the following, you might be anticipating a date invitation!
The most popular technique was to check in with them regularly to see how they were doing (32.4%), which can certainly help build a closer relationship with someone, whether you're in the office or working remotely.
Next with 28.7% of the vote was asking for their help on a task followed by dressing to impress (24%) and congratulating them on their achievements (21.5%).
Those bold few out there voted asking the crush out on a date into fifth position with 20.7% agreeing that this was the ultimate way to progress a romantic relationship at work.
On the other hand, only 7.4% of us would think about keeping the background of our Zoom calls tidy to impress potential love interests, and just 8.4% would take emails and instant messaging to the next level by adding kisses.
Living up to their stereotype, millennials were found to be far more likely to use emojis to get the attention of their office crush compared with gen Z (26% vs 19.8%).
35–44-year-olds are all about keeping up appearances – as their age group is the likeliest to change their work profile picture (36.4%) and dress to impress (28.5%).
The highest confidence levels sit on either side of the generational spectrum - the youngest (18-24-year-olds) and oldest (65+) age group are far more likely than their middle-aged counterparts to build up the courage to ask their work crush out on a date, voting 23.6% and 25.9% respectively.
Women are more likely than men to dress to impress (27.5% vs 20%), whereas men are three times as likely than women to ask their crush out on a date.
Where in the UK is the Best Place to Bag a Date at Work This Valentine's Day?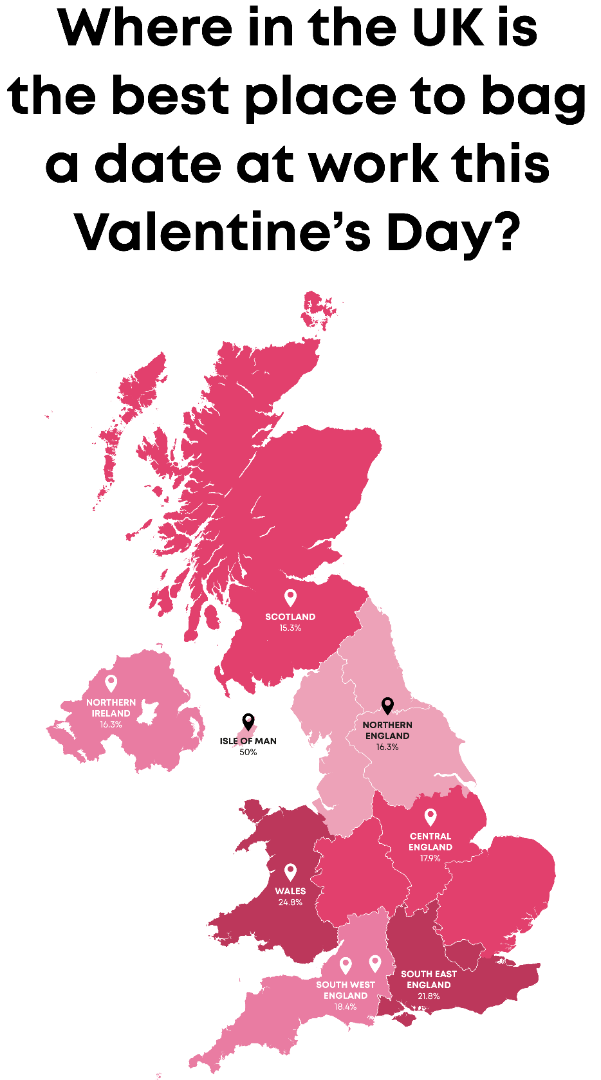 Scotland claimed the top spot as the most accepting place in the UK for office romances, with only 15.3% of workers in this region claiming that they can never be appropriate. This is followed by Northern England (16.3%), and Central England (17.9%).
The least tolerable regions for office relationships in the UK are The Isle of Man (50%), Wales (23.8%), South East England (21.8%) Northern Ireland (21.4%), so you might want to steer clear if your office is located there!
As well as being the most tolerant of office relationships, Scots came out as the boldest in our survey as this nation's workers are the most likely to bite the bullet and ask their crush out on a date (24.6%).
Whether you love them or hate them, office romances certainly look to be in dire need of spicing up before they're lost forever. Why not make the first move and send your crush a Valentine's Day card this year?