The digital world is cluttered. Inboxes are overflowing with promotional emails and sifting through the spam can mean that yours goes unnoticed, or even unintentionally marked as junk. On the other hand, a study shows up to 79% of consumers will act on a direct mail promotion (Target Marketing), and 56% consider printed marketing to be the "most trustworthy" of all channels!
Postcard Printing is an extremely nifty form of promotion; not only are they low cost, but the recognisable A6 shape automatically triggers a positive feeling from consumers as they are usually sent by friends and family, so the skepticism people hold towards advertisements is dramatically lessened. Even better – they have a much higher read rate than letters as there's no envelope and the message is clear to read straight from their post-box.
If you're unsure how to start using postcards to promote your business, check out these five tried and tested marketing strategies to get your campaign started.
1) Use as Vouchers
The number one rule when sending postcards as promotional material is to stick to one, clear message. This will have far more impact than a cluttered card shouting about everything your business has to offer. Keep it simple with a bold and striking design featuring one thing you want your customers to know about.
To tempt people in, offer a deal for their next visit to your shop, or provide a discount code they can use online. 44% of direct mail receivers visit the brand's website afterwards, therefore helping drive traffic to your website. Just make sure to keep the code simple and easy to remember in case they misplace your card.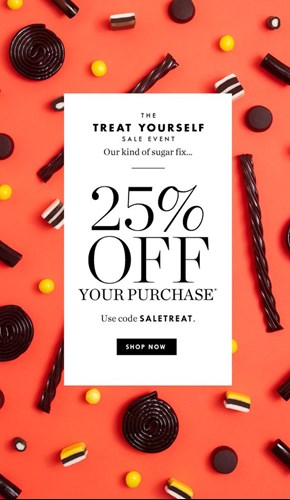 Image: Pinterest
2) Send an Invite or Ticket.
Everyone sends Facebook invites. If you want your event to be the most sought after on customer's calendars, go old school and send an invitation through the post. Not only will it make the event seem more exclusive, but the customer will appreciate the extra effort and may be more inclined to attend than if they received a mass Facebook invite. If you have the time, hand-write the message on the back for that extra personal touch to really show your customers how special they are.
Printing postcards to send a speculative announcement about your event is another way to rouse interest, and they can even be used as a high quality leaflet to hand out to prospective guests.
Going one step further and designing your postcards as a 'ticket' to your event is a clever way of enticing a crowd in. Since tickets are usually bought, they'll be welcomed as free bonus and are a fantastic way to attract an audience.
Image: Pinterest
3) Give a Gift Certificate
Everyone loves receiving a gift, and the A6 postcard size is ideal for creating perfectly branded and well-designed gift certificates. You can offer them in your shop for customers to give to their loved ones, or have an option to buy one in your brochure or on your website.
Again, as postcards allow handwritten messages the gift will be all that more personal and all that more special!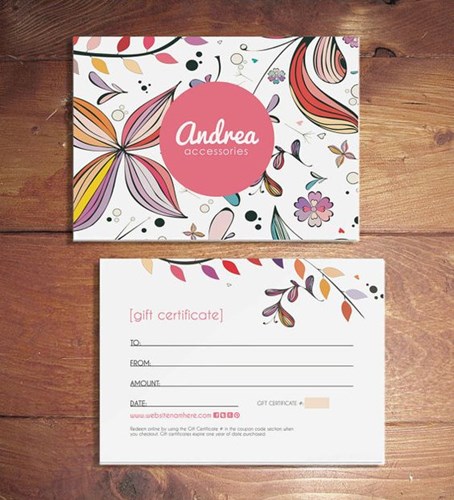 Image: Pinterest
4) Say Thank you!
A personalised thank you shows how much you appreciate a customer, and will leave a positive impression to keep them coming back for more. You could include the postcard with your product, or send it a few weeks after the purchase as a nice follow up.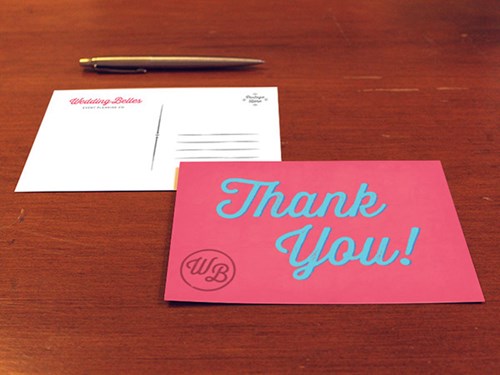 Image: Pinterest
5) Get Feedback and Responses from your Customers.
Postcards are ideal for customers to communicate back to you, whether it's through a survey response, feedback questionnaire or even a competition entry! The A6 postcard has ample room for customers to write down their answers or ideas on one side.
Present your postcards in your shop for customers to quickly fill in and drop in a feedback box by the door. Alternatively, you could include the postcard in the packaging of your product with your business address and a stamp attached for the customer to send back to you. Offering a discount for their feedback will give your customers the incentive to pop it in the post-box for an even higher return rate.
Now… time to get posting!
Postcard printing is one of the most versatile and fun ways to market your brand and connect personally with your customers! Just make sure your postcard design is on brand with a clear message and you've got yourself the foundations of a successful marketing campaign.