The most exciting part of ordering print online is seeing your designs in action. We're forever inspired by the creative ways our clients use print to brand and market their business, and we know it's inspiring for other businesses to see too. That's why we like to shine the spotlight on our clients' print!
This week, we caught up with Toby, Creative Director at Hair Salon Near Me, a premium hairdresser business based in Doncaster, to find out how they enhance their customers' experience and branding with print from instantprint.
Tell us about Hair Salon Near Me!
Hair Salon Near Me exists to offer premium quality hair at an affordable price point. Our mission is to give everyone the opportunity to have professional hair and a premium salon experience at an affordable price point. The secret to our success is really listening to our clients, ensuring their needs are met, that they're amazed by the result, and they leave our salon feeling as incredible as their hair now looks!
Which print products have you found the most success with?
In the hair and beauty industry, it's paramount to your success that you are pumping your marketing efforts full steam ahead. It's 2022: the age of Instagram and TikTok and that means it's no longer good enough to be just an exceptional stylist; you also have to be an ace photographer or videographer and heaven forbid you're not keeping up with the latest trends, right? It's a lot, and
it's exhausting, especially when you have a full column to manage!
Having said this, print is a tried and tested timeless classic that shouldn't be underestimated. At Hair Salon Near Me, we purchased 2000 matt lamination spot UV 450gsm business cards and use them as the primary driver of our "refer a friend" incentive. The cool-looking and on-brand business cards are a hit with clients. We always have clients take handfuls because they themselves get a discount for referring a friend, making it a win-win campaign! Each month an average of between 15% - 20% of our clientele is made up of new customers with referral cards being a key driver of this result!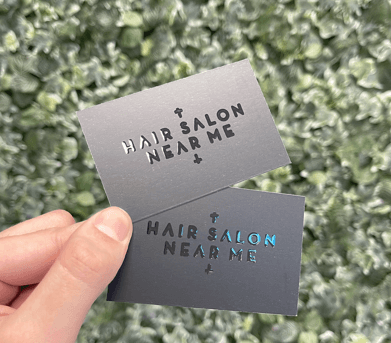 Being positioned in a prime location on the high-street means we get a lot of footfall. Obviously, all our prices are online on our website but having printed price lists means we're far more accessible to older generations who want something physical to take away and refer to.
Our salon's price structure is weighted depending on how experienced our stylists are. Having 8 stylists means we have 4 sets of prices and despite optimising the user experience of our online booking apps and website, it's my opinion that having all our services neatly laid out in a printed matrix enables clients to select their stylist based on their budget way easier.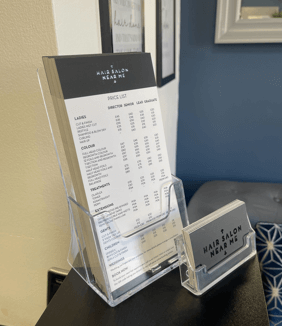 Printed marketing tools that make purchase decisions easier have never been more critical as we see more and more clients being affected by the cost-of-living crisis. We're seeing first-hand that everyone is looking to save money where they can so this tool is great for showing new customers how accessible we are.
How do you make your customers feel special?
Being in tune with your clients' needs and staying in a constant state of adaptability is key for any business across any industry. Our clients' opinion is the only one that matters – it's our business's north star.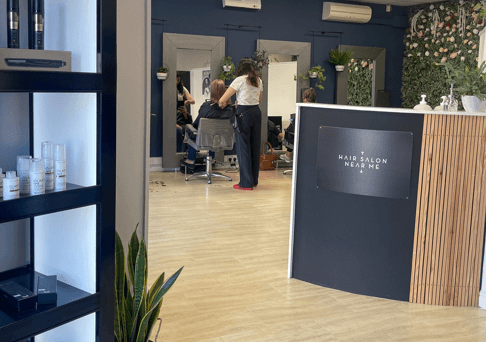 When we launched in December 2021, our salon's interior design was selected by our clients, we asked how we can improve and what changes they believe would enhance their experience. This lets clients know they were part of the journey with us from day one – from the paint on the walls to the chairs they sit in, right down to what biscuits we purchase and the brand of coffee. We know that the devil is in the details and by being open and responding to feedback and always listening, you'll never make a wrong decision.
It was always our goal to create a beautiful space that would encourage clients that love taking photos to pull their phones out and snap away. At HSNM, every part of our customer journey isn't just a transaction, it's a photo opportunity. Our clients are greeted with branded gowns, in the reception area that has retail merchandise in an aesthetically pleasing rainbow spectrum. Then they're invited to sit in front of full-length mirrors that make it impossible to resist taking a selfie whilst being handed a free complimentary 'latte art' style drink sitting in our branded coffee cups, all in the hopes that our clients take photos, upload them to social media and tag away and create organic referrals.
What are your top print tips for other businesses in your industry?
In my opinion, the value of print transcends any other marketing medium. Here are some stories I'd like to share with tips for others in the industry and beyond:
Don't worry about direct return on investment – the value of print isn't always measurable.
When we shared a photo of our branded opening times aluminium sign that we purchased from instantprint, we had multiple clients message to say how proud they were. I remember thinking, "it's just an opening time sign, right?" It was so interesting to me that this evoked that response. I found myself puzzled asking, weren't you proud before? Did fitting a sign with our opening times instantly generate more sales? No. But when it was fitted, it made our business official, gave the building a newfound authority and clearer identity to passers-by and added the credibility of a well-established salon.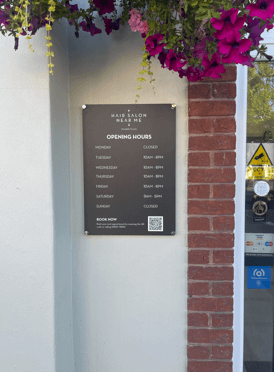 Quality matters – give your customers something to remember!
If you have the budget to upgrade your stock, add a finishing type like foil or spot UV I'd recommend you go all in! The attention to detail goes down a storm. I don't think we've given a flyer or business card out to our clients without them gushing "Oh these are nice, aren't they? Where did you get this done?".
If something is nice customers really cherish it too. Because our appointment cards are printed on a 450gsm, the thicker quality with the spot UV finish creates an expensive feel. When we hand them over to clients, we see customers take extra care and effort to put them in their bags or purses somewhere safe out of harm's way.
Distribution, distribution, distribution – why perseverance is key.
When we first got our appointment cards, it was disheartening to hand them out for weeks and not really see any immediate return. You must really trust the process and not lose heart. I remember the team being surprised by the volume of customers we had calling into the salon with their cards to book an appointment after a good six weeks of handing them out and not seeing anyone return.
The great thing about this marketing tactic is it's not time intensive. I think if you're running a business and don't necessarily have the resource readily available plough into marketing this is such a quick win for drumming up extra trade. It takes minimal time and effort to hand a customer a referral business card upon transition and they really do incentivise both new and returning custom.
Why do you choose to print with instantprint?
I love instantprint. the quality is exceptional and the customer service I've received has been phenomenal. Owning a business, I have really high expectations when it comes to customer experience and instantprint really nail the fundamentals. I've never had to wait to be put through to a human who cares about quality service, I've always got a resolution or answer to any queries I've had the first time and my day is always improved after any interaction with their team.
Be featured!
Want to be featured in our next Client Spotlight? Send us a message on Instagram and we'll get back to you ASAP!