Who hasn't, at least once in their life, dreamed about swapping their everyday office desk and the grey British weather for sandy beaches, a pair of flip flops, and some much needed 30 °C weather?
Sure, for the majority of UK workers that's sadly not really possible (or at least, not every day), however a number of UK companies including Ocado, are now offering their employees the chance to work from anywhere they wish to (visa dependent) in the world – embracing the new wave of more flexible "work perks" brought about by the past two years.
To find out more about the concept of a 'workcation'- AKA working remotely from abroad for a limited amount of time - we quizzed 2,000 UK employees about what they would (or wouldn't) find appealing about this opportunity.
Finally, we then collated data relating to key factors those looking to embark upon a 'workcation' would need to consider, such as average living costs, internet speed, 'digital nomad' visa requirements and the initial length of stay permitted by said visa, as well as crime rates. We did this for 26 countries across the globe.
What do Brits think about 'workcations'?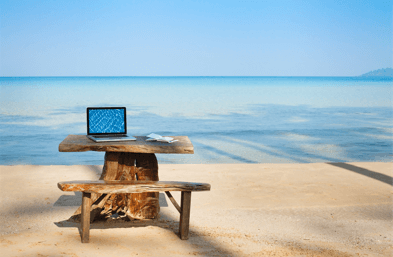 We asked 2,000 UK employees whether they'd take the opportunity to work remotely from a different country if it was offered to them, and which aspects of a 'workcation' would be most appealing to them too.
Nearly half (47%) of Brits said they would love the chance to work remotely from abroad if their employer would let them, with their love of travel being the top reason for this (46%).
Men were found to be more likely to want to take a 'workcation' than women (51% vs. 42%), with their top reason being that it's something they've always been eager to do (41%).
Both money and wellbeing also played a role in the workplace wanderlust experienced by some UK workers.
For four in ten of those surveyed (40%), the potential benefits to their mental health were a key reason for wanting to take a 'workcation', particularly amongst 35–44-year-olds (49%).
A quarter (26%) admitted to us that the potential savings they think can be made by working from another country are a huge draw too.
This is especially true for Londoners and those living in the South West, as 37% and 35% respectively feel that working from a different country would be financially beneficial to them.
This belief is totally understandable when you consider the average cost of living for a single person in the UK has been estimated to be around £2,005 per month¹ in 2022.
Something that will undoubtedly be music to the ears of employers across the country is that more than a fifth of Brits (22%) actually believe working from another country would help to boost their productivity levels too.
Just one in ten (10%) feel they would not be as productive when working away in another country.

What is the best country for 'digital nomads?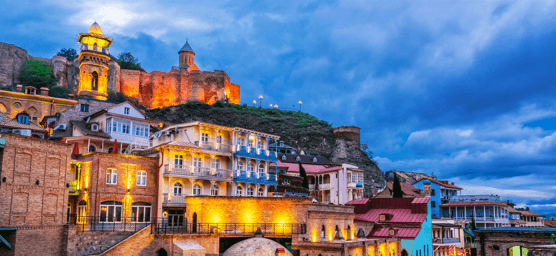 Our research has shown that the beautiful country of Georgia claimed the top spot for those looking for a change of scenery while still carrying on with their day-to-day job.
Georgia is situated on the Black Sea coast and is at the intersection of Europe and Asia. It is most famous for Vardzia, which is a sprawling cave monastery dating to the 12th century, and the ancient wine-growing region Kakheti.
The capital, Tbilisi, is also well-known for its diverse architecture and the cobblestone streets in its old town.
Despite its low median internet speed of just 19.68MBps, Georgia does offer a free 12-month initial visa and a low crime rate score, as well as a low average cost of living of just £817.11 per month.
These factors secured the number one spot for Georgia, which scored 80.5 points out of a possible 120 in our ranking.
With the average cost of living for a single person in the UK totalling around £2,005 a month, making it a staggering 145% more expensive than Georgia, we wouldn't be surprised if UK workers reading this were quick to pack up their laptops and head to the nearest airport in order to take advantage of those significant savings!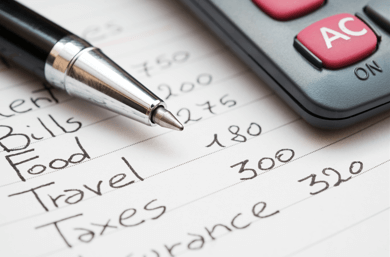 Following Georgia closely in the ranking are Romania, scoring 79.5 out of 120 and, Czech Republic, scoring 77 points out of 120.
Romania offers an extremely low cost of living (-80% compared to the UK), as well as a high average internet broadband speed and the chance to stay in the country for 12 months with an initial visa.
The Czech Republic, despite a slightly higher cost of living (which is still 40% lower than the UK), also offers a low crime rate and a free 12-month visa for digital nomads.

| Ranking | Country | Avg. Cost of Living (GBP) | Internet Speed (Fixed Broadband, median speed MBps) | Initial Length of Stay in the Country (months) | Cost of Initial Visa (GBP) | Crime Rate | Points (out of a possible 120) |
| --- | --- | --- | --- | --- | --- | --- | --- |
| 1 | Georgia | 817.11 | 19.68 | 12 | 0 | 23.38 | 80.5 |
| 2 | Romania | 383 | 131.67 | 12 | N/A | 128.3 | 79.5 |
| 3 | Czech Republic | 1187.31 | 49.29 | 12 | 0 | 23.38 | 77 |
| 4 | Hungary | 824.59 | 99.86 | 12 | 94 | 34.36 | 76.5 |
| 5 | Estonia | 1127.49 | 51.95 | 12 | 85 | 23.17 | 75 |
| 6 | Thailand | 934.61 | 187.8 | 3 | 53 | 39.35 | 75 |
| 7 | Portugal | 1192.96 | 110.66 | 12 | 132 | 29.91 | 74.5 |
| 8 | Spain | 1497.38 | 136.67 | 6 | 68 | 33.32 | 70.5 |
| 9 | Croatia | 971.25 | 42.74 | 12 | 111 | 24.59 | 69 |
| 10 | UAE | 2017.95 | 107.98 | 12 | 235 | 15.32 | 67.5 |
Other countries joining near the top of the list were Hungary (76.5/120), Estonia and Thailand (both scoring 75/120).
When comparing all countries within the top 10, Romania offers the biggest savings when it comes to cost of living thanks to its significantly low average living costs of just £383 per person, making it £1,619 cheaper (-81%) than the UK.
Other countries where Brits could make substantial savings based on the combined cost of initial visa and the average cost of living, include Mauritius (£649), Columbia (£713.16), Costa Rica (£788.88), Georgia (£817.11), and Hungary (£918.59).
| Ranking | Country | Avg. Cost of Living (GBP) | Cost of Initial Visa (GBP) | Total Cost (GBP) |
| --- | --- | --- | --- | --- |
| 1 | Romania | 383.00 | 0 | 383.00 |
| 2 | Mauritius | 649.04 | 0 | 649.04 |
| 3 | Colombia | 603.16 | 110.00 | 713.16 |
| 4 | Costa Rica | 583.88 | 205.00 | 788.88 |
| 5 | Georgia | 817.11 | 0 | 817.11 |
| 6 | Hungary | 824.59 | 94.00 | 918.59 |
| 7 | Thailand | 934.61 | 53.00 | 987.61 |
| 8 | Greece | 1007.51 | 64.00 | 1071.51 |
| 9 | Croatia | 971.25 | 111.00 | 1082.25 |
| 10 | Czech Republic | 1187.31 | 0 | 1187.31 |
At the other end of the scale, the Netherlands was found to be the most expensive option, with a combined cost of living per month and initial visa cost of £3,335. The country was joined by Barbados (£2,900.75), the Bahamas (£2,596.54), Norway (£2,581.15), and UAE (£2,252).
What are the 'worst' countries for WFH abroad?
Despite some of the countries we analysed being top holiday destinations that many UK employees will no doubt daydream about visiting while sitting at their desks on a grey Monday afternoon, the reality of working and living in some of these places is different to a vacation.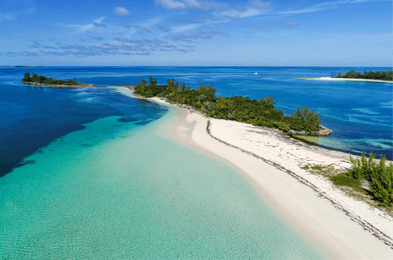 The Bahamas, whose government was one of the first administrations to invite foreigners to work remotely from their beautiful island, has unfortunately been revealed as the worst country for digital nomads in our study, scoring just 27.5 points out of 120.
The cost of living for a single person in the Bahamas would amount to £1,757.54, one of the most expensive amongst the countries in our study.
The data has also shown that the Bahamas has a relatively high crime rate score (62.06), a median internet speed of just 36.27MBps, and a visa cost of £839 for an initial stay of 12 months - all factors which contributed to its low score in our ranking.
Despite the sandy beaches and crystal-clear waters the island offers, all of these factors show that you may want to think twice before you consider taking a 'workcation' here. And, let's be honest, those gorgeous beaches would be quite the distraction!
Following closely are Mexico, scoring 37.5/12, and Barbados which secured a score of just 45.5/120.
Both countries boast a relatively low cost of living compared to the UK (50% and 36% lower respectively), but both were let down by fairly high crime rates.

What do I need to know before taking a 'workcation'?
Once you have decided on your destination, it's probably advisable to make yourself familiar with the entry rules and regulations of the country you're heading to.
Luckily for those considering making the move and heading overseas, the two countries that came out on top in our rankings, Georgia and Romania, both have a fairly straightforward process when it comes to a digital nomad visa application.
Georgia
It's currently free to apply for a digital nomad visa in Georgia, and the whole process can be done online.
All you need to submit an application is your passport, proof of income or savings (which need to be at least $2,000/per month (£1,612) or $24,000 in savings (£19,350), a remote working contract, and finally a proof of medical insurance.
It should take around 10 working days to receive a final answer on your visa application. Short and sweet!

Romania
If you're looking to 'move' to Romania for a short while, requirements for a

digital nomad visa

do differ slightly at this time.
Firstly, you will need an ID document and proof that you have been employed (full time or part time) outside of Romania for at least three years.
You will also have to have proof of income that's at least three times as much as the average Romanian gross salary, which is around €3,700 per month (£3,155), alongside an employment contract.
Additionally, you will need to prove you have a clean criminal record, have a place to stay in the country, and have health insurance at the time of application.
Again, the overall approval process should also take around 10 working days.

Czech Republic
For the third country in our ranking, Czech Republic, visa requirements are slightly more complex, and as such, many foreigners rely on the help of a solicitor to complete the process.
Sadly, the application can't be completed online as it requires submission of a physical copy of the visa documentation, as well as an in-person interview. This means you will have to visit your local embassy or consulate in order to complete the process successfully.
As part of the documentation, you will also need proof of financial resources which should be at least 50 times the Czech subsistence minimum (2,490 CZK or £85.50) in a personal bank account at the time of the application.
It's worth noting that the approval process is also quite lengthy as it takes 90 working days on average. However, it could take up to 120 days in exceptional circumstances, which should be factored into any plans you might have in order to avoid disappointment down the line.

Conclusion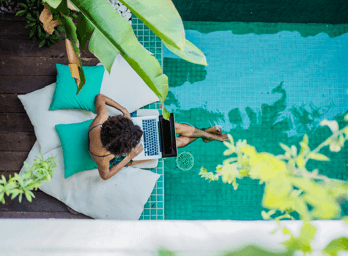 The UK has certainly seen a big shake up in the corporate world following the pandemic, and we wholeheartedly welcome the more flexible approach to a work-life balance being adopted by many businesses. If you're one of the lucky few whose company is happy for them to work from somewhere outside of their home location, there is certainly plenty to think about before you jet off, laptop in tow.
While working from abroad has a number of legal and tax implications, and can't be a viable option for every business, more and more companies are starting to adopt this as a policy and allowing their employees to work from – quite literally – anywhere.
As our study has highlighted, before you get your heart set on working from a certain country outside of the UK, there is a huge amount to consider both in terms of whether the place you'd like to travel to can really provide everything you need to work efficiently, so doing some in depth research beforehand is advisable.
We're big believers in finding new ways to keep employees motivated and engaged, as both of these factors are an integral part of a productive and harmonious team. While the right solution has to be chosen on a case-by-case basis, offering a flexible working location can be a strongly motivating factor for workers, which can in return benefit the overall team and business.
That said, for anyone who's heading off on a workcation, before you head off, remember to update your business cards and any workplace stationery to reflect your change of address, and to keep clients and co-workers up-to-date as to the best way to contact you.
All that's left to say is, bon voyage, we're not even a little bit jealous…
Why not print any goodbye cards, or invitations to farewell parties with us: https://www.instantprint.co.uk/cards-and-invites
Inspiration for new business cards can be found here: https://www.instantprint.co.uk/business-cards
And, for all your business stationery needs visit: https://www.instantprint.co.uk/business-stationery
Sources:
1 https://jobdescription-library.com/cost-of-living-uk
• Data from a survey of 2,000 UK adults conducted in May 2022
• Countries offering remote worker visas/Digital nomad visas: https://www.etiasvisa.com/etias-news/digital-nomad-visas-eu-countries
• Global Median Speeds March 2022 - https://www.speedtest.net/global-index
• Crime Rates - https://worldpopulationreview.com/country-rankings/crime-rate-by-country and https://www.numbeo.com/crime