As the country gradually begins its return to normality (hoorah!), there has been much debate over which aspects of lockdown life we'll keep in our day-to-day lives, with working from home being one of the key sources of split opinion amongst the nation's workers.
Understandably, with such a large percentage of the population working from home for much the past year, the idea of heading back into the office full-time appears to be one that the public just cannot seem to agree on.
With so many of our own lovely team still working from home, we were keen to find out more about how the nation as a whole feels about the possibility of returning to their workplace this summer, as well as the aspects of working life they're looking forward to – or dreading – the most. We surveyed 1,000 UK employees to find out more.

Let working life resume – well, soon-ish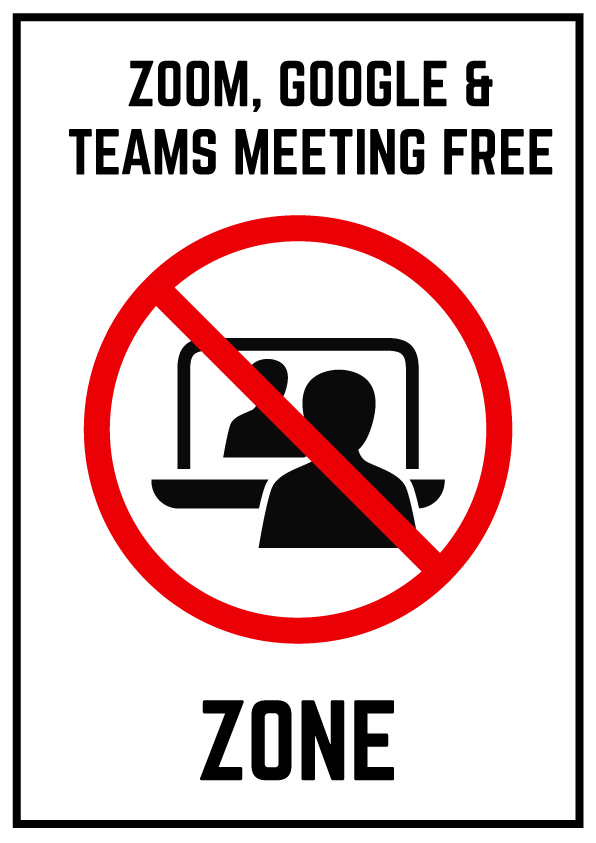 First and foremost, we asked participants to tell us when they believed they would feel ready to head back into their usual place of work, with a fifth (20%) stating they are more than ready to get back into their workplace right now. One in seven (14%) of those surveyed shared they would be happy to go back into offices no earlier than June 2021.
According to our study, more than a third of UK employees (36%) still working from home would love to work full time from home forever. A quarter (24%), are keen to go back to the workplace part-time, working the majority of the week from home if they can.
Conversely, one in fourteen (7%) said they would not be ready to get back into their workplace until 2022. Shockingly, a similar number of UK workers (8%) stated that quite simply they would never feel comfortable going back into the office, which amounts to around 2.5million UK employees!
Interestingly, the research also highlighted that double the number of women (12%) than men (6%) would be happy to never return to the workplace.
A nation of chatterboxes & pet lovers
When quizzed about what aspects of working life they'd been missing, small talk (33%) came out on top. Other things people have missed and are looking forward to getting back included the social side of work-life (31%), general gossip (31%), taking a proper lunch break (26%) and the tea/coffee round (24%).
As a nation of pet lovers, it's no surprise that our beloved furry friends have made a strong feature on this list too, with one in ten (10%) admitting that having to leave their pet at home is one of their biggest concerns about heading back to their usual place of work.
However, on the other end of the scale, one in ten revealed they were excited to get back to the workplace as it meant less time with the kids (10%), and five per cent were looking forward to getting some time away from their pets.
Working from home certainly has its advantages, too – don't worry, we won't tell your boss! Which is probably why sixteen per cent of Brits who currently work from home admitted they are reluctant to head back to the workplace as it meant they would have less time to get chores done throughout the week.
Our guide to getting back to the workplace with ease!
It's been a while since you've socialised with, well, anyone, and as such plenty of us are understandably feeling a tad on the anxious side about remembering how to act and what to say on our return to the workplace. Do not worry, we've got your back.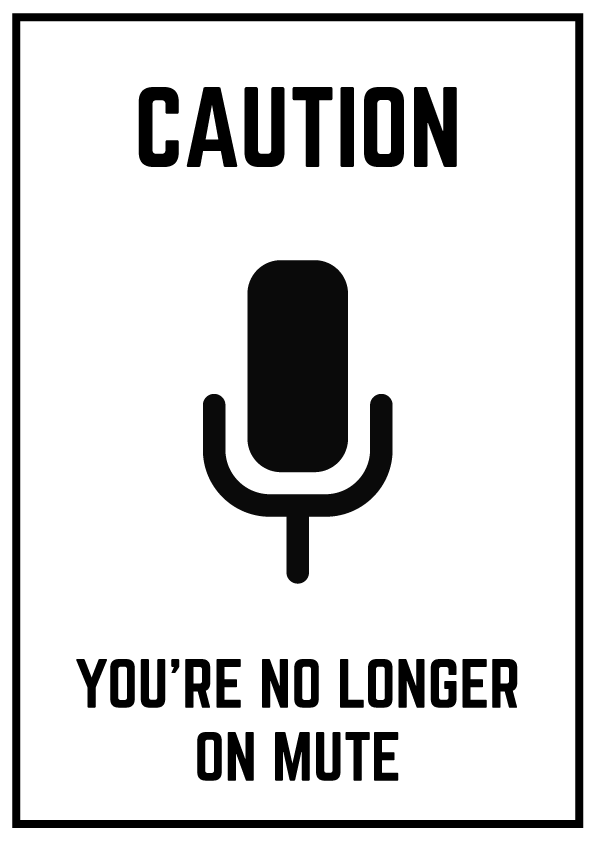 Here are some hints and tips to ensure the transition from WFH to the workplace goes without a hitch.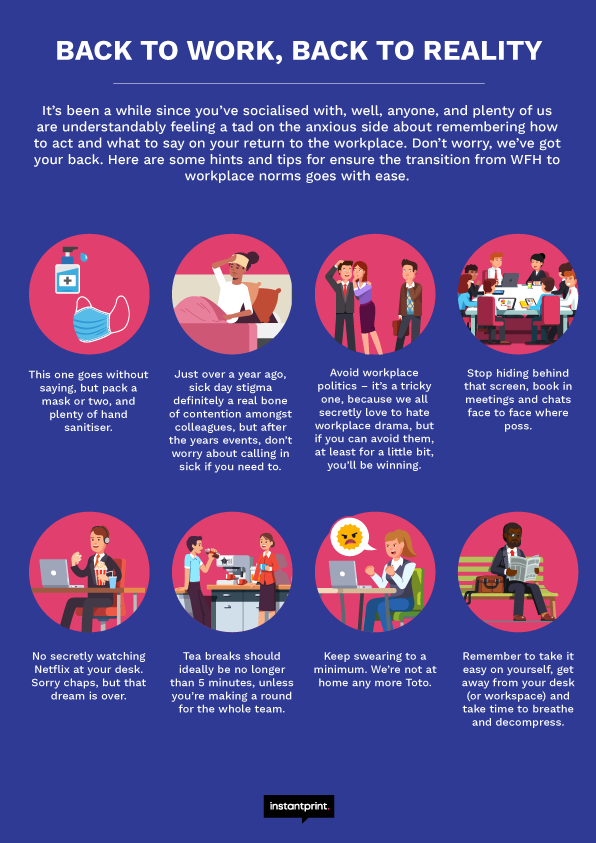 This one goes without saying but remember to pack a facemask or two, and plenty of hand sanitiser.
Just over a year ago, sick day stigma was definitely a real bone of contention amongst colleagues, but after the year's events, don't worry about calling in sick if you need to.
Avoid workplace politics – it's a tricky one because we all secretly love to hate workplace drama, but if you can avoid them, at least for a little bit, you'll be winning.
Stop hiding behind that screen, book in meetings and chats face to face where possible.
No secretly watching Netflix at your desk. Sorry chaps, but that dream is over.
Tea breaks should ideally be no longer than 5 minutes, unless you're making a round for the whole team that is!
Keep swearing to a minimum. You're no longer on mute and we're not WFH anymore, Toto.
Of a similar ilk, please note that you can no longer blur that background, so try to keep your workspace tidy.
Remember to take it easy on yourself, get away from your desk (or workspace) and take time to breathe and decompress.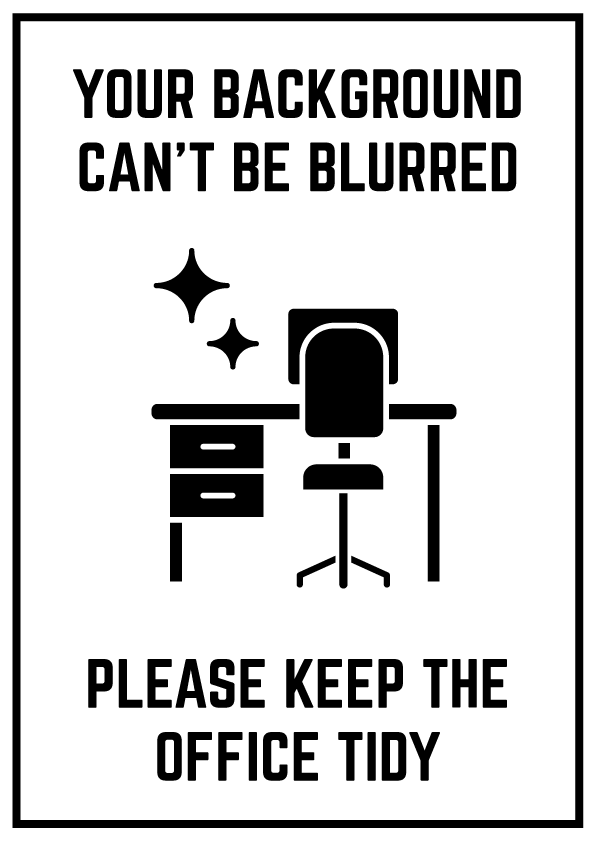 The ultimate list of banned topics and phrases
Whilst we totally understand that the past year may have been slightly limiting in terms of banking those exciting conversation starters. No one really needs to hear about your recent escapades into Joe Wickes on YouTube and banana bread baking. As such, to keep eye-rolling to a minimal amongst your colleagues, here is our top list of "banned banter" in the workplace: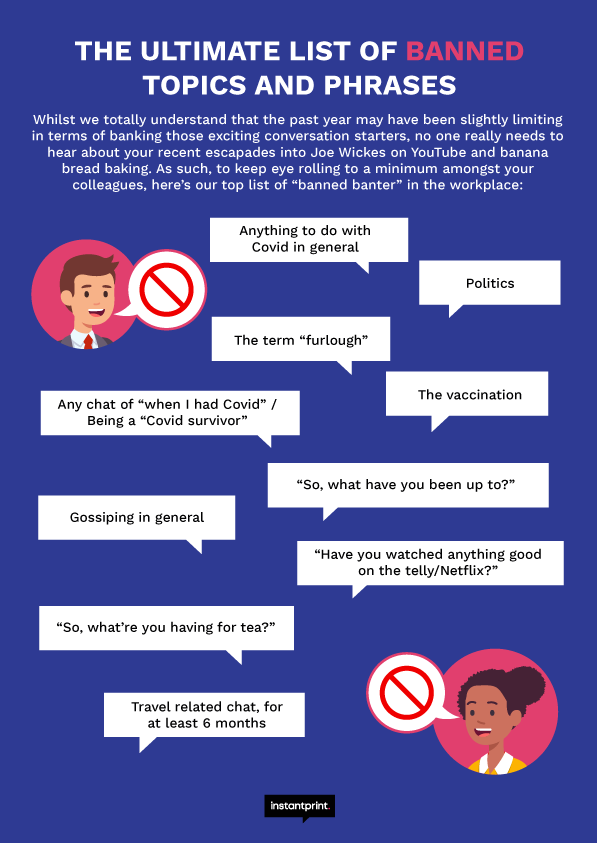 | | |
| --- | --- |
| Topics we want banned from the workplace on our return | % |
| Covid in general | 42% |
| Politics | 27% |
| Furlough | 26% |
| The vaccination | 21% |
| "When I had Covid..." | 18% |
| What have you been up to? | 17% |
| General gossip | 15% |
| "Have you watched anything good on the telly/Netflix/other?" | 12% |
| "So, what are you having for tea?" | 11% |
| Travel (for at least 6 months) | 11% |
Hints and tips for work-appropriate chat
With all these black-listed topics and not a whole lot going on in our lives in 2020, you may feel ever so slightly restricted as to what you can bring up in conversation, so here are a few ideas to help sway your chat away from those Covid-heavy topics:
Gossiping - Okay, so this first one is technically on both lists, but hear us out…it seems gossip in the workplace is one of those marmite topics, and whilst some of us can't stand it, a third of Britain's workforce (31%) are eager to get back to it and stat. Our advice? Just be careful who you're doing it around, who you're talking about, and ensure it couldn't be perceived to be slanderous or hurtful.
Any interesting new hobbies you picked up in the past year - So, we'd recommend not taking up an hour of someone's time by talking their ear off entirely about your banana bread skills. But, we're sure many of you have picked up some rather impressive, interesting and just downright unusual hobbies over the past year, so why not take this opportunity to brag about it? Just remember to keep it clean!
"How are you doing?" – Mental health and anxiety, especially due to the weird circumstances we still find ourselves in are hot topics at the moment. We believe it's important to take the time to check in on your co-workers. The simple question of "how are you doing" may be one we may ask fairly frequently but we may not take the time to actually listen to their answer. Doing so can make a massive difference to someone who may just need a friendly colleague to chat to.
Unusual lockdown dreams – Is it just us, or have dreams been getting weirder during lockdown?! We recently delved a little deeper into the topic with some rather interesting results! We bet your colleagues have been having some colourful dreams to! Again, keep it clean!
New pet chat – Who doesn't like puppies?! It really does seem that the world and his wife got a new puppy or kitten over lockdown, and for those that you who did, you are certain to have plenty of cute photos and videos to show off when you're back to working life. Just try to keep it to a minimum. Really, there's only so many times we want to hear you bragging about your new puppy and "that amazing trick they can do" – sorry Brenda!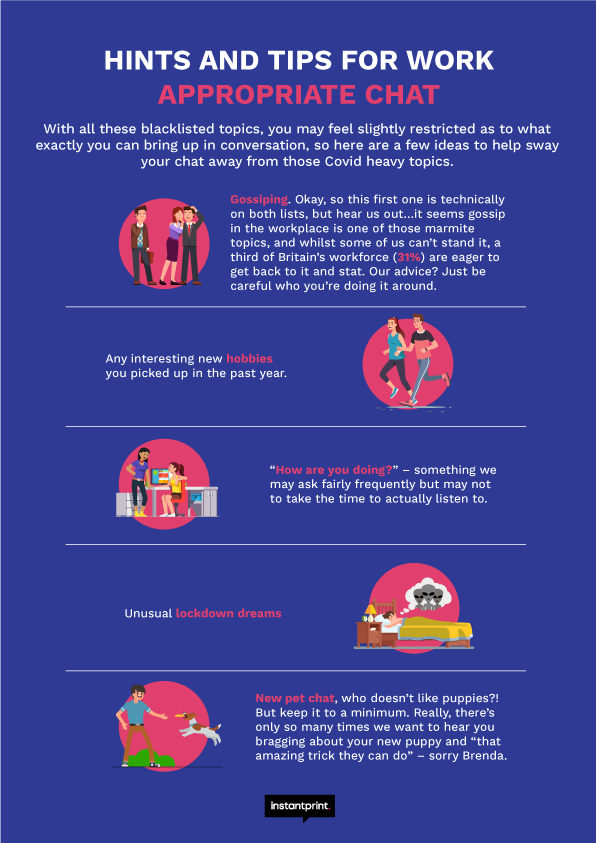 Which brew are you?
After a year of avoiding the all-important tea round, it is highly likely you've forgotten how your boss takes her tea, and you may even have new team members you've never met in person before too.
To keep things simple, we've created a very helpful chart below to help take the stress out of your brew making duties. Simply print, laminate, and pop your colleagues' names against the below in non-perm marker and become a true hero of the tea or coffee round.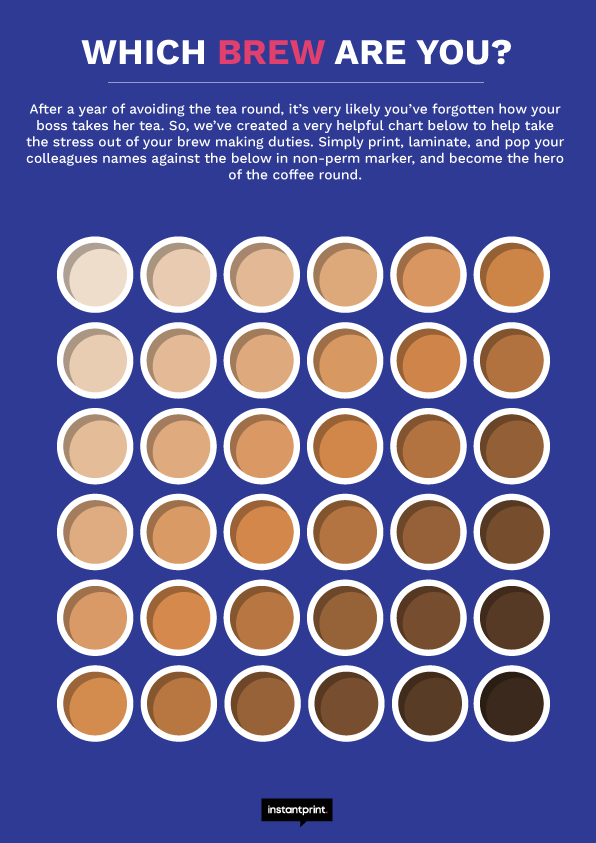 We are here to help
We know that heading back into the workplace is something that the country is naturally conflicted on, ourselves included. And, after a year of working from home, it's understandable that this is a favourable option amongst many of the nation's workforce.
As we transition out of lockdown, it's important for employers to take the opinions of their staff into account and try to be as flexible as possible, listening to both sides of the debate, and accepting that not everyone will be comfortable heading into offices straight away – although this might be the best option for others.
Despite the mixed opinions when it comes to location, it's lovely to see that for the most part, we're ready and eager to get back to our colleagues and bask in the social aspects of working life as soon as possible – just no one mention Covid.
For those who would like to print out our handy guides to the return to the workplace, you can do so below. We've also included some posters too, which provide helpful reminders that you're no longer safely hidden behind a computer screen, or on mute.
If you're an employer looking to make your workplace as safe-an-environment to return to for your employees, we also stock a whole host of products designed with you and your team in mind, with everything from covid health and safety signage to floor tape and desk dividers – and everything in between!