We know it still might not be everyone's cup of tea, but working from home has certainly become the "new normal" in 2020 for around 86% of UK employees. One element of our previous working life that many of us will likely be happy to see the back of, is the daily commute.
We've done the math and found that if the working from home malarky continues into early 2021, based on the average daily commute in the UK being 59 minutes a day (both ways combined), UK employees will have saved themselves a whopping 9 days 2 hours on average over the course of a year – all thanks to cutting the commute.
Naturally, we were super keen to find out just how those of you who've benefitted from this additional spare time are spending it, and so we quizzed 1,000 Brits who've been working from home due to Covid-19 to find out more…
What we've actually been doing…
Turns out, we've found plenty to keep us occupied in that extra hour a day, with just 3% of UK adults admitting they have wasted the extra time got back since they stopped commuting.
Our research found that UK adults are turning to reading (26%), Netflix binges (26%) listening to new music (22%), squeezing in a nap (21%) and getting creative in the kitchen (20%) to keep us out of trouble.
As well as enjoying some of the more relaxing pastimes, many UK workers are spending the time gained to work on their… "gainz". Sorry.
Almost a fifth (18%) of us are making sure to keep on top of our workout schedule at home. Similarly, cycling (16%) and running (16%) are high on the agenda. Interestingly, double the amount of men (22%) than women (11%) have opted to use their extra hours to get out running.
And, where we can do so safely, a fifth of us (20%) have been squeezing in as much time with our friends, family and pets as we can.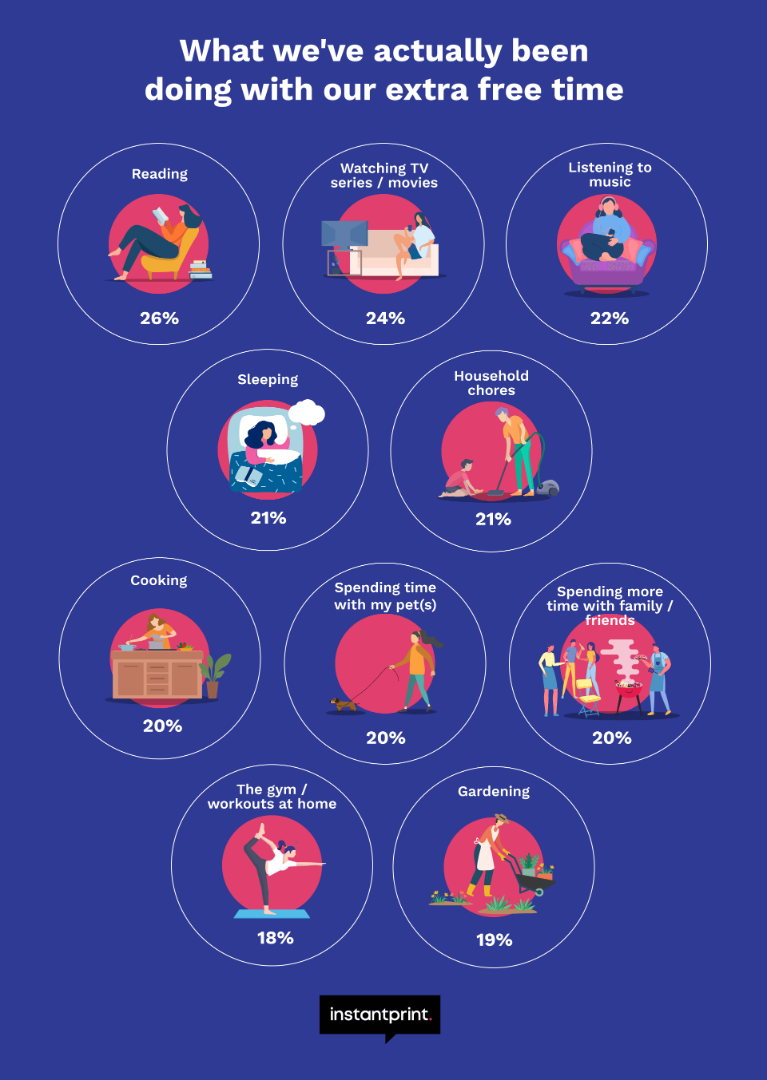 Work, work, work, work, work
Of course, some of you little worker bees are using the time spent on the new non-commute to catch up on more work. In fact, more than half of UK adults (51%) who've found themselves WFH this year, admitted that they were putting more time into their job than they had been before being banished from the office.
Comparatively, fifteen percent claim to have perfected the work-life balance in 2020, confiding in us that they're actually working fewer hours than they normally would have done. And more than a third (35%) also claimed to be working the same amount as hours as had done before lockdown life commenced.
Of course, we all have to put in those extra hours every now and again, and it's important to hit those deadlines, but it's all about the balance and it is essential that you're kind to yourself and fit in plenty of downtime too.
Fly me to the moon
Whilst we admit that a few of these next suggestions would involve space travel, and yes, some may be slightly tedious if completed back to back (and we really don't recommend doing so), technically, all of these activities could be squeezed into the extra free gained by not commuting over a year..
For no other feasible reason other than it being a tasty treat, banana bread shot to fame as a lockdown baking staple in 2020. Taking just 1.5 hours from start to finish to make – not counting the time it takes to cool before being eaten – a total of 145.3 loaves of banana bread could have been baked in the 9 days 2 hours gained by working from home.
Prefer savory to sweet? No problem. At six minutes a pop, 2,180 medium boiled eggs could have been cooked to perfection.
Perhaps your skill set leans more towards the athletic side than it does the baking? For the sixteen percent of the nation who've gained a newfound love of running over lockdown, you could have completed a whopping 50.1 marathons in the 9 days and 2 hours gained by saying farewell to your commute this year.
DIY fever was the source of distraction for many, and it is how 13% of the nation has been spending at least some of the extra hour-a-day so far this year. Our calculations show that 44.5 rooms (384 sq²) could have been decorated in the extra time.
In fact, if equipment, knowledge, and training allowed, you could actually have made your way to the moon and back, and back again for good measure!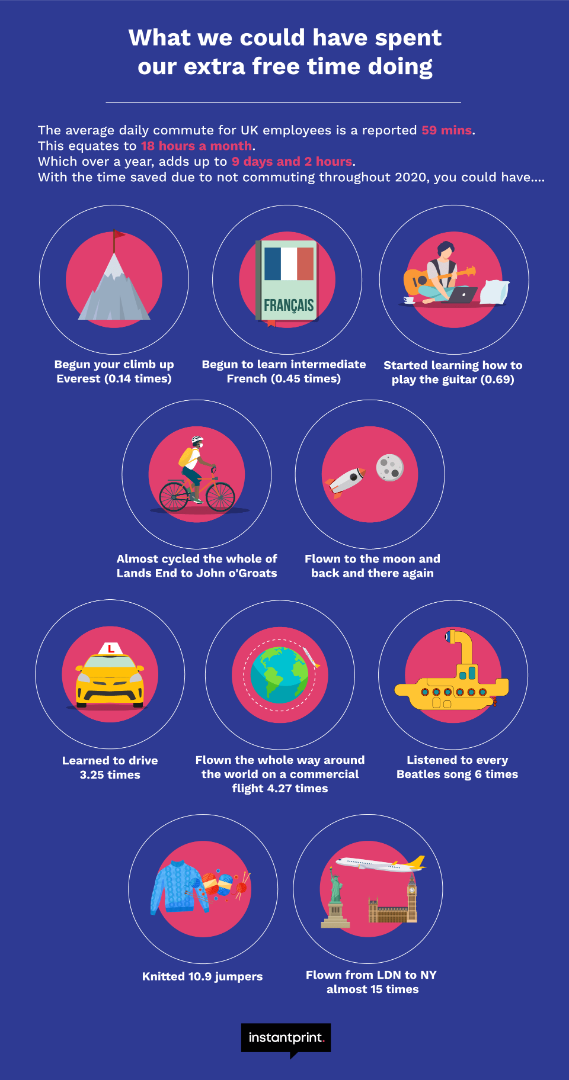 "If you watch too much TV, you'll get square eyes!"
For those of you who are fans of Connell and his chain *insert swoon here*, owing to boasting just one season of the romantic drama, you could have watched the whole series of Normal People approximately 38.35 times. If the Gilmore Girls is more your thing, you could have crammed in all 153 episodes almost twice the whole way through (1.94 times).
With Christmas right around the corner, we were keen to include a couple of festive faves too.
Did you know that there are in fact five Home Alone movies in the franchise? Whilst we all know that there's not really much point watching any of the sequels that don't feature the star of the show, Kevin McAllister, if you really wanted to, you could fit in all five films a total of 25.05 times. If you're a fan of something with a little bit more action, then all 10 hours and 12 minutes of the Die Hard movie series should suffice, and you could watch all six films 21.37 times.
Boasting twenty-four films to date, the Marvel movies certainly have plenty of choice on offer their fans, and if you were to watch every one of the twenty-four films back to back, you could fit them all in 4.36 times within the 9 days and 2 hours you've gained back whilst working remotely.

Have you learned a new skill since cutting out the commute? Or perhaps you've just rekindled your love for an old hobby? Or worked your way through some of your favourite boxsets? Let us know what you've been doing with your extra hours since cutting the commute via Facebook or Twitter.
Our sources of data
https://www.tuc.org.uk/news/annual-commuting-time-21-hours-compared-decade-ago-finds-tuc
https://www.asics.com/gb/en-gb/running-advice/what-is-a-good-time-for-a-marathon/
https://blog.thelinguist.com/how-long-should-it-take-to-learn-a-language
https://www.readinglength.com/book/isbn-0618260307
http://hubguitar.com/articles/how-long-does-it-take-to-learn-guitar
https://www.quora.com/How-many-hours-does-it-take-to-hand-knit-a-simple-sweater
https://www.directline.com/car-cover/how-long-does-it-take-to-learn-to-drive
https://www.bbc.co.uk/food/recipes/bananabread_85720
https://www.fool.com/millionacres/real-estate-market/home-renovations/how-long-does-it-take-paint-room/
https://coolcosmos.ipac.caltech.edu/ask/174-How-long-does-it-take-to-travel-to-the-Moon-#:~:text=It%20takes%20about%203%20days,between%20Earth%20and%20the%20Moon.
https://www.travelmath.com/flying-time/from/New+York,+NY/to/London,+United+Kingdom
https://www.reference.com/world-view/long-fly-around-world-6d55978b0ca098b1
https://www.foodnetwork.com/recipes/the-perfect-boiled-eggs-3672186
https://singletrackworld.com/forum/topic/how-long-to-ride-john-ogroats-to-lands-end/
https://www.huffpost.com/entry/monopoly-rules-long-wrong_n_3366875#:~:text=A%20typical%20Monopoly%20game%20is,around%2060%20to%2090%20minutes.
https://www.reddit.com/r/beatles/comments/bggzvl/how_many_hours_would_it_take_to_listen_to_every/#:~:text=According%20to%20iTunes%20it'd,around%201%201%2F2%20days.&text=A%20fiendish%20thingy!&text=I%20think%20it%20would%20help,by%20%22every%20Beatles%20song%22.
https://edition.cnn.com/2019/05/28/asia/how-to-climb-mount-everest/index.html#:~:text=How%20long%20does%20it%20take,Everest.
https://www.npr.org/sections/goatsandsoda/2020/03/17/814221111/my-hand-washing-song-readers-offer-lyrics-for-a-20-second-scrub?t=1602184049910
https://screenrant.com/disney-plus-launch-content-how-long-watch/#:~:text=It%20Takes%20Over%2031%20Days%20To%20Watch%20Disney%2B's%20Launch%20Day%20Movies&text=To%20watch%20all%20of%20the,a%20month%20of%20constant%20viewing
https://www.forbes.com/sites/danafeldman/2020/01/27/this-is-how-long-it-will-take-to-binge-20-of-netflixs-most-watched-series/#2db38beb618d
https://www.quora.com/How-many-hours-would-it-take-to-watch-the-entire-Marvel-Cinematic-Universe#:~:text=distributed%20by%20Disney.-,Unfortunately%2C%20there%20doesn't%20appear%20to%20be%20a%20complete%20list,I%20needed%20to%20create%20one.&text=All%20in%20all%2C%20you%20would,(not%20making%20that%20up).&text=%3D%20a%20little%20over%2028%20days%20of%20Disney%2Dwatching.
https://www.wired.com/2015/11/binge-guide-james-bond/#:~:text=Number%20of%20movies%3A%2024,watch%20the%20first%2024%20films.
https://www.insider.com/how-to-get-paid-to-watch-netflix-show-ozark-2020-3#:~:text=The%20winner%20has%2017%20days,20%20hours%20of%20viewing%20time.
https://www.sportingnews.com/us/other-sports/news/schitts-creek-how-to-binge-watch-before-tuesdays-series-finale/1ehzt2s0ckc8610yqpuzzjprm4#:~:text=Well%2C%20you'll%20have%2072,'%22
https://www.bingeclock.com/s/westworld/
https://www.insider.com/tv-shows-you-can-binge-watch-entirely-in-a-single-day#:~:text=The%20new%20Hulu%20series%20%22Normal,and%2041%20minutes%20to%20finish.
https://www.quora.com/How-many-hours-would-it-take-to-watch-every-episode-of-The-Simpsons
https://www.radiotimes.com/news/2015-02-05/how-long-does-it-actually-take-to-watch-these-famous-film-franchises
https://www.newstalk.com/news/how-to-binge-watch-gilmore-girls-583095#:~:text=At%20seven%20seasons%2C%20the%20total,conservative%20two%20episodes%20per%20night.
https://www.thesun.co.uk/tvandshowbiz/9125976/game-of-thrones-how-long-watch-epispdes-tv-classics/#:~:text=To%20watch%20all%2073%20episodes,%2C%20according%20to%20bingeclock.com.