Working from home has become the new norm in recent months. With 86% of the nation reportedly working at least part of their job from home due to Covid-19, millions of UK workers have found themselves having to adjust during a strange period of time.

It's become all too familiar to speak to colleagues via video call, with unruly pets and children frequently making a surprise appearance – much to the amusement of our co-workers.
From dropped internet connections to the careful juggling of our personal and work lives, remote working understandably has its challenges, so it is more important than ever that everything at home is set up to work as smoothly as possible for UK workers.

As such, we combined desk research and national survey data to help us rank major cities in the UK on their working from home merits, including information on:

• Average internet download speed
• 4G signal strength
• Average property size
• Average property price
• Average monthly rent
• Average cost of living

So, without further ado, which UK cities are the best for home working – and which are the worst?
The Best of the Best for Working from Home
Belfast
The undisputed champion, Northern Ireland's capital came out on top of our rankings table with 105 points overall. With an excellent average internet download speed of 64.1mbps, workers in Belfast are unlikely to experience a choppy connection on their next video call.

Birmingham
The UK's 'second city' also qualifies as the second-best city in the country for working from home. Blessed with top-notch internet download speeds, Birmingham's 24.1mbps 4G coverage also ranks amongst the highest in the UK.

Nottingham
Nottingham slots in at third place with 98 points thanks to a relatively low average living cost of £890 and an average internet download speed of 62mbps.

Manchester
Manchester claims fourth place with 97 points, owing to an average 4G signal strength of 23.4mbps.

Leicester
In fifth place with 94 points, largely due to a low cost of living and an average internet download speed of 53.1mbps.

Cambridge
Boasting an average floor space of 72m2, properties and a score of 94 points.

Newcastle
A score of 89 points a generous average rent price of £584 per month.

Oxford
A spacious average of 3.3 rooms in each property contributed to their score of 88 points.

Portsmouth
Racked up 82 points thanks to the average internet download speed of 51.2mbps and a low cost of living.

Liverpool
Scoring 81 points - an average property price of £122,800 makes it an extremely affordable place to live.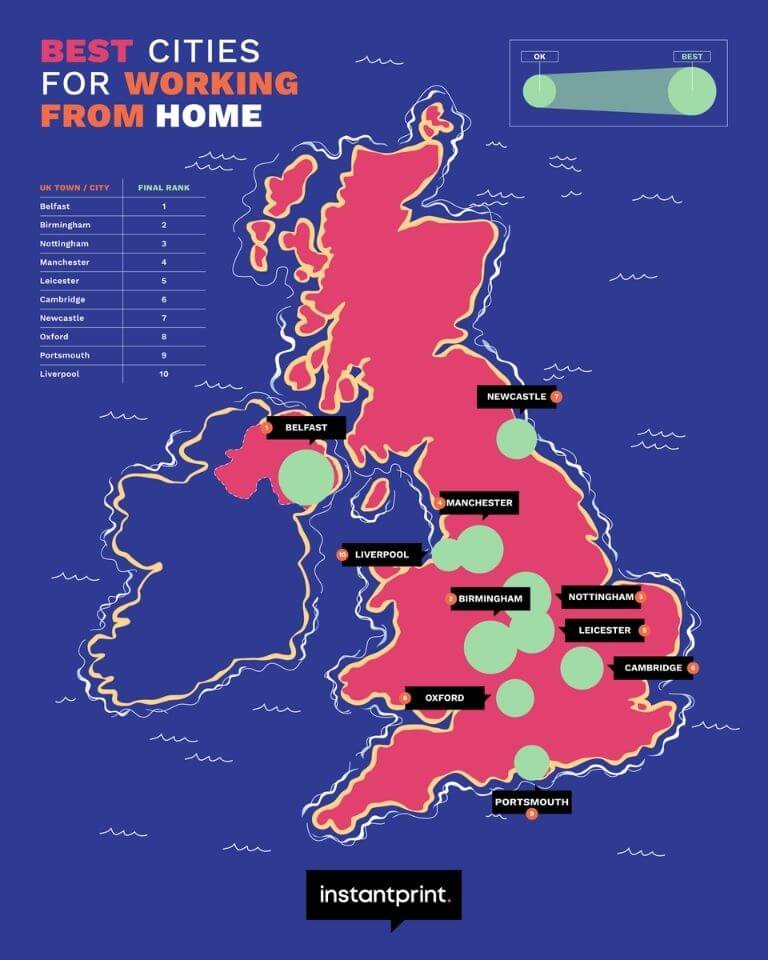 The More Challenging Locations for Working From Home
London
The 'big smoke' is by far the biggest city in the UK and considered to be the central hub of business for Brits, but with 67 points, many other cities score better than London overall. Soaring average monthly rents of £1.6k, high costs of living (£831) and an average overall property size of 65.6m₂ were all contributing factors.

Cardiff
Despite holding the title of being the Welsh capital, Cardiff scored just 69 points overall partly in thanks to a 4G signal strength of just 17.7mbps.

Sheffield
Sheffield's average internet speed of 39.3mbps leaves a lot to be desired, contributing to its score of just 71.

Bristol
Another city that lacks top-notch internet speeds, Bristol scored 74 points, the relatively high average monthly rent of £996 and average housing price of £282,400 also added to their low rankings.

Bournemouth
Bournemouth's average internet speed of 49mbps is some way from the best in the country and was a big factor in the city's overall score of 75 points. At least they have a nice beach, though!

Glasgow
Also scoring 75 points, Glaswegians aren't blessed with the best internet speeds in the country, but with an average property price of £119,700 it is cheap to purchase a home to work in.

Southampton
Claiming their place on the list with a score of 78 points, largely due to their relatively high average property price of £227,400.

Aberdeen
The northern Scottish city of Aberdeen does boast an affordable average monthly rent of £597, however, thanks to a 4G signal strength of just 5.2mps, Aberdeen was awarded 78 points.

Edinburgh
Scotland's capital claimed 79 points, thanks in part to their average monthly rent of (£913).

Leeds
Almost making it on to the list of the best cities to work in – but not quite. Leeds scored 80 points overall.
It's a Little Bit Marmite
Love it or hate it, many of us are still working from home, and could be for some time to come.
We wanted to learn more about how UK employees have adapted – and continue to do so – to remote working, and as such, surveyed 2,000 Brits who have been working from home due to COVID, to find out more.

It seems the nation is fairly split in their feelings regarding working remotely, with a third (34%) loving it and never wanting to return to their normal working environment, and a further third (34%) hoping to be back in the office part-time, despite quite enjoying it.

Newfound flexibility is the big seller for Britons who've found themselves working remotely, with a quarter of those we surveyed (23%) enjoying this. A further 15 percent told us they are big fans of being able to juggle their work and personal life much more easily.

There are of course some people who disagree, with one in ten of those surveyed (11%) admitting they find there to be far too many distractions around the home.

Distraction, Distraction, Distraction
Whether you're a parent or a "paw-rent", both children (28%) and pets (20%) were found to be two of the biggest distractions for those working from home – totally understandable since home-schooling and remote schooling via video calls have been the norm for many children up and down the country.

Partners (24%), and chores around the home (20%) were also high on the list, with many of us popping a sneaky wash on in between the morning team catch up calls. Other such distractions included browsing the internet - aka online shopping - (17%), watching a cheeky series on Netflix (16%) and cooking (13%) – all when we should be grafting.

Despite being crowned the UK's best city for working from home, those cheeky employees working from home in Belfast (14%) admitted they've actually been less productive since working remotely. Our survey found that Belfast based employees are not alone, with London (15%), Cardiff (12%) and Norwich (12%) also sharing that their productivity levels have been lower than usual since WFH.

Bristol residents were found to be the WFH UK champs, boasting the title of the most productive UK city for remote working, with nearly a third of residents (29%) sharing that they're actually much more productive since working from home.
All About The Setup
Perhaps part of the reason we are finding ourselves distracted is the revelation that just 16% of Britons are working from a dedicated home office. Something that could naturally impact heavily on the number of non-work activities so many of us have found ourselves distracted by.

Understandably, whether it's due to issues regarding space, not having the budget to invest in a desk set up, or even having to share the space we do have with others who are also working from home, UK employees are getting by the best way they can whilst working away from their usual workspace.

In fact, the majority of those surveyed (44%) shared with us that they had found themselves mostly working from the living room, with a further fifth (20%) working from their bedroom or spare room.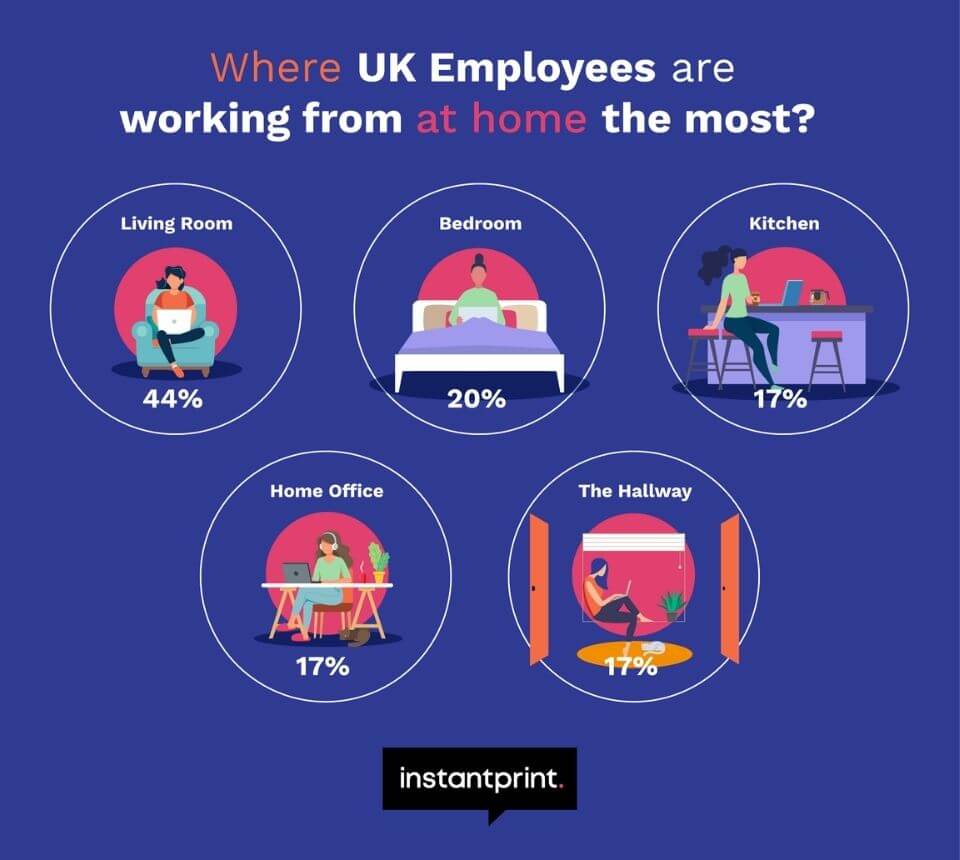 Some Advice From Us To You
Whether you're a working from home lover, or are counting down the days until you can get back to the office, it's important to be kind to yourself, creating a calm and comfortable place to work and to keep those distractions to a minimum….Belfast, we're looking at you - PUT THE REMOTE DOWN.

So, whether you're looking for a few tips for yourself, or you're a manager or business owner looking for ways in which to keep your team motivated whilst you're working separately, here are a few tips from Sean Kachmarski, our inhouse Personal Development and Wellbeing Trainer that might help.
Be Ultra Positive
Ensuring your team is feeling positive about work should be the utmost focus of a manager, especially while your team is working from home. Showing appreciation, helping team members out with things that are maybe making their work difficult and bringing an element of fun into work are all great ways to be positive at work.

Naturally, not everyone is going to share a positive outlook. Conducting regular temperature checks are a great way to find out your team's annoyances. At instantprint, management created a sli.do event where team members can anonymously ask questions about anything that may be a concern to them, giving management an opportunity to nip anything causing negativity in the bud.

Challenge Your Mindset
Knowing that the restrictions that COVID-19 has brought aren't going to last forever is key to maintaining a positive mindset. Looking at John Fisher's personal transition curve and plotting where you are on the curve will give you and your team the understanding needed to focus your mindset and cope with the pressures that lockdown has brought.

This model is a fantastic reference for anyone, regardless of where they sit in the organisation's hierarchy, to understand mindset pitfalls and to proactively think of ways they can challenge their mindset a deal with the change that's around them.

Celebrate Good Times – Come On!
Everyone is in the same boat when it comes to being affected, in some way, by the COVID-19 pandemic. Looking at Maslow's hierarchy of needs a great way of fulfilling your colleague's psychological needs is to celebrate all your team's wins - no matter how small!

At instantprint we have a weekly feedback session where all the team members receive positive feedback from their colleagues. This gives the team a sense of prestige and accomplishment whilst helping to strengthen work relationships and friendships, giving staff a deeper sense of connection and commitment to the brand.

Communicate, Communicate, then Communicate Some More
Clear and positive communication between a manager and their team is key at the best of times, but is essential while managing a team that is working remotely. As direct messaging channels will understandably take over as the main form of communication because of their convenience of use, you must be mindful that typed words can be open to interpretation or misconstrued Sometimes it may be more appropriate to pick up the phone or arrange a video conference.

Each department at instantprint has a scheduled daily huddle to go over tasks they're going to work on that day. This not only lets everyone know what each team member is working on, but gives members of the team a chance to bounce ideas around, ask for support with tasks and allows colleagues the change to maintain working relationships.

Keep Team Spirit Alive
As workforces continue to work from home for the foreseeable future it's only natural for team members to feel isolated from the rest of the team. Initiatives like having a virtual lunch break, having a daily conference call and challenging the team to call their co-workers randomly to check they're alright are great ways to keep the team spirit alive.

At instantprint, the marketing team have a weekly virtual lunch. This has created a time slot where general office chatter can live on. Other things the team has done is create lists of best/ funniest/ most memorable moments and shared them amongst the team as well as virtual quiz evenings!

Practice Mindfulness
Strong communication between a manager and their team is key at the best of times, but, is essential while managing a team that is remote working. It's really important for managers to not only hear what their staff are telling them, but to listen, being consciously present.

Practicing mindfulness techniques such as being a single-tasker, adding a mindful exercise to meetings such as the 4-7-8 breathing technique or taking the time to remember something positive that happened at the end of a day will allow you to increase productivity, hone your mental clarity and focus and give you happier more engaged employees.
Let us how you've adapted to working from home life via Facebook or Twitter.
How We Did It
Our Sources of Data
Average internet download speed - https://labs.thinkbroadband.com/local/postcode-search 4G signal strength - https://www.which.co.uk/reviews/mobile-phone-providers/article/which-uk-cities-get-the-best-4g-signal%0A%0Ahttps:/www.yourmoney.com/household-bills/the-best-and-worst-uk-towns-and-cities-for-mobile-signal
Average property size - https://www.labcwarranty.co.uk/blog/which-cities-have-the-smallest-houses/
Average property price - https://advantage.zpg.co.uk/house-price-index-report?member=true/%0a%0ahttps://advantage.zpg.co.uk/wp-content/uploads/2020/07/Zoopla-UK-house-price-index-June-2020-FINAL-1.pdf
Average monthly rent - https://advantage.zpg.co.uk/wp-content/uploads/2020/08/UK-Rental-Market-JUNE-2020-FINAL-1.pdf%0a%0a%0a%0a%0ahttps:/www.zoopla.co.uk/discover/property-news/quarterly-rental-market-report-june/
The average cost of living - https://www.numbeo.com/cost-of-living/
Population - https://worldpopulationreview.com/countries/cities/united-kingdom
Method
We gathered all the data per town/city into one table and then applied rating scores from 1-20 for each of the eight criteria. We then totted up the total scores across all cities and ordered these to get our top twenty list.