Small business can mean small budget – but that doesn't mean you need to skimp on advertising opportunities! There are many ways that small businesses can successfully advertise their latest products, events, or services, without breaking the already-tiny budget.
Whether you're a new business trying to find your first customers, or an established small business launching a product or service, there are always ways to promote your message on a shoestring budget.
Investing in your marketing strategy is worth the initial outlay. Without marketing, you're not going to reach your target audience! Especially in today's digitally-obsessed world, it can be hard to be heard amongst the noise online. That's why it's always a top idea to integrate your digital strategy with a printed strategy: you'll maximise your business visibility and reach those who aren't fans of online advertising.
So, what are some ways a small business can make the most of their marketing strategy to find customers on a tiny budget?
Events
Large or small, events are a great way to build up a network of like-minded professionals as well as promote your business to a new audience.
Make sure you stand out with eye-catching exhibition stands (in larger trade halls) or pop-up banners (for smaller, local events). It might feel like a large outlay when ordering these stands, but you can re-use them time and again and being seen in the crowds will really help you to bring additional footfall to your stand.
It's not just trade expos either: try your local Chamber of Commerce, or other local business groups, to see what's on. Councils will often have small industry-specific events where you can have a stall for free (or not very much).
Make sure to have plenty of handouts available, so that once people are at your stand they can take something away with them. That might be a flyer, a postcard, a business card, or any matter of things! Whatever you choose, be sure to include all of your contact details on it so they can easily find you after the event. This is also a great way to promote introductory discounts and offers for new customers.
Networking Opportunities
Be it a business breakfast or a local evening trade event, don't pass up any opportunity to promote yourself (without being annoying about it!).
Wherever you go, have high quality business cards on you to hand to people- but make sure you've had a conversation with them first! Nobody likes a serial networker (you know, the ones who are only interested in what you can do for them and not the other way around).
If you can, research a bit before the event about who will be there – some events are linked to Facebook, for example, so you can see who has registered their interest in attending. If you find there's an absolute key individual who would be a perfect client, maybe go a little further and be prepared with a business press kit or presentation folder in your bag to give to them if it feels right at the time. You never know, it could be the difference between a lost opportunity and a life-changing one!
Stickers
One of the most versatile marketing products that'll give you the most brand awareness for your buck is the humble sticker. Never underestimate the power of a well-placed sticker that promotes a company with the logo, or even a special offer message.
Stickers can go anywhere, and they don't take up a ton of storage space, either! Pop some on all of your correspondence, seal your packages with one, or give them away at events. Stickers can give you long-lasting brand advertising: if someone puts it on a bag, case, laptop or iPad, there are endless opportunities for your brand to be seen by others.
Word of Mouth
Friends and family are often your biggest fans as a small business and are usually a naturally loyal customer base. A great method for small business advertising is to get them to spread the word via word of mouth. Give them some of your business cards to hand out when they meet up with friends, go shopping or even when they're getting their hair cut – you never know who they might bump into!
Clever Signage
You want to make sure people know where you are, right? Point them in the right direction! A well-placed sign need not be expensive, which means you can easily update the message as your promotions and offers change. We're not just talking indoor signage for your shop: outdoor signs stand the test of time, against all weather, and help customers find your premises or website.
You can be a little inventive, too. Have you seen those A-frame signs with humorous messages for pubs? This is a great way to attract attention, increase footfall, and improve brand visibility.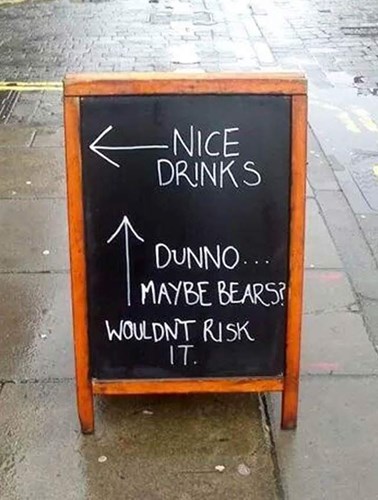 Pubs are great examples of how to use humour on your signage to win customers!
Local Pick Up Points
There will be plenty of places in your local community that'll be happy to let you leave some flyers. If you're doing this, it makes sense for a special shop-only discount to be advertised – local customers are more likely to walk into your shop if they can't get the discount online!
You can be a bit creative with your materials, too. Whether you want to leave folded business cards to get your message across in a small package, or perhaps a large postcard for durable visibility, there are so many options for this type of advertising.
Choosing a local spot will be helpful to boost business, and you can also offer an exchange such as a link on your website for the businesses that are happy to host your flyers. It's as simple as taking a picture of your advertising in situ and posting it on social media with a shout-out to the business – plus, they'll likely re-post it which gives you some sneaky extra free advertising!
Swap Trades
If your business is really tight on budget, consider getting in touch with other local businesses to see if they'll promote your product or service in return for something similar. Perhaps you're an interior decoration company: offer to spruce up their foyer in return for some social media posts, mention in their newsletters, and flyers available in their reception. Sure, you're giving up your time – but you'll find this can generate a lot of extra local business as well as build your professional network. The company might not need your decorating skills for a while after – but they'll remember you, as will each of their staff who might need your services.
You could also do a full skill swap with the business if it's of mutual interest: offer them your skill in return for theirs and it could be the start of a long and fruitful business relationship!
Online Marketing
Another great small business advertising idea is to take your business online. You can use things like Facebook ads to target new customers in your local area, build an email list and even start your own website.
If you chose to add online content marketing to your advertising strategy, such as starting a blog, remember to use keyword tools like Google Adwords. This can help you figure out what words and phrases to use to reach the most potential customers online.

Sponsor Local Teams
Small businesses tend to operate locally. That's why it's a fab idea to sponsor a local sports team: get your logo and company information printed on banners or shirts and you'll create brand awareness as well as show you care about your local community.
Takeaway Tip
Whether you're an established small business or a new startup, there is one absolutely vital thing to remember when it comes to advertising: keep it simple and to-the-point. Make sure your flyers, posters, banners, signs, business cards, and whatever else you have printed makes it really clear what it is you actually do. Include all of your contact information, too!