We live in an online world where everything is accessible at the touch of a button. It's no secret that we think print is not dead but we decided to look into this topic a little further.
Email marketing, social media and digital marketing are great for immediate engagement with your audience. Thanks to mobile devices a tweet or email can reach your audience instantly. However, print is a tangible medium which people tend to keep while internet ads can be a little more disposable and can be forgotten about quickly.
It's important to stick to your brand identity throughout your marketing campaigns whether this may be online or offline so you need to be recognisable through any medium. Print can solidify your brand and make your brand familiar so people are more inclined to purchase from you.
Consumers are generally more engaged when viewing printed materials rather than online marketing. On the web you can use a larger variety of media such as videos and music but web pages are skimmed in as little as 15 seconds. Have you ever tried to proof something on screen then had to print out a hard copy? Somehow it's just easier to focus on a physical copy.
We are now saturated by online media, many of us now look at social networks such as Facebook before we even get out of bed (although many wouldn't like to admit it). Now it's even easier for print to stand out through the noise. Printed media often carries a greater sense of legitimacy due to the audience being overwhelmed by online advertising. Many of us are traditional at heart and can sometimes be wary when clicking on online ads in the fear of acquiring some kind of virus.
Obviously we are biased but we believe that the most successful campaigns run with a mix of online and offline media to tie the campaign together. 76% of small business state that their ideal marketing mix is a combination of print and digital communications (Pitney Bowes Survey/ Choose Print). By using both you can target different audiences helping maximise return on investment from your marketing.
Check out this example of the O2 'Be more dog' campaign.
Online example:
Print example: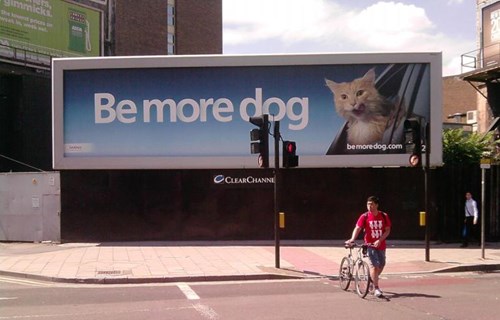 How are you using online and offline together? Let us know if the comments or tweet us @instantprint.