Folded products can be a little tricky to set up correctly for print. It's important the folds are correct, none of the text will be cut off and the artwork lines up correctly.
Deciding which fold you need before creating the artwork allows you to set up the artwork correctly for print. We offer three types of folded flyers; Half fold (4pp), C-fold and Z-fold (6pp).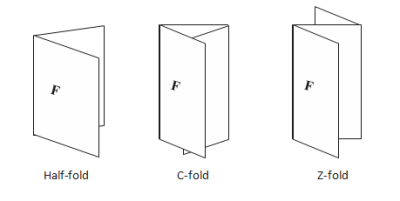 Two Fold Products
Two Fold products are flyers with two equal folds either a C- fold, which forms a c shape when folded, or a Z-fold, which forms a Z shape. They are great for menus, price lists and letters to fit perfectly in envelopes.
We offer three sizes of C-fold and Z-fold flyers; A3, A4 and A5. The size refers to the flat size for example an A4 C-fold is an A4 page with 2 equal folds so each panel will be 99mm in width.
C-Fold
Some print companies recommend supplying artwork with each panel a different size to accommodate for the folded panel i.e. 98mm 99mm and 100mm for an A4. However to make things easy we will make these adjustments for you, so all you need to do is set each panel up equally.
It is important to get the panels in the correct order so it will fold correctly. The diagrams below shows the page layout for a portrait and landscape C-fold.

Z-Fold
As with a C-fold, the panels are all equal on a Z-fold however the layout is slightly different. Each side has two panels for the information folded in to a Z shape.

Tip: If you get stuck, fold a piece of paper and number the sides so you can visualise the design placement when it's flat.
Half-Folds
Half-folds are great for programs, newsletters or an order of service. All folded products are listed online as flat sizes for example an A4 half-fold will be an A4 folded in half to A5. It's best to set your artwork up as two spreads; a front and back and an inside spread, to use with the online uploader but don't worry if you are unable to do this. You can send it across to our artwork team via email if you have a tricky design that won't upload correctly.

Things to Remember
Our folded products are listed as flat sizes on the website
Set your artwork up as spreads to upload easily
All panels need to be an equal size (we will adjust C-folds for you)
Remember text running over fold lines may be difficult to read
Remove any fold lines or guides before uploading
If you are unsure about setting up your folded flyers we're here to help
Email help@instantprint.co.uk with your artwork for our helpful team to check.