When it comes to creating a good strong brand for your business but this extends much further than your logo and visual style. Getting the small details right like business cards and flyers are absolutely essential in driving your business forward – surprisingly this is often overlooked and designed as a quick 'Oh no, I didn't do that!' kind of moment. Becoming aware of the finer details will help shape the bigger picture.
A business card is a snapshot into the rest of your organisation. Get it right and it'll add legitimacy to your business, get it wrong and be prepared to look the fool – there's really not much in between. But how do you create an amazing business card to get the people wanting your products and services?
We've totted up the three golden rules of creating a successful business card.
Rule #1 – use good design ethics
Carefully designed marketing materials add merit to your work. Simple tricks of the trade paired with an eye for detail make for a really lovely finish. It might seem pretty obvious but it's really surprising how many people just throw stuff together and hope for the best.
Don't fear the grid – if you're designing a business card yourself, or directing a professional designer, we completely encourage a grid layout. This will make your copy more legible and ultimately give you a better looking end product.
Consider your copy – the size of your copy is nearly as important as what's written on there, also it's good to know to make sure you keep your copy 5mm from the trim edge.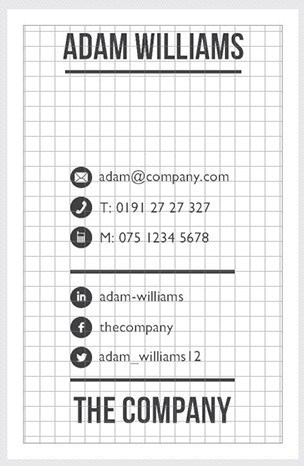 Rule #2 – get creative
Get creative within the realms of your business. Obviously there are certain jurisdictions you should consider but try to think about your business card branding in a much more lateral sense. How can you pull out all the stops?
Stand out from your competitors – Think about how can you stand out from the crowd and really make your business card say something about you as well as your products and services?
Let the words do the work – if appropriate, you should consider choosing words that do the hard work for you, quirky copy and one-liners work well on business cards but they must be consistent with your brand's tone of voice.
Rule #3 – the proof is in the proofing
Avoid the common design pitfalls like the plague. There's no such thing as over checking your work, especially when it's something as crucial as a business card. Common errors such as spelling mistakes will haunt you forever.
Check for any design flaws – there's nothing worse than a case of overset text, or an unforgivable trim issue. Get close-up and make sure you're not missing anything on your business card designs
Scope out your copy – fully familiarise yourself with all your copy, check for any spelling and grammatical errors and then check again – you can never be too thorough.
If you don't have a design ready, use our design online tool to make an amazing looking business card in minutes. It is so good you could even create a record breaking card with it.