Updated: 7 Jun 2022
Whether you're tackling issues that are key concerns for staff and customers or looking to build your brand whilst supporting a worthwhile cause, partnering your business with a charity can be mutually beneficial for both the charity and the sponsor.
According to research by financial services organisation Foresters, 82% of UK consumers said their decision would be affected by whether a company engaged with charities and its local community, meaning you could be seriously missing out if you haven't partnered with a charity yet.
Here are the key reasons why you should partner your business with a charity and the general rules and regulations around donating as a business in the UK.
5 benefits of partnering your business with a charity
1. Resonate with customer values
Strategically targeting a charity whose members include your target audience gets your brand in front of the right eyes. The charity you choose defines your corporate values, encouraging brand alignment with those who already support that cause.
Momentum's Corporate Survey showed that 92% agreed that brand alignment with their preferred charitable partner is more important than anything else, including the size of the charity. When picking who you're going to partner with, consider which non-profit will be well-known and supported by your target customers for maximum benefit.
2. Team building
When employees have the opportunity to work on something together outside of the usual office setting, such as volunteering or taking part in fundraising activities, this removes the corporate hierarchy, allowing employees in different levels of seniority to collaborate and strengthen their relationships. According to United Health Group, 64% of employees who currently volunteer said that volunteering with work colleagues strengthened their relationships.
3. Business and networking opportunities
Charity events are a great place to meet new business connections and grow your network. Not only will partnering with a charity allow you to reach their team of employees and volunteers, but your partnership may help you gain awareness offline and online through their marketing and communications. For example, if you sponsor an event, they may add your logo to the advertising posters or include a bio about you on their website during the time you're sponsoring them.
4. Employee engagement and retention
With employee turnover rates costing companies huge amounts every year, setting up a corporate philanthropy program could also help you save on the costs of hiring. A study by Cone Research found that 79% of people prefer to work for a socially responsible company. From volunteering options to helping employees feel more connected to their local area, partnering with a charity whose cause resonates with your team can give employees a sense of purpose and pride in their work.
5. Skill exchange
Although businesses offer charities support through sponsorship, many charities also offer training opportunities for partnered businesses. For example, suicide prevention non-profit CALM offers mental health training for managers within organisations to improve workplace wellbeing and allow employers to proactively support their teams.
6. Enhance brand perception
Both consumers and employees are becoming increasingly more driven towards companies that are seen to be doing the right thing in wider society. Corporate social responsibility (CSR) goes a long way in improving your brand's public perception, according to the founder of CSR consultancy Epiphany, Dominic Cotton, who found that young consumers, in particular, are more attracted to and likely to pay more for a service when it comes to a company actively seeking to solve social problems.
How do charities benefit from business partnerships?
Probably the most obvious benefit for charities partnering with businesses is funding. While one-off donations were more common in the past, data from LBG in 2018 showed that 70% of businesses gave more strategically compared with less than 20% providing ad-hoc donations. This offers more sustainable long-term income for charities.
Partnerships also offer the benefit of increased awareness and visibility for charities without having to spend a lot on promotional materials. Press releases and branding on the company's website are both great examples of how both parties can boost brand awareness by supporting one another.
How to choose a charity to partner with
The charity you decide to partner with can have an effect on the impact your CSR has on employees and customers, so it's important to choose wisely. Here are some important factors to consider when partnering with a charity
Charity size & location
You should look for a charity that matches the size of your business – for example, if you're a small business, working with a local charity is more likely to resonate with the communities you serve.
Values
The charity you partner with should share your company's and customers' values. For example, a water company might choose to partner with a charity that provides access to clean water in developing countries, or a children's toy shop might partner with a charity that protects vulnerable children.
High impact
When scoping out charities to partner with, be sure you're aware of how your funds will be allocated to ensure maximum impact. This way, donors will know how much of their donations go towards the end sponsor vs marketing and administrative costs.
Leave it to a vote
Here at instantprint, we want to make sure we're supporting a charity that means a lot to our team, which is why we encourage employees to nominate a 'charity of the year' and vote for the most popular options. We then change the charity we support each year.
How much should a small business donate to charity?
The amount companies choose to donate varies greatly, however research from PR Newswire found that 75% of small businesses donate an average of 6% of their profits to charitable causes each year.
Alternatively, you could choose to match any funds raised by employees as part of company fundraising activities such as bake sales.
Corporate fundraising event ideas
Here are our top corporate fundraising ideas to engage your team and raise money for a good cause.
Raffle
Bake sale
Bingo
Pub-style quiz
Auction
Shave your head/wax your legs challenge
Sponsored silence
Fancy dress/dress down day
Manager baby photo competition
Office sweepstake
Sports day
Film night
Spare change bucket
Guess the number of sweets in a jar
Bring lunch to work – donate what would have been spent eating out
Foreign coin exchange
Do you need to account for VAT on charitable donations?
Depending on the intent of the donation, you may or may not need to pay VAT on this. If the charity acknowledges the donation as a gift, it does not make it business income and is viewed as 'outside the scope' of VAT. However, if the funder asks the charity for deliverables, e.g., to promote the business as a funder, in return of the funding, this is subject to VAT.
Claiming tax relief on charitable donations
A limited company pays less Corporation Tax when donating certain things to charity. These are:
Money
Equipment or items the company makes or sells
Land, proper or shares in another company
Temporary transfer of employee (secondment)
Sponsorship payments
Here's how to claim your tax relief if you're donating any of the above.
If you're making donations as a sole trader business, you and the business are the same entity. This means that even though you might be donating from a business account, it's treated as though you personally donated the money. Unlike a limited company, you won't save tax for your business. In this case, it's the charity that can save tax on the donations.

A real-life example of business charity partnership success!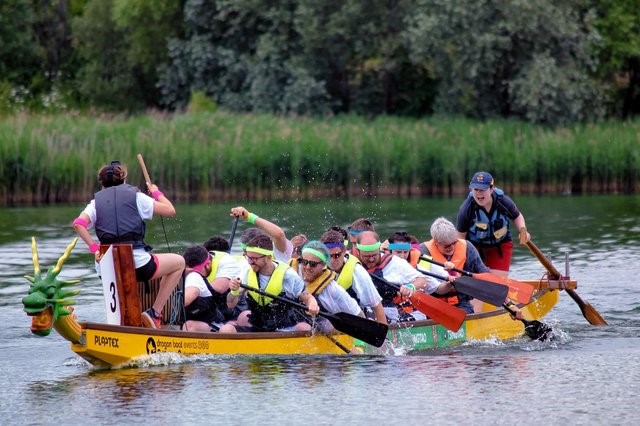 The instantprint team taking part in a charity dragon boat race in aid of Bluebell Wood children's hospice

At instantprint, we partner with a different local charity each year and host engaging fundraising activities for the whole team to get involved with. By the start of 2020, we'd raised £11,500 for Bluebell Wood children's hospice. We also donated £3,500 worth of free print and £2,000 of envelopes to help the hospice promote their cause and fundraising efforts, and our team filled 50 charity shop collection bags. This year, our fundraising efforts are in aid of Crisis, the national charity for homeless people.
In conclusion
Partnering with a charity can have benefits for both your business and the non-profit you're donating to, including improving your brand's perception to retaining top employees. Picking a charity whose cause is important to your employees and customers is essential for making the biggest impact on your brand image and the number of funds you can raise – and there are plenty of ways to raise those all-important funds. Whether you need a banner to promote your charity event or some stickers for a bake sale, get ready to fundraise with quality print from instantprint.

Shop the Products in the Blog...