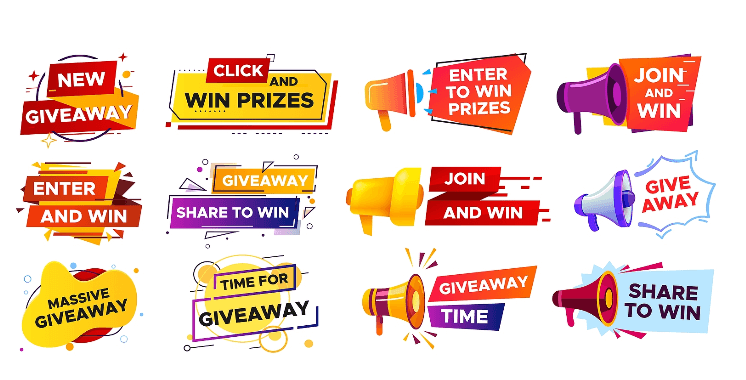 Whether you are running a product- or a service-based business, prize promotions can help you to stand out in a busy marketplace and build genuine consumer engagement… oh, and they might just increase your sales, gain you extra displays, enhance customer loyalty and give you a database of buyers for future marketing purposes.
There are four main types of prize promotions:
Prize draws: a game of chance, like a raffle, where the winner is selected at random
Instant wins: also down to luck, but Willy Wonka style, so maybe via a golden ticket, a winning message or a unique code
Competitions: where the winners are selected on basis of skill or judgement or the subjective opinion of judges, e.g. if it is a photo competition
Gift with purchase campaigns: it could be Buy X and get a Free Y, or 25% extra free or similar

All types of promotions can be run in-store, on packaging, in print, online, across social media, by post or at events.
Although the UK has the most liberal rules for marketing in Europe, you still need to follow some basic guidelines such as not misleading, not offering prizes that are not available, having solid Terms & Conditions and making sure that winners are selected fairly and under independent supervision. You cannot just get the office junior to pick them. But the good news is that in the UK, prizes are tax-free for the winner and tax-deductible as an expense for the promoter.
Data Privacy – Watch Outs!
Where you are gathering personal data, for example, an email or postal address, it is essential that you, as the promoter, also follow data protection regulations carefully. First of all, make sure that you are registered with the ICO, a simple process costing under £40 in most cases.
Secondly, operate on the principle of 'less is more'; make sure you only ask for the minimum of data, it is only for the stated purpose and is only kept for a limited amount of time before it is deleted. Thirdly, make sure that you protect the data you gather – password protect it and limit access to it. And lastly, if you intend to use the data for future marketing purposes, e.g., a newsletter, make sure that you have got, and store, the appropriate consent from the consumer. Those tick boxes are there for a legal reason!
As long as it is done compliantly, you can legitimately ask a few extra questions that could shine a vital light on your customer base, and lay the foundations, and no or low cost, for more and better marcomms in the future. 'Where do you shop', 'How often do you buy Brand X' and 'Gender/age' can be asked to help you to understand more about your customers, how to market to them better, or even to share with relevant third parties (with permission, of course). When overlaid with other fact-based data such as website analytics or retail locations, you can create deeper insights including how to further increase your sales.
So do not be afraid to consider a promotion for your business. You do not have to be a big brand - but you need to run it right and consider the basics:
Pick your promotional type – prize draws are the easiest.
Decide how you will communicate it – allocate budget.
Decide your prize fund - the more prizes the better e.g., 10 x £1,000 rather than 1 x £10,000. And make the prizes appropriate for your target audience. Cash is usually best, but free products, gift vouchers or tech gear are also popular.
Decide how people will enter – text is a quick way, so is social media but it can be tricky to extricate all the entries.
Is entry to be linked to a purchase or free to enter?
Draft your Terms & Conditions – ideally, get a professional to do it – they are a contract between you and the consumer, so they need to be comprehensive, but also clear
Promote your promotion: push it out through all channels. Your stores, your staff, your social media posts.
Pick your winners – why wait till the very end? Have weekly prize draws and showcase the happy winners. It will boost trust and participation. Just make sure that winner selection is fair and conduct independently.
Publish or make available a winners list - it is an obligation, but is another way of building trust that all was run fairly.

Case Study 1
A brand of children's snacks offered their customers a Back-to-School gift promotion: collect three unique codes from promotional packs and claim a free lunchbox. Entry was online, with a virtual account, that stored codes as they were collected by the consumer.

The promotion was a great success with more than 42,000 lunchboxes claimed and 44% of entrants opted in to receiving future marketing. Even more useful was an insight into the purchasing habits across the range: each pack variety had a different code prefix so this could be tracked and overlaid with address details and the date entered and the timing of TV adverts to see if the media campaign influenced sales and claims. The brand now has a database of its most loyal consumers that it can talk to about the next brand offer, and give them the first opportunity to enter, further enhancing the engagement with the brand.
Case Study 2
A cheese brand ran an on-pack promotion to win music festival tickets -valid for 2022! Simply enter the unique code found on packs and an image of your till receipt, into a digital microsite to be entered into a monthly prize draw. Through the data obtained, we were able to determine valuable insight into shopping habits – the most popular day of purchasing as well as of entering, the time of the day, the time of day of shopping, the average basket value and what other products they are buying – this may come in useful when considering future promotional partners.

However, it is when we overlay the basic entry information with analytics from the microsite that the data comes into its own, building a clear picture of the brands' customers. For instance, 87% used their mobile device to enter the promotion which matched up well with information that the most popular demographic entering were males aged 25-34 and the lowest were males aged 55-64.

This clearly proves that you can influence your audience via the selection of an appropriate prize and this data will help the brand to shape its future promotions more effectively.