Energy prices are soaring to an all-time high. Marketing intelligence consultancy Cornwall Insight has

forecast that the energy price cap is on track to rise

to £3,615 a year from January 2023. The cap, which is set quarterly by the energy industry regulator, Ofgem (The Office of Gas and Electricity Markets), was previously set at £1,400 a year as recently as October last year.
Consumers are already struggling with the cost-of-living crisis, and are set to face a challenging winter. Amidst rising energy prices and inflation running at a 40-year high, we wanted to know how this will affect the way we plan to work this winter.
To find out how hybrid workers – who have the choice to work from the office or from home – intend to split their working time in an attempt to alleviate the impact of high energy bills this winter, we surveyed 900 UK hybrid office workers.
An Influx of Workers Returning to the Office
A startling 85% of our respondents agreed that working from the office will be more appealing this year, with nearly half (45%) confirming that they'll be more likely to make the commute. 15% stated that they'll choose to work from the office the whole of winter.
This comes amongst rising petrol prices and train fares which are making the commute more expensive for many.
The influx of workers may pose a problem for employers. When asked whether workers' office spaces, 15% admitted their office wasn't able to provide capacity for the full team.
Top Factors Hybrid Workers Find Appealing in the Office Ahead of Winter
To determine why office workers are finding the office more appealing this winter, we wanted to know the reason behind so many of them heading in to a physical workplace.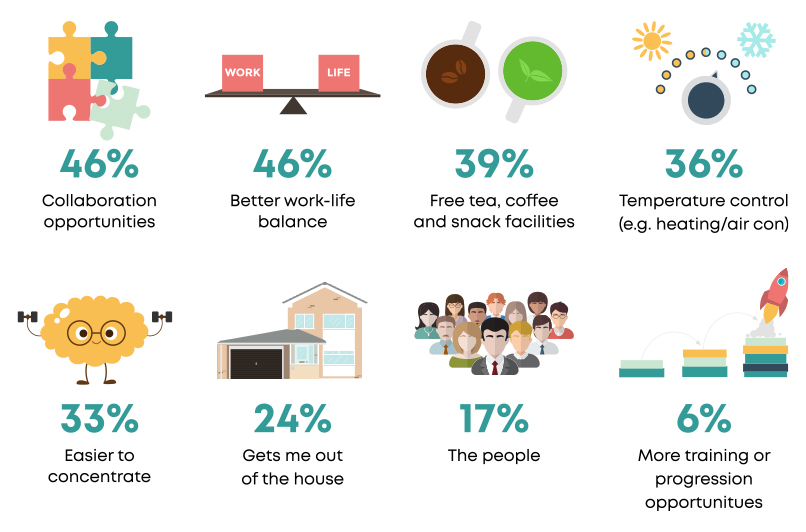 Although free hot drink facilities and temperature control scored highly (39% and 36% respectively), the top perks for employees working from the office were better collaboration opportunities and work-life balance, both securing 46% of the vote.
Only 6% believe working from the office will present them with more training and progression opportunities, and just 17% see spending time with their co-workers as a perk.
Women Workers Hit the Hardest this Winter
Despite men and women stating they are both as likely to come into the office more this winter (58% and 59%), men are more inclined to find this an appealing option (86% vs 83%).
41% of men appreciate the free hot drinks available in the office compared with 36% of women. However, 39% women cited the office heating as a key benefit vs 32% of men. Women were also seen to be more likely to use working from the office as an excuse to get out of the house than men (27% vs 21%).
Perhaps shockingly, men feel more supported by their employers than women ahead of soaring energy prices (73% vs 65%).
This directly correlates to the median gender pay gap in the UK, which increased by 2.9% in 2021. Women are also more likely to work part-time, making up 77.7% of the part-time workforce, which could be why they're finding it harder to make ends meet this winter.
When asked what support hybrid workers want their employers to provide, more women want a pay rise than men (48% vs 43%), whereas men are more likely to want finance and budgeting training (25% vs 20%) and education on tax relief (46% vs 42%).
Younger Generations Most Likely to Head into the Office
Our survey found that those aged 18-34 (43%) and 35-44-year-olds (48%) were far more likely to head into the office than their older counterparts (just 29% of 45-54-year-olds and 18% of 65+ year-olds).
Younger generations were also more inclined to find the office appealing due to the increase in energy prices – with an average of 85% of 18-44-year-olds vs just 36% of those 55 and over confirming that the office held more appeal this winter.
Similarly, younger generations feel like they're owed more by their employers – and average of 74% of 18–44-year-olds believe employers should be doing more to support their employees, vs 55% of 45-55-year-olds and 50% of 65+ year olds.
Which UK Offices Are Most Likely to Be Full?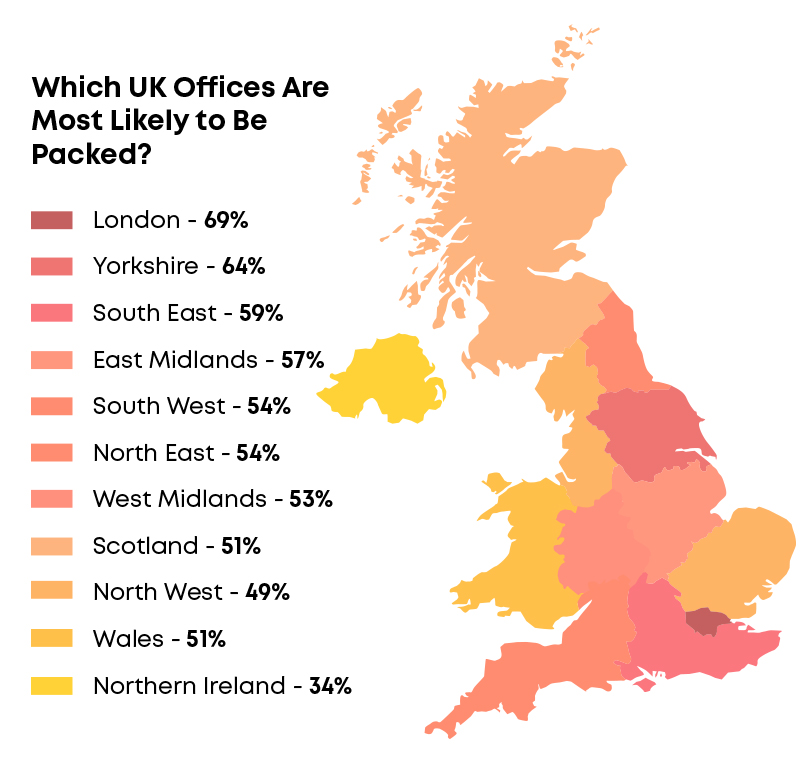 Hybrid Londoners were found the be the most likely to be heading into the office this winter (66%), followed closely by those in the South East and Yorkshire (65% respectively), and West Midlands workers (63%).
Workers in the devolved nations are the least likely to make their way into the office – just 43% of Scots are planning on heading into the office more this winter, followed by 35% of Welsh hybrid workers and just 33% of those in Northern Ireland.
When we asked respondents to rate how appealing working from the office will be in relation to rising energy costs this winter, the results faired similarly. 92% of those from the West Midlands find the idea of the office more appealing amidst rising energy bills, compared with just 50% of Welsh workers.
Although Northern Irish and Scottish hybrid workers shared that they were among the least likely to spend more time in the office, they do find the idea of the office more appealing as temperatures drop – by 76% and 92% respectively. This hints that there are other factors hindering their return to the office.
Are Employers Providing Enough Support?
Nearly one in four (24%) of UK workers feel like their employers could be supporting them more during the cost-of-living crisis, and 73% believe that employers, in general, should be doing more to support their workers with their rising energy bills.
4% of respondents told us that they aren't being supported at all. This translates to over 1.3 million employees in the UK.

Top ways to support employees during the cost-of-living crisis
To uncover how employers can do more to support their teams during these difficult times, we asked UK workers what assistance they needed the most.
| Method for supporting employees | % of employees who want this kind of support |
| --- | --- |
| Pay rises or bonuses | 45% |
| Educate employees on any tax relief that's available to them | 44% |
| Encourage/incentivise the use of public transport | 39% |
| Provide free hot drinks | 37% |
| Encourage/incentivise car-sharing | 33% |
| Provide free hot meals | 23% |
| Offer finance and budgeting training | 22% |
At 45%, pay rises and bonuses to help with the cost of living are perhaps unsurprisingly at the top of the list.
More surprising is how closely the second method of support is. 44% of respondents want more education on tax relief that's available.
As well as incentives for public transport (39%) and car-sharing (33%), 37% would appreciate their firm providing free hot drinks to keep them warm this winter.
All domestic electricity customers in England, Scotland and Wales are set to receive £400 off their electricity bill from October 2022. On top of this, if you're on certain means-tested benefits, you'll also get a £650 cost of living payment. Find out more to educate your team on what benefits are available here.
Alternatively, three respondents shared that they believed it's not the employer's responsibility to support employees at all during the cost-of-living crisis.
How to Manage Office Space Fairly This Winter According to Vicki Russell, Head of Team Experience at instantprint
With the demand for office space set to surpass maximum capacity for many businesses, it's important to prepare your space and processes for coming into the office for remote and hybrid workers early. We asked our Head of Team Experience, Vicki, for her top tips on getting ready for a surge of office workers this winter.
1. Introduce a hot-desking/seat-booking policy
If your office space doesn't have the capacity to house the full team, the first step is to create a hot-desking process where team members can book a desk – that way, desks are booked in advance and you won't have to turn anyone away once they've already made the commute in.
2. Assign office days
At instantprint, we've found success by sharing out office days amongst departments. This makes sure that everyone has the opportunity to work from the office at least twice a week, leaving some desks free for ad-hoc office working. Some people will want to work from the office more than others, but be sure to keep in communication with your team to ensure everyone who wants to come in is able to at least some of the time.
3. First come-first serve basis
Any spare seats that haven't been assigned to departments on their set days are available to book on a first come-first serve basis. Once booked, no one else can book that desk, meaning your team can come in and know they've secured somewhere to sit that day.
4. Utilise all space in the office
Think smart about your space. There are plenty of wall mountable storage solutions available to add extra capacity for more desks. Maybe it's worth moving desks closer together, or adding more rows or banks of desks.
5. Spring clean
Before you start re-organising office space to add or take away furniture, you have to work with a tidy environment. This will give you a realistic idea of the space you're working with and will enable you to plan any modification way more effectively.
In Conclusion
Demand for office space is set to rise this winter with temperature control and free hot drinks amidst rising bills being key reasons behind this added pressure. With 15% of businesses not having the capacity to host their full team in the office, it's up to business owners to do all in their power to support their employees and manage their office space fairly.
By ensuring desk space is available for those who need it and providing the right education on finances, you can alleviate your team's anxiety during these trying winter months.