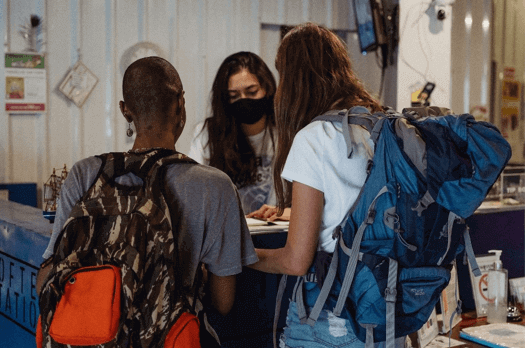 We might be nearing the end of the Covid-19 pandemic and the last UK lockdown feels like a lifetime ago, but one thing we haven't seen the back of yet are the innovative strategies furiously implemented by marketing teams in order to keep up with 'the new normal'.
Although many countries are seeing some kind of return to normalcy, the drastic impact that lockdowns have had on us has led to a permanent change in consumer behaviour.
From supporting local businesses to our expectations of the online ordering experience, the way we market our brands to reflect the values of this new age of consumers is the difference between hitting the right note or being left in a Covid dust cloud. To help you wade your way through this new environment and come out on top, here are some of the biggest post-pandemic marketing trends that are set to stay.

1. Focus on Online Experience
Ecommerce was already big news before the pandemic hit, but saw an even more forceful acceleration as we were all urged to stay indoors. We saw the most dramatic of these changes impact the online market in the first half of 2020, growing over 55% in April compared to March (Statistica).
Fast forward to 2021 and the online trend is still going strong. Research from the ONS states that all store types reported an increase in their proportion of online spending in January 2021 compared with December 2020, with food stores, in particular, hitting a historic high of 12.2% of sales conducted online.
With many of us choosing to shop online rather than in-person, nailing your online customer experience is going to be crucial to maximising sales.
Another key change we saw during the pandemic was the rise of online events in lieu of face-to-face ones, for example, conferences and trade shows were moved online.
One of the biggest benefits of shifting to online business events is that you can appeal to a global audience rather than restricting the event to a specific location.
That means now is the perfect time to start experimenting with a mixture of online and offline events. Is there a way you could create a hybrid event to expand your potential audience?
2. Outdoor Seating Areas
Although none of us was stranger to sitting in a beer garden as opposed to indoors in 2020, in September 2021 it was announced that the marquees set up by pubs and restaurants during the pandemic could become permanent on-site fixtures under new government proposals.
This move would allow pubs and restaurants to increase their capacity, giving them a much-needed boost following previous bouts of restrictions that saw limited numbers indoors.
Similarly, the temporary lockdown lifting in June 2020 saw street markets that previously were only permitted to open for 14 days a year allowed to be open for an unlimited number of days. The plans presented by the government would include supporting communities to hold outdoor markets for an unlimited number of days going forward.
3. QR Codes
QR codes aren't a new invention. In fact, they've been around since the 1990s. Although the codes proved popular in the early 2000s, particularly at trade shows and exhibitions, marketers' interest in the tool was waning by the 2010s.
However, all that changed when we were faced with a global pandemic. In May 2020, the NHS Test and Trace programme was launched as part of the UK government's COVID recovery strategy.
The general public was encouraged to download an app that used QR codes that allowed venues and public health agencies the ability to identify possible close contacts of those who'd tested positive with the virus.
But that's not where it ended.
As a vast majority of the general public got accustomed to scanning QR codes using their smartphones, the savvy marketers out there found new ways to use them. QR codes offered a covid-secure table service for customers where customers could order food from their phones.
According to a YouGov poll from June 2021, the majority of people (43%) preferred getting a drink via table service rather than getting up and going to a bar. With customers preferring this method of ordering, use this as an opportunity to appeal to this group and print QR codes onto your menus and marketing materials.
4. Shopping Locally
Small businesses were particularly vulnerable during the pandemic, which led to an increase in support for SMEs from consumers to help keep our locals afloat. According to research from Pollinate, over half of consumers globally (53%) believe that it's more important to shop with local businesses now than it was before the pandemic.
Millennials and Gen X were found to be especially supportive of small businesses, with 49% and 47% respectfully stating that shopping local was very or extremely important.
One of the best ways to market your business locally is through print. For example, not only is posting out flyers an affordable way to tell local customers about your business, but it's also quick and effective – plus the most trustworthy form of marketing!
Check out the results of our local marketing survey to find the best ways to promote your business in your local area, including what consumers love – and what they're not so keen on!
5. Increased Personalisation
Personalisation in marketing was on the rise before the pandemic, with companies using customer data to create highly targeted advertising based on their needs.
One of the biggest effects of the pandemic has been an accelerated demand for this personalised approach, which is a direct result of the boost in demand for digital services. With a huge new wave of consumers shopping online in lockdown, competitors used personalisation to create contextualised experiences to make their offering the most appealing.
Here are a few ways to create a personalised experience for your customers:
Collect customer data
If you aren't already, make sure to collect as much relevant information on your customers as possible, such as their age, gender, industry, and even what they buy and how often.
Segment your audience
Split your customers into groups based on the data you've gathered and send communications that are suited to them.
Use names
Adding the customers first name to SMS messages and emails can increase open rates by as much as 35%, according to research from Pinpointe Marketing.
Build out dynamic content on web pages
You can tailor the content your website the user sees based on their interests with the goal of providing an engaging and satisfying online experience.
6. Empathetic Messaging
With more of us spending time online, there's been hyper-focused scrutiny on many brands' online communications. Whether it was an ill-judged email subject line, insensitive handling of newsjacking, or a tweet that was scheduled weeks in advance and came across thoughtless once the pandemic was in full swing, lockdown an increase in businesses falling foul to tactless communications.
Similarly, some companies refused to acknowledge being in a time of crisis by carrying on with their usual business as if nothing was happening, coming across as tone-deaf to something that was affecting everyone, including their customers.
People welcomed transparency and empathy during the pandemic and by addressing customers with sensitivity and compassion, were still able to successfully market their products and services.
For example, here at instantprint, we created a daily update for customers on how we were keeping our team safe at the height of the pandemic as well as launching our Covid safety essentials range with free templates to help get UK businesses back on their feet as restrictions eased.
If the pandemic has taught us anything about the future of marketing, it's that it's never been more important to put customers' needs first. Whether that's by giving them an unbeatable, personalised online experience, or handling sensitive situations with empathy, these are all positive changes to the way we interact with customers. Which trends will you be implementing in your marketing strategy going forward?