Everyone gets stuck in a rut at some point in their work life. You know the feeling – you've lost your spark, your motivation, your business growth has slowed and you're so set in your routine you feel like Bill Murray in Groundhog Day (but maybe without the romantic sub-plot?). You know it's time to break the mould and find your motivation, but how? We've got a few tips to help you get your mojo back…
Learn What Your Customers Want
It's market research time! Whether that's looking at reviews online, speaking to your customer service team, sending out surveys, holding focus groups or even just making conversation with your customers, it's crucial to keep the communication going to stay on top of your game and find out exactly what customers want and expect from you. SurveyMonkey is a great piece of free software you can use to create a survey and email it to everyone on your list! Or, you could use A6 size leaflets or Postcards to gather customer opinions – leave them in your shop and offer an incentive (like a prize draw) for people to fill them in.
Launch a New Product
If you've been selling the same things forever, it might be time to introduce a new product or service. New product launches attract attention to your company through advertising and press releases, helping to increase your share in the market and to motivate your team by getting everyone involved! Through diversifying your product or service offering, you are also targeting new markets, which could in turn lead to an increase in profit. A great example of this is Barclay's Pingit Mobile App – this links customers' mobile numbers with their bank account, letting users transfer money conveniently. Pingit was widely successful and, due to fantastic marketing, was downloaded 120,000 times in its first 5 days after launching!
Change Your Workspace
You know what they say – messy office, messy mind. Well, even if 'they' don't say that, it's definitely true! You spend such a high proportion of your time in your office, so it makes sense to begin boosting your business by making changes here. Make a start by clearing out the clutter, change any posters or images you might have hung up, or even get your paintbrush out and change the colour of the walls. By starting afresh, it will completely change your mindset and attitude, and hopefully, help you escape the slump. Need some more proof? This study shows that a good work environment positively impacts job satisfaction, whereas bad conditions restrict employees' full potential! In fact, we've recently followed this advice and revamped our break out area (see below).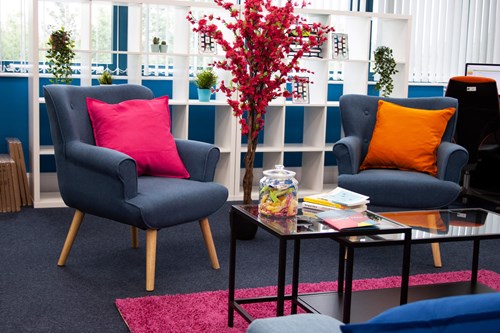 Try Rebranding
Rebranding is another great way of getting the whole team involved – but can be a bit of a balancing act. An old brand can discourage potential customers, but a new brand based purely on how it looks can alienate loyal customers. If you're changing the look of your brand, you've got to reflect internal changes too – change up your product offerings and your brand philosophy to reflect the forward-thinking company you are. Old Spice are the perfect example of a successful rebrand. Once associated with an older, male demographic, Old Spice launched their 2010 campaign 'Smell Like a Man, Man' to re-position themselves in the market to appeal to younger men too. In just 5 months, their sales were up 105%! Rebranding can be a risk, but it's often a risk worth taking – just make sure you've got something to shout about other than a new name and colour palette.
Take Some Time Off
Sometimes it can be really hard to justify taking a break, to just remove yourself, body and mind, from your business. However, you might be doing yourself, and your company, more harm than good by trying to power through your slump. In her study, 'The Benefits of Mentally Disengaging From Work', Sabine Sonnentag found a link between detachment from work during off-hours (like weekends and holidays) and job performance – i.e. those who took time off from work (mentally as well as physically) outperformed those who didn't. Your slump could be the first warning sign that you're overworking yourself. In order to truly recharge your batteries for top performance, it's important to get more good quality sleep, have time off from thinking about your business and rediscover your hobbies. Then, when you come back to your business, your newly-invigorated mind will be ready to work.
In conclusion, change is key to giving your business the boost it needs to break out of a slump. And though that's easier said than done, we hope that our tips help enhance your productivity, boost your business growth and get everyone involved in smashing out of that repetitive routine that's getting you down.