The Covid-19 pandemic made everyday life more challenging for everyone, but it was an especially trying time for small business owners who bore much of the brunt of this, with many forced to close their doors for good.
However, it wasn't all bad for UK entrepreneurs. Showing true British grit, 2020 saw nearly half a million new businesses started – with the majority of those emerging smack bang in the middle of two lockdowns in June.
One new start-up that's gone from strength to strength after being founded by husband-and-wife duo, Simon and Lucy Cornelius, a week before the first lockdown was announced back in March 2020 is Cornelius Creative Ltd, a product design and marketing consultancy based in north Kent.
As well as starting a business with their spouse (during a global pandemic, no less), the couple were also raising a small child together. We spoke to Simon and Lucy to get their advice on tackling these challenges head-on and their top tips for other parent wantrepreneurs for overcoming them.
Supporting businesses with marketing-led design
Cornelius Creative specialise in helping small-to-medium-sized businesses with developing new products and bring them to market. They blend marketing commerciality into the products they develop to ensure their clients are able to launch products that are profitable and provide a good return on investment.
Before starting up on their own last year, Simon and Lucy worked across different roles in product design, engineering and marketing and decided to pool their skills together to create a company.
Both had worked for large corporations over their careers and had outsourced work to consultants, but hadn't ever come across a company that provided marketing-led product design, so they knew there was a gap in the market. And thus, Cornelius Creative was founded.
"We'd toyed with the idea of setting up our own business for years, but it was following the birth of our first child in October 2019 that made us finally decide to take the leap. At the time, Simon was commuting from Kent to Manchester each week, and with a young baby, we knew that he couldn't continue to commit to such a long-distance role.
In early 2020, Simon handed his notice in and we started to plan the launch of the business, certain that 2020 was going to be our year!"

Starting a business during lockdown
Just 6 days into starting their own business, the unthinkable happened: the UK was plunged into lockdown.
"We were devastated when the country went into lockdown after our business had only been running six days. After dreaming for years of starting our own business, it felt like the rug was pulled from under our feet."
With many companies sending their staff home on furlough, the contracts Cornelius Creative had managed to secure started disappearing overnight.
Simon and Lucy found themselves in the scary position of having zero income and a young baby to feed – not to mention the threat of Covid-19.
Using their newfound time in lockdown wisely, the couple dusted themselves down and kept going. They wrote their business plan and continued to look for clients, and soon the work started to come in.
Overcoming a year of challenges
1. Uncertainty
One of the main challenges Simon and Lucy faced over the past year was the economic uncertainty caused by the combination of the pandemic and Brexit. This means many of their clients haven't wanted to commit to new product development projects.
"We rely on businesses to fund new development, so if the economy is uncertain, it affects our clients, which in turn affects us."
2. Work-life balance
When the pair first launched the business, they were working out of their spare bedroom. Running a business from home with a 5-month-old in the house would have been challenging enough, but since all baby classes and activities shut down or moved online, it meant that the family unit was stuck in the house together all the time.
"It wasn't the easiest situation, as we're sure a lot of working parents have found over the past year. In February 2021, after the business had continued to grow, we moved out of the spare bedroom and into a dedicated office space nearby. It meant we can separate our home life and business life, which has definitely made everything run a bit smoother."
3. Sourcing office equipment
Another challenge the couple faced was difficulties when buying office equipment. They struggled to buy things like webcams, which were necessary for speaking to clients, as demand was so high where many more people were working from home. They were able to source some nearly new products from selling websites and second-hand retail stores, which were still in great condition.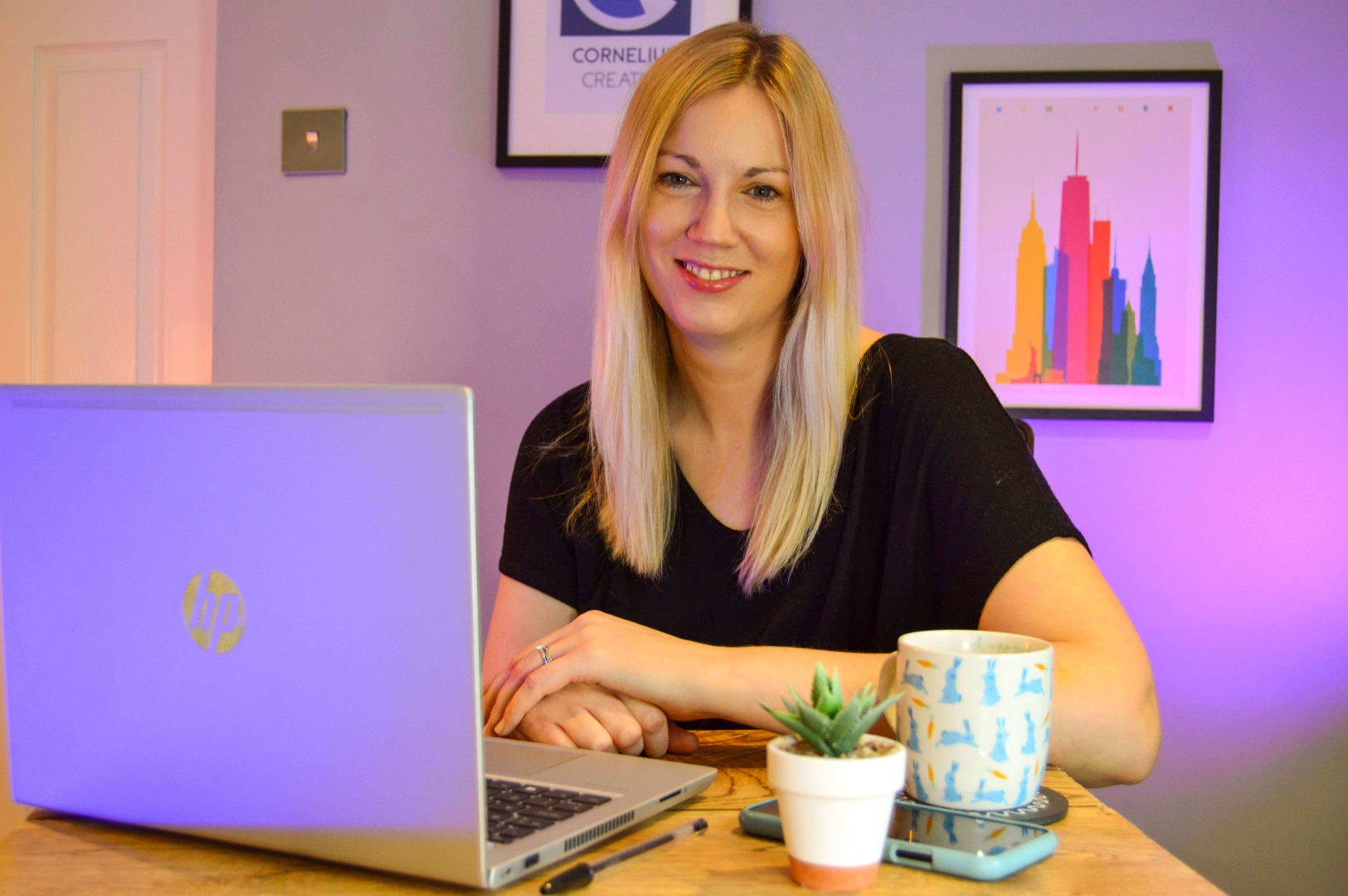 Top 5 tips for couples starting a business together from Cornelius Creative
1. Have a routine and plan your day/week
We've found the best way to work together, especially with a young child, is to have a routine and stick to it. We also plan our week so that we know exactly what we're doing on which day to maximise our time.
2. Try to keep work and personal life separate
If you're working from home, try to have a dedicated area/room for the business away from the main living areas. If space is limited, try to tidy away the business equipment (laptop etc) when you're finished for the day so that you can spend time with the family and relax without thinking about work. It's tempting to work all hours on the business, but it's important to take breaks. Make sure you have specified evenings off where no business talk is allowed – put on a movie or go for a drink and talk about anything but the business.
3. Define roles
When working together, it's important to make sure you each have defined roles so that you know who is responsible for what. For example, make sure someone is responsible for accounts and invoicing, otherwise if you both dip into it occasionally, something important could be missed. If one person is responsible, then it's their job to make sure it's done. Write an organisation chart with your names assigned to each role. As the business grows you can employ others to fill those roles, but for now, you'll have the share the tasks yourselves.
4. Be open and honest and don't take offence easily
Running a business is similar to a marriage – although you may agree on most things, there will be times when you don't see eye to eye and arguments may happen. It's important to have those discussions (try not to argue!) and be completely open with each other. Like working with anyone, there may be times when you need to compromise and make a decision based on what's best for the business, so treat your partner how you would any other colleague. As mentioned in the previous point, if you have defined roles, then you know which of you is ultimately responsible for which area of the business and that person makes the final decision.
5. Make sure you celebrate with a glass of wine (or whatever you want!)
It's too easy to focus on the difficulties of the business and when things go wrong, as they often do, so you must remember to celebrate the wins, even when they're small. When our website went live, we shared a special bottle of bubbly that we'd had for a couple of years, but we also make sure to congratulate each other when something good happens.
Entrepreneurial parents: The challenges of raising a child and starting a business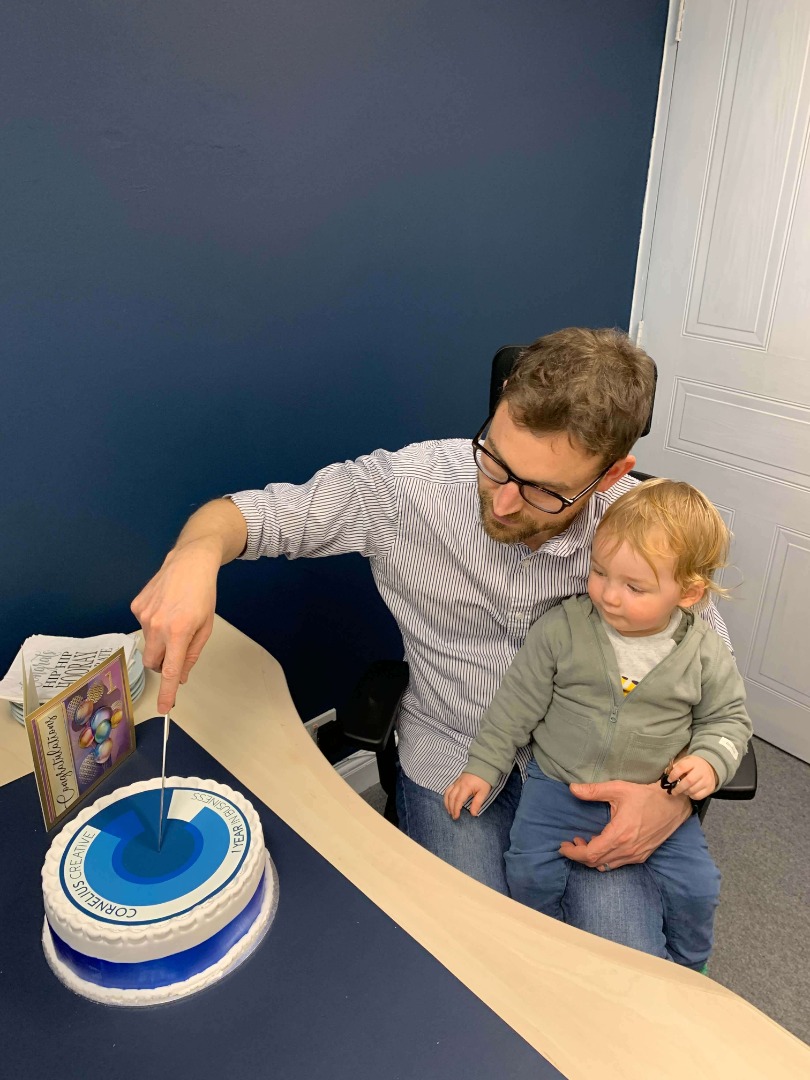 Starting a new business is never easy, but add raising a child to the mix and this adds a set of very specific challenges – especially when it comes to finding a life-work balance. Both of these aspects require time, energy and nurturing, but it's also important to stay well-rested so you can invest as much of yourself as you can into each part of your new life.
"Lack of sleep was a major challenge to begin with! For a few months, we decided to sleep in separate bedrooms so that at least one of us was getting a good night's sleep. We made sure to share parental responsibilities where we could; one would do bath time, for example, and the other bedtime. It's important that you each get a break, so allowing your partner to have a lay-in on the weekend, for example, is a nice gesture to help them restore energy."
During the Covid-19 pandemic, many of us struggled with separating our work and home life as we adjusted to working from home and staying in as much as possible. When you're starting a business during times like these, it's easy to spend all of your energy on your work because it's now in your home (and so are you!).
"Splitting work and personal life has also been a challenge, particularly through lockdown when we were all in the house together. A crying baby is certainly not the best background noise when trying to speak to new clients! Fortunately, most people understood as they were in similar situations. More people are now facing the long-term possibility of working from home, at least on a part-time basis, so you'll find that people now understand the challenges of parenting while working and are more sympathetic.
"During the first lockdown, we were all advised to spend an hour a day exercising outdoors. While we may not be in the same strict lockdown situation now, we'd definitely advise people to get outside when they can – whether just for a walk or perhaps a lunchtime run. It can do wonders for your mind, as well as your body, particularly if the balance of work and family life is proving stressful."
What's next for Cornelius Creative?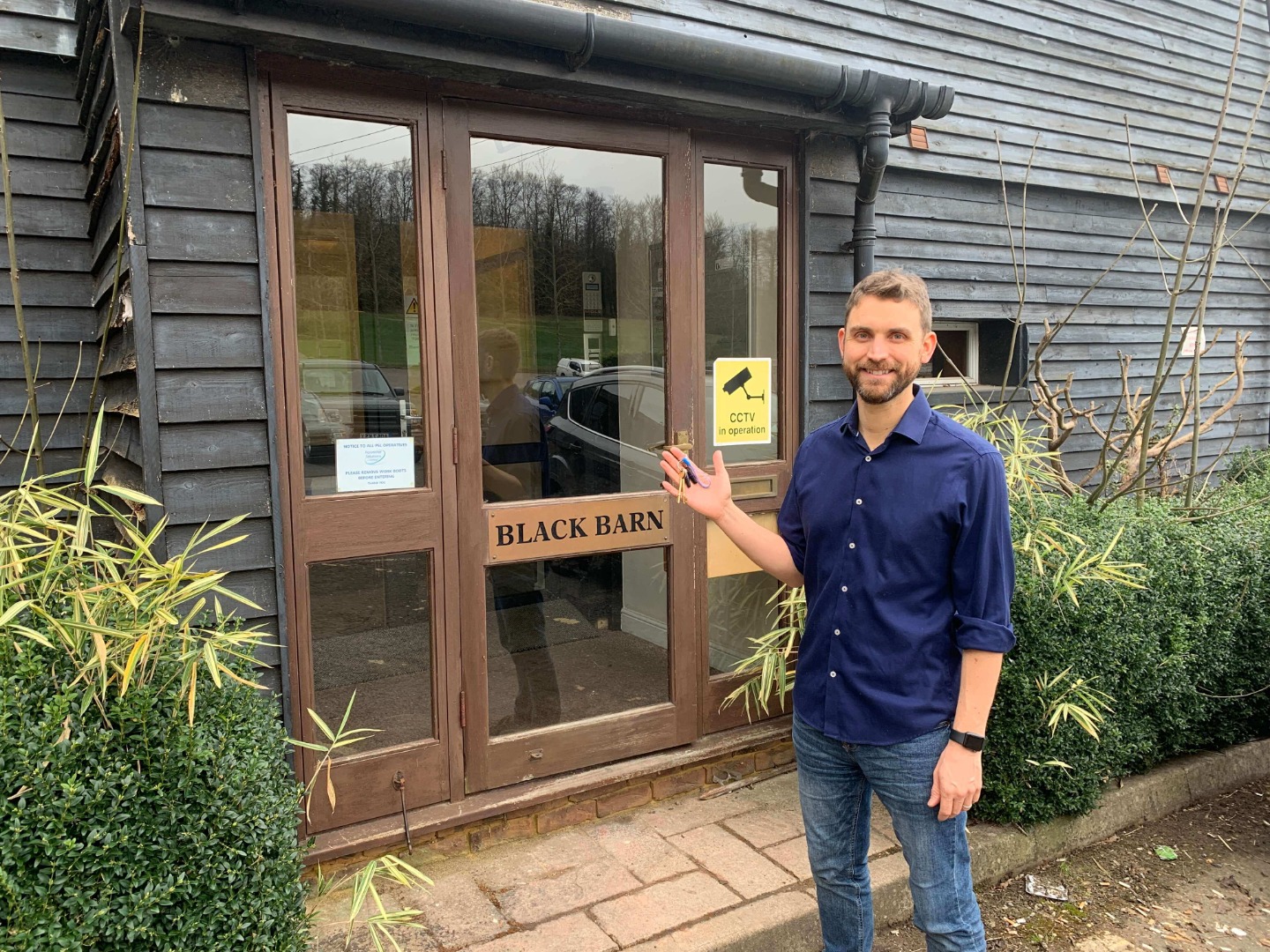 With the third UK lockdown beginning to ease, Cornelius Creative have got growth on the mind, giving themselves more space between their work and their home life and having room to expand:
"By the end of the year, we'd like to have one or two employees and to have moved into a bigger office space. We've realised that if we can launch a business during a global pandemic and still grow, all while raising a baby, then we can achieve anything!"