In the last twelve months, I've run a successful marketing campaign. But it's not your usual Google PPC ads or Facebook adverts. I went old school instead: direct mail marketing.
I've been involved in digital marketing for just over a decade.
As well as owning two businesses, I've also worked in a Marketing and Communications role for a Russell Group university for four years.
And I think the fact that I didn't graduate with a marketing-related degree has held me in good stead.
That's because I've always tried to think outside the box when it comes to marketing.
As a result of doing things a little differently, I was a runner up in four categories at the Northern Ireland social media awards.
So, while everyone else moved their marketing efforts towards PPC advertising and Facebook ads, I decided to go old school.
Direct mail marketing has always intrigued me.
I remember as a child opening envelopes containing A5 posters posted through my door.
They were from get rich quick schemes, electrical shops and tradespeople.
And if there's an envelope addressed to me now, I can't resist opening it.
It's probably a mixture of intrigue, nosiness and curiosity.
But how many times have you received a handwritten envelope addressed to you and not opened it and thrown it straight in the bin?
I'd bet 99.99% of you would open it.
But with the digital transformation in the last two decades, I rarely get any direct mail nowadays.
That is, apart from the odd pizza menu or window cleaner flyer, which means I can enjoy a cheese-filled meal that tantalises the taste buds while looking out of my clean windows.
I started researching direct mail marketing and realised that everyone had pretty much confirmed its demise.
Every marketing website seemed to say, "Go digital or go home".
But as a marketer, I've always tried to do the opposite of what can be considered 'normal'.
Sometimes it backfires spectacularly, and sometimes it pays off.
Either way, I committed to trying something a little different.
I read widely about direct mail marketing and came up with a unique angle.
My direct mail campaign.
I decided my direct mail campaign would include the following:
A handwritten envelope to the target customer: I think the personal touch is more effective than generic typed envelopes.
A Tall Paul Marketing branded pop socket: For the receiver to place on the back of their phone.
A5 Flyers: A flyer telling them what to do with the pop socket (if they haven't come across one before). Another flyer that explains a little about how I can help their business.
Business card: A Tall Paul Marketing business card.
Pop sockets are pretty popular right now.
Best of all, they enhance your smartphone use and hold it in place when you're trying to watch a video.
So, the pop socket was my modern twist, while the rest of the campaign was filled with marketing stalwarts like flyers and business cards.
After getting the flyers and business cards designed by a local graphic designer, I logged into my instantprint account.
I've used instantprint for a couple of years, and I'm not gifted in art and design.
Put it this way, I'm no Picasso (I got a U in GCSE Art!), so I like that I can easily navigate the instantprint website.
All I have to do is upload my designs, and a few days later, everything lands at my front door.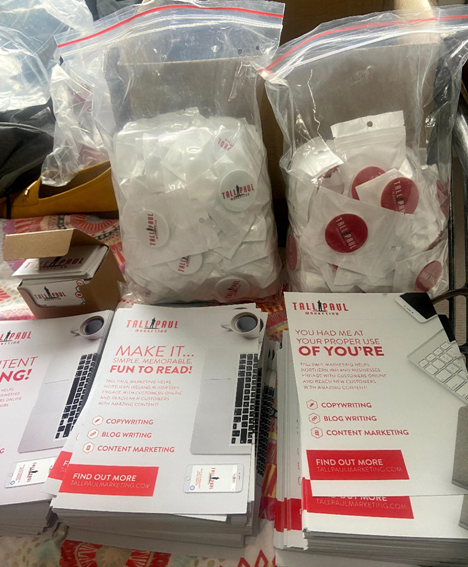 The results from my first direct mail marketing campaign.
Initially, I started by sending 300 envelopes to local businesses that I was keen to work with.
I sent out four different flyer variations to see which got the most responses.
In February 2020 and February 2021, I used red envelopes for a couple of weeks before Valentine's Day.
I guessed that most people receiving a red envelope in the days before Valentine's Day would be intrigued and open the envelope.
For the rest of the campaign, I used plain white envelopes.
From that first campaign, I received approximately 30 email enquiries about my services, so that was a pretty impressive 10% response rate.
Of those responses, a direct result was me taking on several biggish projects.
I also gained two retainer contracts and introductions to their acquaintances who were about to embark on a website revamp.
I would estimate a conversion rate of 6-8%, which is pretty good.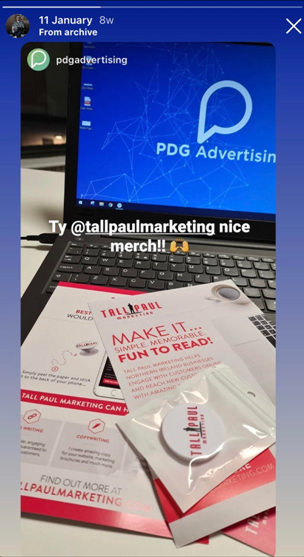 And the beauty about that campaign and the others I did afterwards is worth considering.
When I sent out envelopes for my first direct mail campaign, most of the UK and Ireland was in lockdown.
So while I sent those 300 envelopes out to offices, most employees were working at home.
That makes me confident in guessing that all of those 300 envelopes haven't been opened yet by my target customers.
I think the conversion rate will end up a little higher once everyone returns to the office.
But it wasn't just direct sales and conversions that made the campaign a success.
I also got lots of lovely feedback and social media mentions from the companies saying things like, "Thanks a lot for the merchandise, Tall Paul."
And "Great to see companies using direct mail marketing," and "Love the branding; what height are you, Tall Paul?"
And my favourite result?
During the Eat Out to Help Out scheme, my wife and I were having lunch in our favourite wee coffee shop in Belfast.
I turned around, and I noticed a lady a few tables away talking on the phone, with her Tall Paul Marketing branded pop socket on her iPhone, giving my business some excellent free publicity and brand awareness.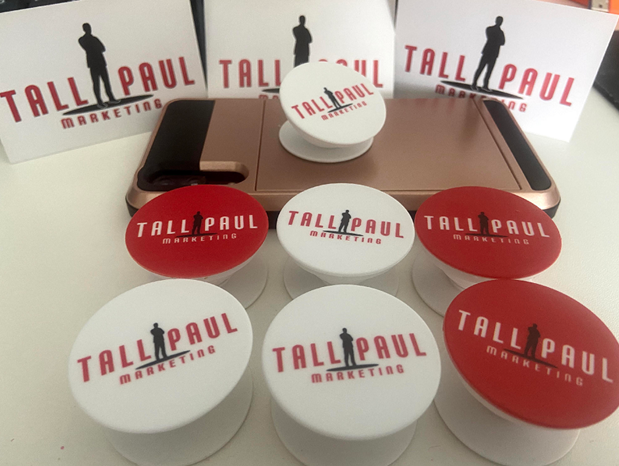 Conclusion
Contrary to what the marketing experts say, direct mail isn't dead.
If you're creative, authentic and inject a little humour or fun, you can achieve great results with direct mail marketing campaigns.
After all, when your competitors are all trying to outbid each other on Facebook and Google PPCs, you've got a free run at your target customer's daily Royal Mail deliveries.

Paul Malone is the owner of Tall Paul Marketing.
Tall Paul is Northern Ireland's number one freelance copywriter, blog writer and content marketer.