We're sure we don't have to tell you twice: you spend a LOT of time at work. According to the Organisation for Economic Co-operation and Development (OECD), the average Briton works 1,676 hours a year. Since you spend so much time in the office, why not do everything you can to make sure it's somewhere you'd actually really like to be?
As well as being important for productivity, your working environment can affect your mood, job satisfaction and even your sense of belonging. But painting the walls and moving office furniture in is often a no-go – the costs and effort involved might make some of these big projects implausible.
There are, however, plenty of ways you can use print to enhance your office environment with extremely little effort, time and costs! Here are just a few print decoration ideas that can really improve your interior design easily.
Brighten Up Your Space with Posters
Posters are a classic way of jazzing up any indoor spot. You can put them pretty much anywhere, design them however you want and they can be as big and out there – or as small and personal – as you like. In our offices, we've popped branded posters on the windows of our meeting rooms. Killing two birds with one stone, these posters offer privacy for those inside the meeting room, and brighten up the office space outside these rooms!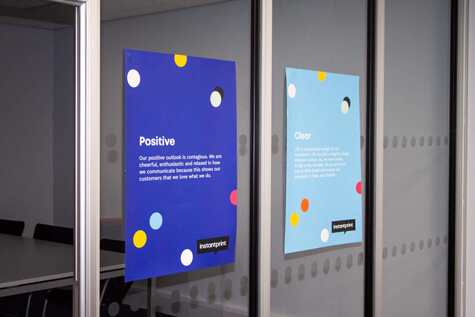 Our posters use our brand colours to brighten up the office!
We chose to feature our brand personalities on our posters, but you can design them however you like! Awesome illustrations and wall art, inspiring quotes to motivate the team or even something a little funny to offer comedic relief when energy levels are dropping; there are plenty of fantastic ideas you can get creative with.
Stay Organised with Calendars
Desk and wall calendars are both excellent options for adding a little extra oomph to your workspace. As well as making delightful desk decorations, custom printed calendars are also practical – you and your colleagues can use these to meet deadlines, plan ahead and keep their meetings.
Want to really get the most out of your staff? Give them custom-printed stickers to highlight key dates in their calendars. As well as being fun, stickers are so useful for keeping colleagues on track – you could even colour code them with red, yellow and green stickers depending on which tasks/key dates are the highest priority.
Create Inclusivity with Personalised Mugs
Tea and coffee round, anyone? Another great way of making everyone feel welcome and part of the team is by providing colleagues with their own custom mugs. A super easy way of designing them is to simply add your company logo to the front. To give you a bit of an idea, here's what our mugs look like:
As you can see, we love our office décor.
Another way corporate gifts like mugs can help your business? Employee satisfaction! BambooHR surveyed 1000 full-time employees to find out what works for rewards and recognition programmes, and discovered that 75% of employees who received at least monthly recognition (even if informal) said they were satisfied with their jobs. Recognising employees' achievements and rewarding them with branded products is a fantastic way of boosting engagement in your office.
Decorate Your Workspace with Postcards
Although having a desk divider might not seem like a key building block for an inspiring and enjoyable workspace, there's actually a lot of ways you can use this extra surface to make your desk extra homey. First of all, that space is yours – you can decorate your divider however you want! Secondly, it's the perfect size for postcards…
If you don't want to stick pins into your divider (or you're not allowed to), you can wire grids/peg boards and a bunch of wooden pegs quite cheaply, which you can attach your choice of printed postcards to and stand up against your divider instead!
Show Appreciation with Staff Notebooks
Like personalised mugs, branded notebook printing is all about reward, recognition and letting employees know they are a valued part of the team by boosting their belonging. A little bit like a uniform, but a lot less restrictive!
Every instantprint employee gets their own branded notebook!
Our notebooks here at instantprint are classic instantprint blue (and covered in our trademark dots). The bright colours and energetic pattern inspire us to also be energetic in our notes. We've completely utilised the inside front cover by adding in our brand personalities – this also helps remind us that everything we create at work should reflect these personalities!
Choose a Productive Colour
So, what colour should you choose for your desk ornaments like calendars? Although we tend to choose our brand colours for all of our print decorations, there are plenty of other ways you could use to help decide for your own. Colour Psychologist Angela Wright suggests that the more intense the colour, the more stimulating, whereas low saturation is soothing. She also suggests:
The colour blue stimulates the mind; therefore, it works great for accountants (but pair it with a bright orange to keep it warm and inviting)

Yellow stimulates creativity, ego and spirits, making it perfect for a designer's office

For a job that requires you to perform physical activities, red is the colour to choose

Or, for a more balanced approach to productivity that encompasses all of the above, pick green
Now you've got all the print decorations you need to make your office a lot homelier, all that's left to do is to plan where everything's going to go. To help you get a better idea of what would work well where, why not check out our guide to home office Feng Shui?
If you try any of these ideas in your own office, make sure to take a picture and tag us on social media with @instantprintuk or #instantprintuk for a chance to be featured. We love seeing all of our customers' print creations, and we can't wait to see yours!