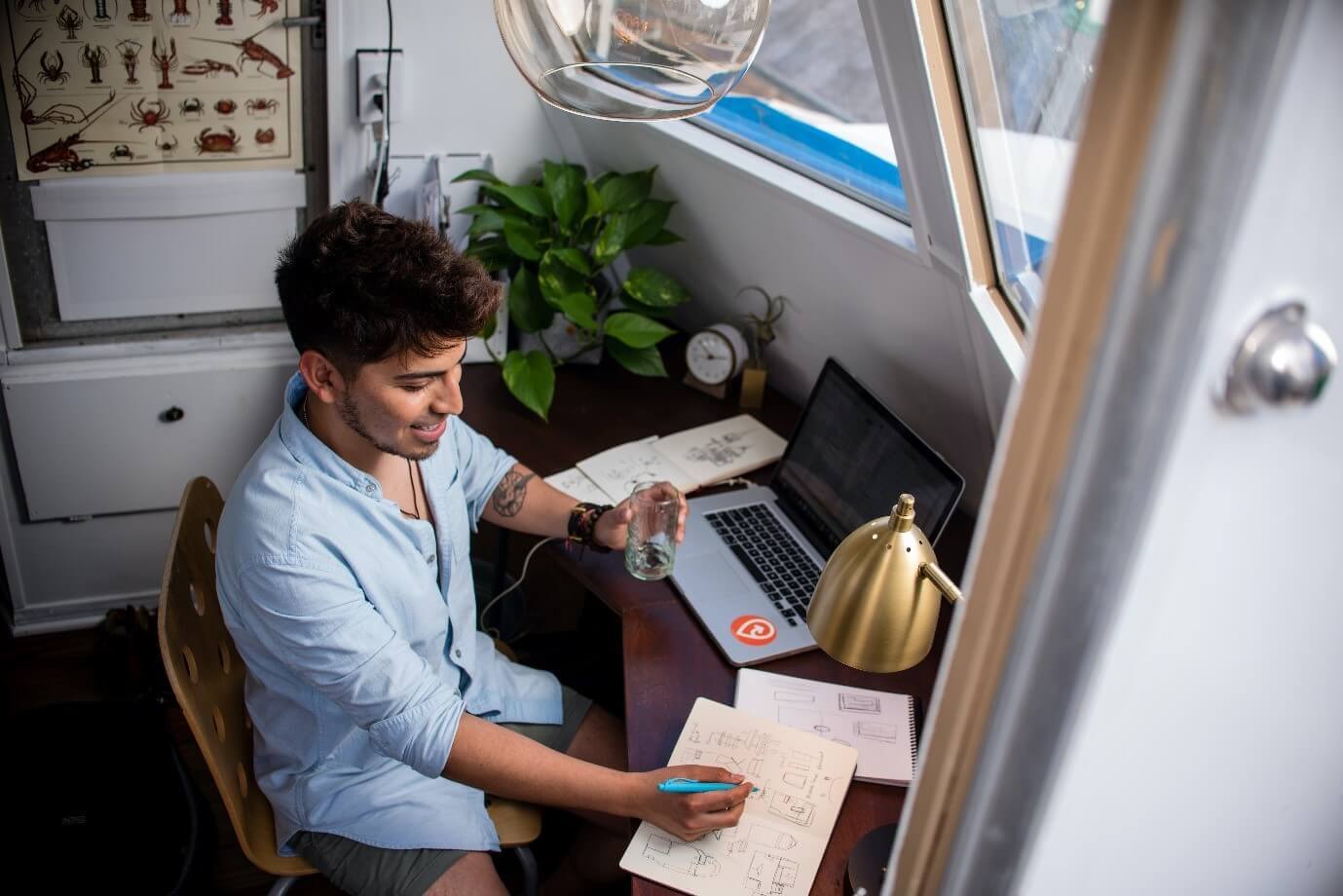 The pandemic has spurred rapid change for a lot of businesses, in particular the sudden shift to remote working. But, how can companies remain competitive with a fully remote workforce, and is it possible to successfully scale up while staff are working from home?
Bridie Gallagher is Managing Director at Glass Digital, a digital marketing agency that specialises in search engine optimisation, affiliate marketing, and paid search advertising. Here, she shares how they were able to switch to a full-time remote working policy while scaling up, along with her advice for business owners looking to do the same.

Back in March 2020, the board of directors at Glass Digital had to make a decision that none of us had ever imagined we'd be facing: the temporary closure of our office space, in the midst of a global pandemic. Although our staff had previously been able to work from home one or two days a week, we suddenly became a fully remote business overnight. It was uncharted territory for us, as it was for so many businesses. And, even though we'd initially hoped that the lockdown would only last for a few weeks, it soon became quite clear that we were in it for the long haul.
Although it was a real leap into the unknown at the time, I'm glad to say that it's been a great success — so much so that, back in January of this year, we made our remote working policy permanent. Even once the pandemic is over and we're back to something like normality, our staff will still have the option to work from home (or wherever else suits them) as much or as little as they wish. We'll still maintain our office space for meetings and for those staff who prefer office life to home working, but for now, we're officially a remote working company.
As a result, we've learned a lot about managing a remote workforce over the past year. Here, I'll share five insights about scaling up a business while working remotely.

1. Invest in communication
Effective communication between and within teams is of the utmost importance in any business. But, it's even more valuable for teams who are working from home, because it can be harder to ensure everyone is on the same page when you aren't physically in the same room. The solution is to invest in communication and collaboration software and tools for your teams, so they can work together seamlessly, even when they're miles apart.
To facilitate this, we've recently switched to the Teamwork project management platform, so it's easy for staff to stay on the same page when collaborating on projects. It also features an in-built instant messaging system which means that staff can chat back and forth about their work —not dissimilar to the sort of communication you'd get when sharing an office space.
Investing in tech to facilitate communication can be expensive, but in our experience, it's completely essential. So, if you want to continue to scale up while working remotely, you'll want to make sure your staff have access to the best communication tools.

2. Measuring success and keeping track of performance
One of the main benefits of remote working is that it reduces presenteeism: it's actually a lot easier to see who the most effective and productive people are, rather than just who is always at their desk. But, it's still important to make sure you have ways of defining and measuring performance for remote staff, especially when you're trying to scale up a business.
The simplest way to do this is to make performance clearly quantifiable. For sales teams, this might mean setting targets or goals, and checking in to see if these are reached. For other staff, it might be easiest to set deadlines for particular tasks, or to ask for a weekly or monthly report of their work. Regular Zoom catch-ups between heads of department and junior staff can also help to ensure everyone is working well, as well as flagging up any problems before they get out of hand.
I'd caution companies against getting too hung up on performance metrics at the moment, however. This has been a tough year for everyone, and the pandemic has taken a toll on many people's productivity levels. So, it's important to find the balance between pushing staff to achieve their best and not putting too much pressure on them. We tend to find taking a supportive stance when staff are struggling is the best way forward for everyone: there's normally a valid reason for less output or lower performance, and by working together you can almost always find a solution, too.

3. Training, development, and onboarding
Scaling up often means hiring new staff. And, when hiring new employees who are going to work remotely, it's more important than ever to make sure you're finding the best people for the role. Ideally, you need to find hires who can hit the ground running and work independently from the off. It may help to ask staff whether they have any experience working remotely or independently during the recruitment process, so you can work out which candidates are going to thrive in a remote working company.
When onboarding new staff, you need to make sure new hires don't miss out on initial training and development during remote work. For example, you could begin and end every working day with a call or Zoom with their line manager to answer any questions and ensure they know what they're doing, as well as providing real-time support via instant messaging. For roles that typically require a very intensive initial training period, it may be helpful to split the time between home and office working, then gradually increase the number of days spent working remotely once they've gotten up to speed.
Don't forget about training and skilling up your existing workforce, too. Your staff should still have opportunities to develop their skills working remotely, just as they would in an office environment. You may need to find new ways of delivering remote training sessions, or allocate extra time for staff to work on developing their knowledge and skillsets independently. Many of our staff now have personal development time scheduled into their working hours each week, to ensure they're still getting an opportunity to learn and grow.

4. Supporting work-life balance while remote working
If you want to help your staff stay happy, motivated, and productive, then it's incredibly important to spend time and money promoting a good work-life balance. And, this is especially crucial when managing staff who are working remotely full time.
When you're working from home, it can be all too easy for the lines between work and free time to blur. As a result, many staff are working even more than before the pandemic, with research by NordVPN showing that remote workers in the UK are now working on average two hours a day more than before they started working from home (Guardian). This isn't sustainable in the long-term, nor is it healthy for staff.
In response, some companies have instituted a ban on emails or communications outside working hours, and certain days of the week are designated "meeting-free" days to help give their teams more time to focus. Employers can also consider being more flexible with deadlines, and can implement support systems to help staff who might be struggling with their workload.
There's been a lot of coverage about monitoring software on staff devices lately, much of it negative. However, I think it's important to remember that it's all about how this software is used. In many cases, monitoring software can be used to guide staff to work less, rather than more. For instance, if the software shows that staff are working late most days, or accessing work emails or apps late at night, it may be a sign that this employee needs extra support and help to prevent overwork and burnout.

5. Find ways to boost morale and foster a positive company culture
One of the downsides of remote work is that you lose some of the social aspects of office life. For one thing, it's a lot harder to go out for a drink with co-workers when you're all working from home. And, the traditional little perks that employers can offer to show their appreciation for staff — like free doughnuts in the break room, or a birthday card signed by everyone in the office — are no longer feasible.
In order to maintain a positive company culture that makes staff feel valued and motivated, employers need to look for new ways of rewarding staff and offering perks remotely. We've recently signed up to an online employee wellness and engagement platform, where staff can give each other a shout out for doing great work, as well getting access to all sorts of discounts, freebies, and other perks. We'll also be looking to make sure that the in-person social side of company life can continue once the pandemic restrictions have lifted by organising get-togethers, meals, and parties for staff to enjoy.
Remote working shouldn't be a barrier to scaling up your business — try following some of the tips and guidance I've laid out here, and you should be on track for success.