Although we probably all agree that you shouldn't save showing appreciation for your mother to just one day of the year, many people use Mother's Day as a good excuse to shower their mums with flowers, chocolate and other gifts.
With the UK spend associated with Mother's Day clocking up at an impressive £1.6bn in 2019, there's a massive market for events and products around this time of year.
What this means for marketers is that it's an unmissable opportunity to make sales, all while providing customers with the perfect gifts to give their mothers. Without further ado, here are some of our favourite Mother's Day marketing campaigns and ideas from around the world.
1. HBO – Character Cards
In 2019, American television network HBO released a series of free Mother's Day cards available in select stores in New York and Los Angeles. Each card featured a notable female character from some of their hit TV shows, like Game of Thrones. Inside the card is a cheeky message to suit every kind of mother! A must-buy card for mums who love TV!
One of the best things about this campaign is the feeling of scarcity it creates – these cards are limited edition, which makes them even more desirable. This plays directly on our fear of missing out (FOMO) as consumers. And the fact that they're free gives customers that feel-good feeling about the HBO brand – surely this company must be good if they're giving away such good freebies!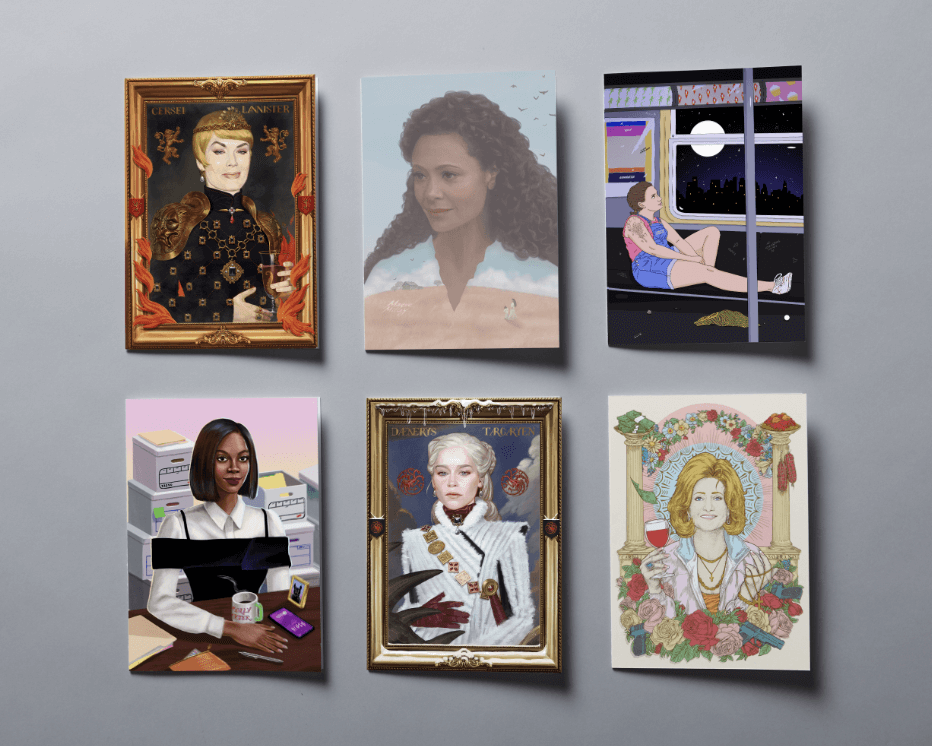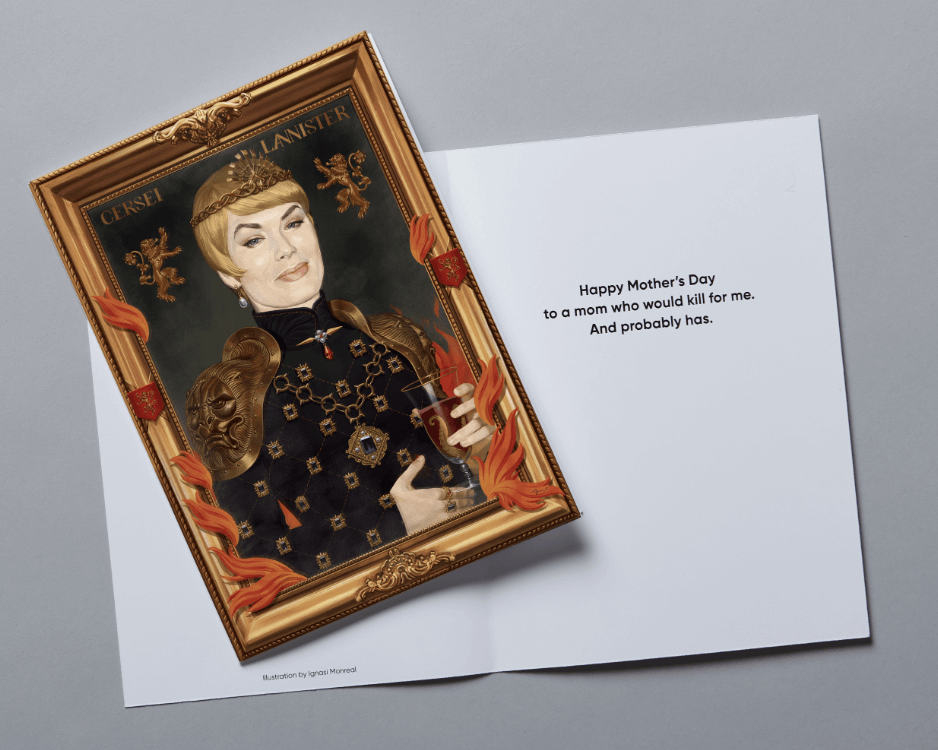 (The Drum)
Want to recreate a campaign like this? Print your own Mother's Day cards to appeal to your customers here.


2. Moonpig – Let Her Know
Moonpig's 2019 Mother's Day campaign showed real people leaving real messages of love for their mums. In a series of television and radio ads, people opened up and shared genuine messages of appreciation, bringing to light the fact that we don't always tell mums how important they are to us.
These ads used heartfelt messages and real stories to play on our emotions, which is classic Mother's Day marketing. What makes it different is that it turns it around on the viewer or listener with the simple message – let her know. This call to action prompts the viewer to think about their own mother and what they would say to her. And what better way to say it than with a personalised card and a bunch of flowers
Check out the full video here.
For a similar campaign, you could get your existing customers involved and get them to talk about gifting, or another service your business offers.
3. Jack Spade – You Never Call Anymore
A witty (and ever so slightly guilt-tripping) headline is what makes this email from Jack Spade, the male counterpart to famous New York bag company Kate Spade, so successful. This email cross-sells to its sister brand, letting its predominantly male target audience know that they'll find the perfect gift over on their website.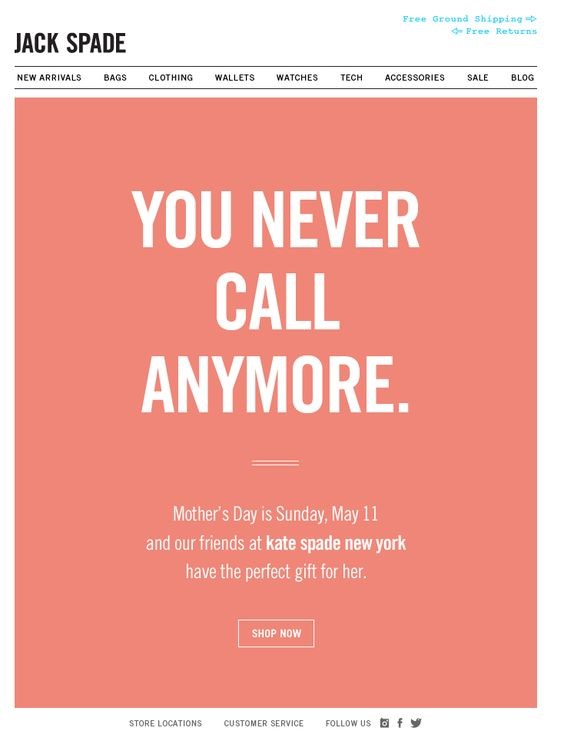 (mailjet)
Another reason why we love this Mother's Day email? It's super relatable, which is great for B2C marketing. Calling out the customers directly with 'You' pulls them in immediately, and then highlights something we can all be a little guilty of.
The soft pink deviates from the brand's usual style, which also makes this email immediately stand out. However, Jack Spade has maintained brand consistency with the website by adding navigation to the top of the email, something that their customers will be familiar with.
4. Miller & Carter – Mother's Day Menu
If you're a restaurant or other eatery, Mother's Day will mean big business for you. According to a survey by Sacla, 44% of adults dine out to celebrate this special day, meaning it's a great opportunity to run a marketing campaign.
One effective way of doing this is to offer a special deal or menu for the occasion, and you shouldn't let lockdown dampen your plans this year - you can still offer an exclusive menu for delivery or takeaway for the special day! Sheffield restaurant Brocco have seized this opportunity in 2021 and are offering takeaway afternoon teas for Mother's Day weekend - scones, finger sandwiches and a bottle of fizz, what's not to love?
5. Oeschle – "Mom doesn't want it"
Here at instantprint, we're a big fan of posters and print ads generally – especially the witty ones that really make you think, like the one from Peruvian retail store Oeschle! Combined with a video, their range of print ads take bad gifts that consumers might be tempted to buy for their mothers and raises the price to stop you from making the blunder.
This humorous approach to a Mother's Day marketing campaign acts as a sort of anti-gift guide – basically the opposite of a standard approach. And that's what makes it stand out.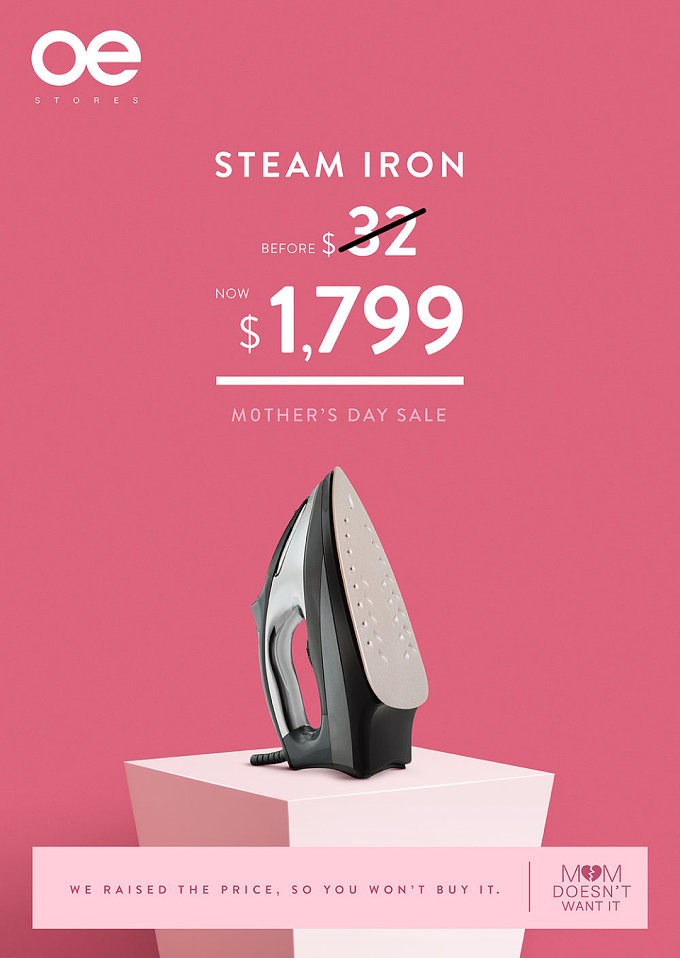 (Creativepool)
What Makes a Good Mother's Day Marketing Campaign?
From all the examples we've looked at in this blog post, one thing all of the campaigns had in common was that they did something extra, they were more than standard.
Whether they took a preconception about Mother's Day gifting and turned it on its head like the Oeschle print ad and the Jake Spade email, or seized new opportunities like the Brocco menu, they all did something that to stand out from their competitors.
How are you going to make sure your marketing stands out this Mothering Sunday? Let us know over on Twitter by tagging us @instantprintuk.