For trendy print that doesn't cost the world, our brown Kraft paper can give your marketing materials, invites and cards the iconic look you've been after. We've compiled a list of all the different print products you can use for Kraft printing and a few expert tips from our Studio team to help you achieve the perfect finish.
What is Kraft Paper?
Kraft is a super cool, earthy-textured, naturally brown paper. It's uncoated, giving it a rougher texture and better ink absorption, making it a great option for loyalty cards or anything you'd write or stamp on. It's also an eco-friendly, fully recyclable option associated with rustic, independent or craft business.
Kraft Paper Design Tips
Due to its natural brown colour and highly absorbent texture, there are a few things to keep in mind when creating a design to be printed on Kraft. Here are some of the instantprint Studio team's top tips for getting it right.
Avoid White
The commercial printers we use can't print with white ink, meaning any area of your design that you leave white won't print. Instead, you'll see the natural brown colour of the Kraft paper.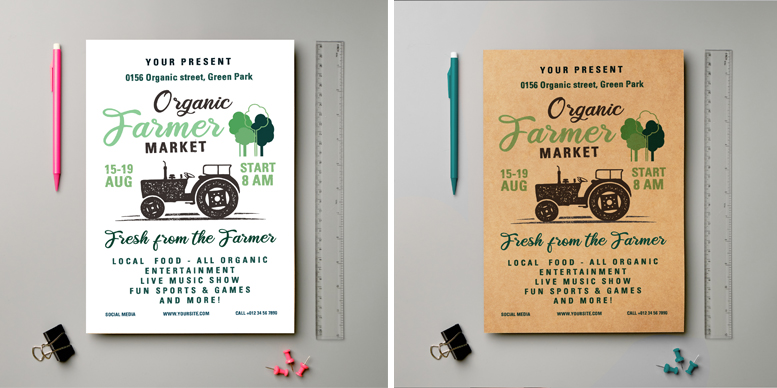 Create Contrast
If you're planning on using light colours for your design, we recommend pairing them with dark colours, like an outline to really make them pop – like in the example below.
Classic Black
Black text and illustrations paired with Kraft paper is a match made in heaven, and one of the most popular ways to use this stunning stock. Here's an example of a simple – yet highly effective – black design on Kraft.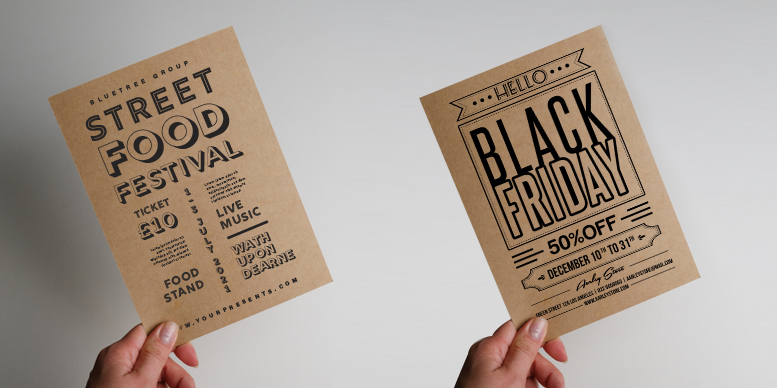 Make Space
Although darker colours definitely look their best on this stock, using lots of dark colours together might not stand out or be indistinguishable from each other. Play around with white space and clear lines for the best effect.

What Products is Kraft Available On?
We offer Kraft as an option for the following products.

Flyers
Take your flyer and leaflet design up a notch by printing it on Kraft! Because of how thick Kraft is (457mic, if you were wondering), it's great for making a lasting impression. If you use them as handouts in the street or for a flyer drop, these are the marketing materials people will want to hold on to.
Menus
As well as awesome leaflets, our Kraft flyers can also double as menus – great for cafés, farm shops and even restaurants who want to show off their organic, homemade range. Try A3 for placemat menus, DL size for drinks lists or A4 and A5 for classic double-sided menus.
Posters
Ideal for sprucing up your shop or café window display, our A4 and A3 Kraft flyers can also double up as distinctive posters. This style is ever-popular among small businesses and independents who are after a more polished version of the crafty DIY look.
Invites and Save the Date Cards
Kraft paper is also taking over the wedding industry for that exact same reason. From wedding invitations to save the date cards, you can create your own professional designs that look like they've been specially crafted for the big day – perfect for whimsical weddings!
Business Cards
Why not make that all-important first impression with Kraft business cards? They're great for networking events or placing in a pile at your store's checkout area for customers to pick up as they leave. One thing's for sure: you'll definitely be remembered!
Loyalty Cards
Our Kraft business cards also double as stylish loyalty and reward cards. The Kraft paper is super absorbent, meaning you can stamp away without worrying about running or smudging.
Greetings Cards
Another print product that benefits from the DIY feel of Kraft paper is greetings cards. Ideal for giving your Birthday, Christmas and thank you cards a personal touch – after all, nothing's quite so memorable as personalised cards!
If you'd like a closer look at our Kraft stock, why not order some samples? Our sample pack is completely free and features all of our stock options, so you can get a real feel for your print before you buy.