From raffle tickets to festivals, theatres and even sales event admission, perforated ticket printing can prove essential for organising a successful event. Selling tickets not only gives venues an idea of how many people they'll need to cater for, but perforated ones are a great way to establish security and exclusivity – once the stub has been ripped, there's no turning back, after all.
If you'd like to print perforated tickets for your event but you're not sure where to start, you're in the right place. Here's how to make perforated tickets.
Gather Key Event Details
Before you put pen to paper with your ticket design, you'll first need to gather any essential details ticket holders need to know about your event. The information you include on your ticket will depend on the event you're distributing tickets for. Here's a list of key details you may wish to add to your ticket design:
The name of your event – branding isn't just for your business; make sure your event's brand is memorable too. Adding the name of your event will be key to hyping people up!
Location – make the exact location of your event clear to maximise attendance at your event. If you're creating a large perforated ticket, you may wish to include a small map or directions in your design.
Date and time – remind attendees of the date of the event and let them know when the doors open so they know what time to arrive.
Admission details – how many people are admitted with each ticket? Can the attendee bring a plus one? Make this apparent on the ticket.
Dress code – Do you require a specific dress code for your event? As well as sending out an email reminder, ensure that this is specified on the ticket as well to really get the message across.
Event highlight – this could be your headline performer, the star of your show, the selling point of your sale. Include a detail that explains why your event is unique and make attendance seem even more desirable.
Logo – if you're hosting an event as part of your marketing strategy, make sure to include your logo so your business is associated with the event.
Voucher – offer an additional incentive to attendees and make tickets double as coupons for free drinks or discounts.

Download a Free Perforated Ticket Template
Now you know exactly what you want to include on your perforated event tickets, it's time to set up your design ready for print. By doing this step first, you're making it easier for yourself later down the line.
To make this part even simpler, we've created free printable perforated ticket templates that show you exactly where the perforated line will go once printed and cut. To find the right template for your ticket, simply choose your ticket size and style here and download the right file format for your chosen design tool.
If you're setting up ticket artwork without a template, you should establish where the perforation line will be to help you work out where your design will be cut off, ensuring no important information is lost once the stub gets torn off.
We also recommend adding 3mm of bleed area to each side of your design. This is where you 'bleed' the background of your design out right to the edges to ensure there are no unprinted borders around your tickets.
Check out our beginner's guide to creating artwork for print for more information.
Start Designing Your Perforated Ticket
Your document is set up and raring to go! But what should a perforated ticket look like exactly? Here are a few perforated ticket and entrance card design tips to inspire your design.
Use bold colours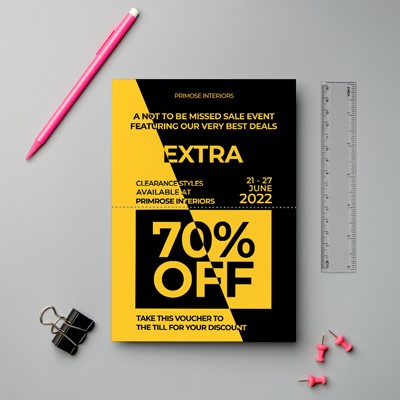 Bold colours are always a winner when it comes to ramping up excitement for an event – so why should your ticket design be any different? It also helps attendees keep hold of their tickets; it'd be hard to lose something as bright as this in the kitchen drawer!
In our example, we've created a sale event ticket where the customer will need to hand over the perforated bottom half of the invite to redeem a 70% discount on their order. This ensures the customer only received one voucher for this discount and it's a great way to measure the success of your campaign as you'll be able to count the number of discounts redeemed.
Differentiate the stub
Make it really obvious that the stub is made for ripping off by emphasising where the perforated line is. With festival tickets, like the one above, having a removable stub for event admission means the attendee gets to keep the rest of their ticket as a keepsake.
This also works well for other memorable experiences such as concert tickets and theatre tickets. Differentiating the stub means no value is lost from the design once the stubs have been removed – making for a perfect reminder of your event!
Get creative with the perforation line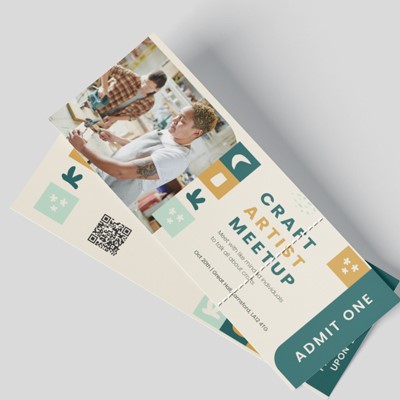 Alternatively, why not go against the obvious way of designing ticket stubs and have your information run all the way across? This works well for one-time use admission tickets such as museum entry. Just make sure that none of the information on the stub is relevant to the consumer once the stub has been removed at the venue or event!
For example, although the date and time – which are needed before and upon arrival of the event – are removed from this ticket following admission, the user is still left with a QR code that links them to any information they might need during or following the event.
Save Your Ticket Printing with Perforation Design in the Correct Format
Once you're happy with your design, the next step is to set it up correctly for printing. If you're getting your tickets printed at a commercial printer, setting up the file is essential to ensure it looks just as good in person as it does on your screen.
Here at instantprint, we accept the following file types:
JPEG
PDF
AI
DOC
DOCX
EPS
PNG
PPT
PSD
TIFF
PUB
Visit our artwork and design hub for more help with getting your artwork set up correctly for print.
How to Create Perforations
If you're bulk buying lots of tickets for perforation, we'd recommend getting a commercial printer (like us!) to perforate the tickets as they can be perforated in large batches by dedicated machinery. That way, you'll be saving time and money – and the tickets can be perforated as soon as they're finished!
If you're creating your own tickets, you can transform your cutting machine (such as a Cricut Maker machine) into a ticket perforator with a basic perforated blade.
Whether you're hosting an in-store sale, a work social event, a festival, a museum exhibition or a theatre production, make sure you're prepared for a sell-out event with perforated ticket printing. Perfect for organising, tracking success and providing a valuable keepsake of the experience for attendees, tickets are a must for every event.