As a quirky alternative to the traditional shape, there's nothing as impressive as square business cards. Despite their small size (55 x 55mm) they can make a huge statement, and can put you at a creative advantage by implying to potential clients that you're more confident and cutting edge than others in your sector.
Square business cards are a worthy all-rounder. They're cool and compact, small and striking, and yet they still offer ample space to make your mark with your message. Whether you're leaving a handful in a coffee shop window or using them as a networking tool at events and exhibitions; square business cards will help you break the mould and make you unforgettable.
To give you a taste of what you can do with a square business card, take a look at the stunning examples below…

1. Top Dog
There's never any need to overcomplicate your square business card design. The one below is simple, sweet and nicely-laid out, with a just a flash of orange to catch the eye. Also, dog playgroups? FUN!
Our square cards come single or double sided, but Lashes & Leashes have made the most of the space with two sides – one for their logo, one for their contact details.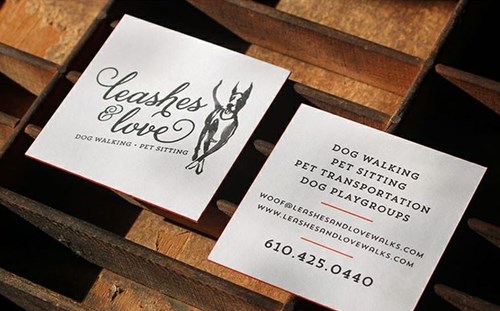 2. Twice the Charm
Another example of how opting for double-sided printing gives you lots more scope for creativity. The card below is a great example of how double-sided square business card printing can make the most of a strong theme. For a card with similar vibes, we recommend using matt lamination. This creates a soft, shine free touch that oozes quality and professionalism.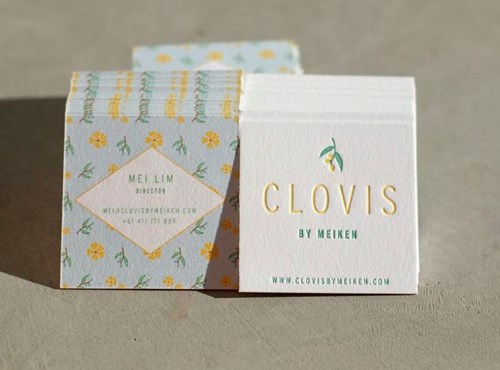 3. All-In-One
Saying that, single-sided printing can be pretty great too! It might seem like a daunting prospect on the small surface of a square business card, but as the card below demonstrates, it doesn't have to be complicated to look amazing. Less is often more!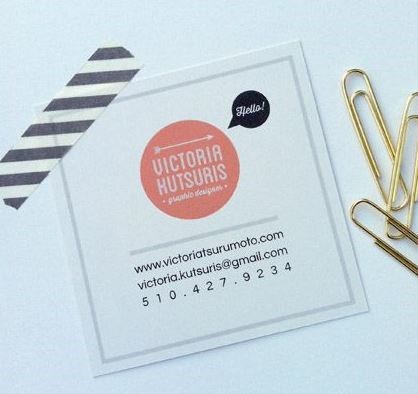 4. Smart Art
So innovative. So cool. There's so much you can do with a square business card, you just need to think outside the box. This musician and producer's business card uses the square shape to replicate an iPod shuffle.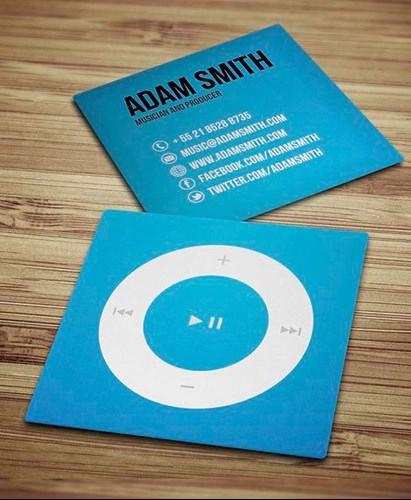 5. Fit Framing
But when you're struggling for ideas, take inspiration from the square shape itself. Creating a square out of the typeface gives this design a simple but stunning effect. Using a square within a square is a fantastic way of creating an eye-catching design.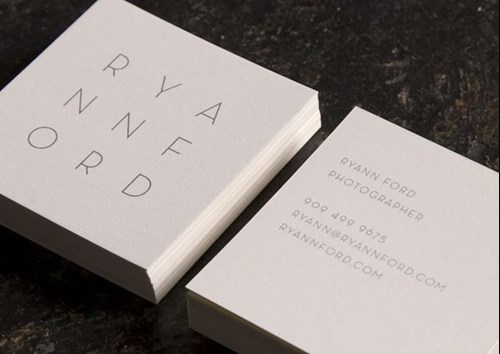 6. What's In A Name?
Crafting a logo from your own initials or the initials of your company can work wonders too. The initial on this card is beautifully presented, and looks great against the square it sits in.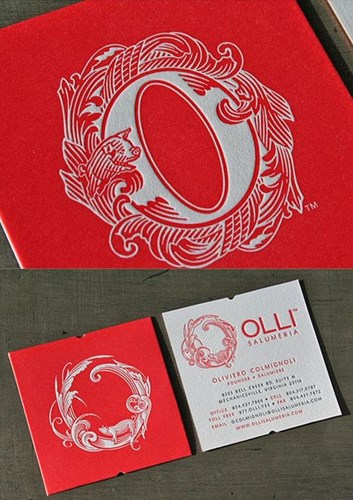 7. Ink and Rubber
Square cards and circular stamps are a dream combination, don't you think? There's no harm in using a traditional stamp method, like the one below, to add a touch of vintage to your square business card design.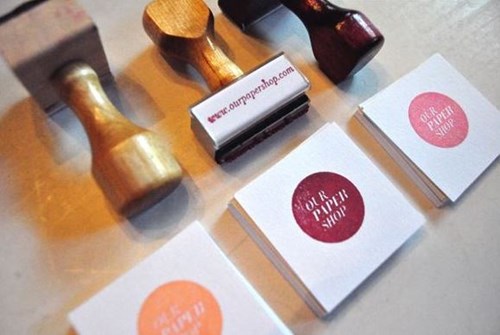 8. The Bare Minimum
Strength in your design can make a minimalist card unforgettable. Cutting the drabble can often be both liberating and effective. Full colour printing on uncoated and recycled stocks means you can easily recreate this vibrant, textured look for yourself!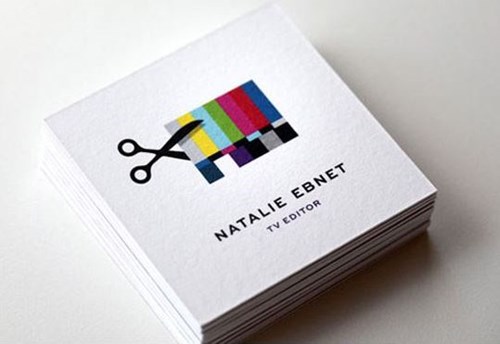 9. Set The Stage
To add further appeal to an unfussy design, think of fun ways you could physically present it. This image showcases how even the most basic square business card can be displayed to make us stand up and take notice.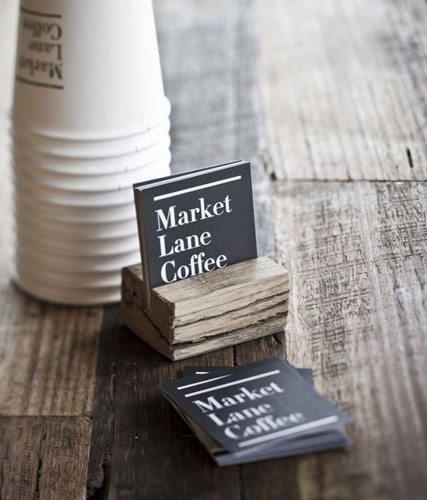 10. In the Stretch
This card demonstrates how font can be cleverly manipulated to complement the square shape of your business card. Striking, right?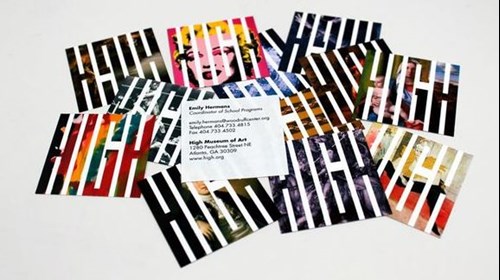 11. The Firing Line
Is it just us, or does this card really make you want to show off your mess? A fun line or phrase can make a great alternative to the generic '; INSERT company name here…' drill. Passers-by might be more inclined to pick up your card and turn it over for the details if the top side is unique.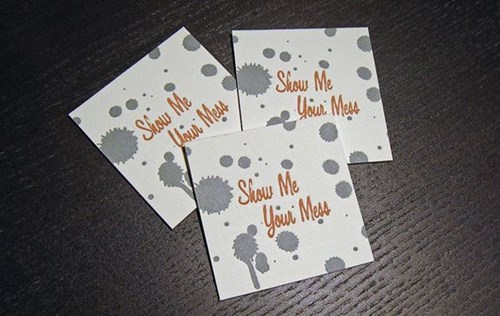 12. State of the Art
This dreamy blend of artistry and simplicity makes us swoon. Yep, swoon! When creating a business card that you want people to pick up and keep, it always pays to make it visually appealing. Of course, with a swanky square card you're halfway there!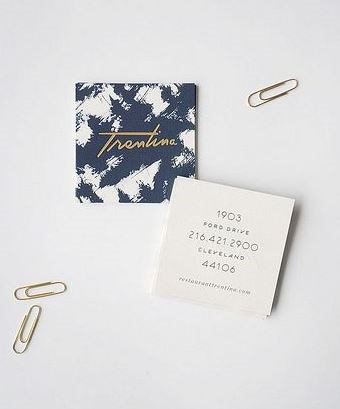 13. Diamonds Are Forever
Who says you have to keep in line? Take your cue from the designs below- make like a diamond and tilt it!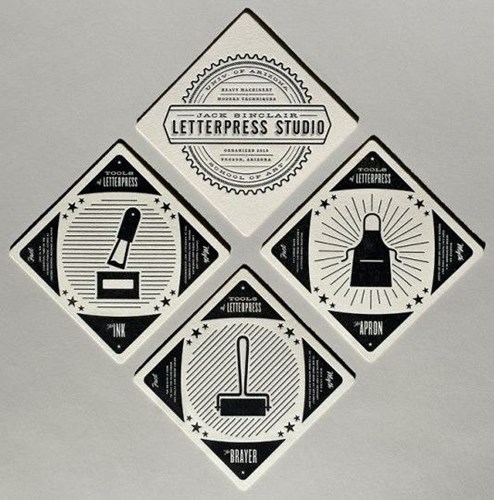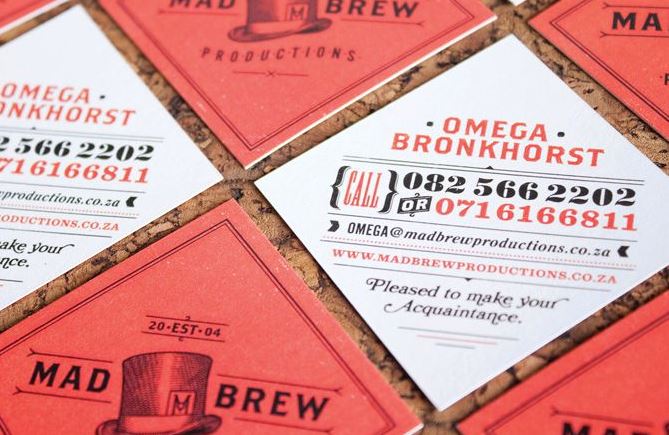 14. Optical Illusion
We love how this design plays around with the business card owners' initials to create an inspiring visual. The incorporation and consistency of the 'M' shape makes it momentously memorable (yes, we went there!).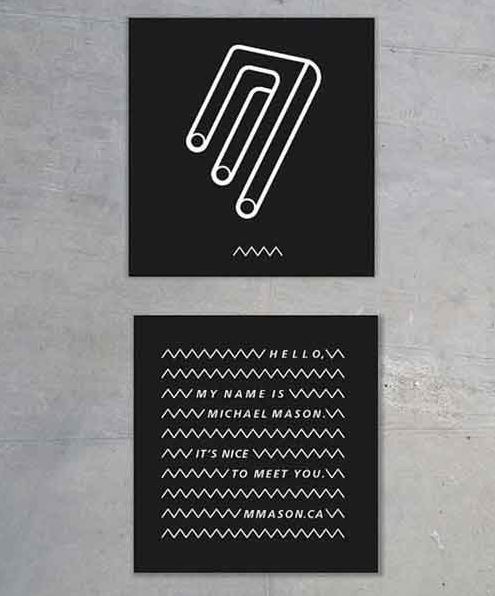 15. Mix It Up
And finally, here's proof that you don't always have to use square business cards as actual business cards! They work just as beautifully as invites with a twist! If you'd like to recreate this look, choose our ice gold stock option – a tiny pearlescent shimmer is ideal for giving your invites a special finishing touch.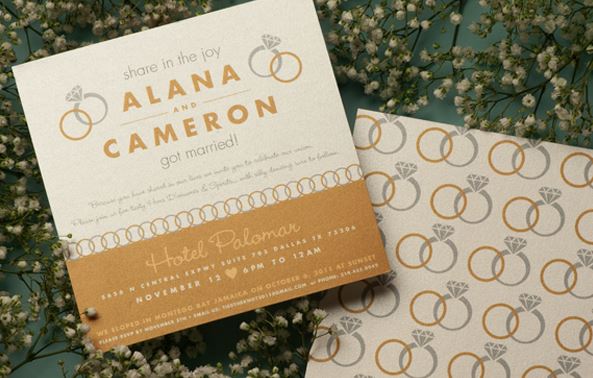 We hope these inspirational square business cards give you plenty of inspiration for creating your own. Not a graphic designer? Check out our free business card templates and start designing online today!

Or, if you're still not sure if square's the one for you, give our free sample pack a go. We've included all of our business card shapes and sizes to let you get a feel for your print and try before you buy.