Folded flyers are incredibly versatile, with endless options for purpose and design. Whether you're promoting your services to your target audience, showcasing a new product line or designing a menu for your restaurant or bar, there are plenty of ways to make a folded flyer work for you.
If you're looking for a little inspiration, we've put together an array of folded flyer designs to give you an idea of what you can use them for and how to make them stand out from the crowd…
Bursts of Colour
If you want to get your flyer noticed, the easiest thing to do is make it bright and colourful! This design is loud, fun and totally unmissable, which is exactly what you need to cut through the noise and make an impression on your reader.
Image: behance.net
Shapes and Slants and Stripes, Oh My!
This folded flyer is a great example of perfect fusion between design and content; which in this case is New York. By using shadows, angles, stripes, shapes and slants, you almost get a feel of what it's like to be wandering around Manhattan, looking up at its skyscrapers and taking in its striking, jagged skyline.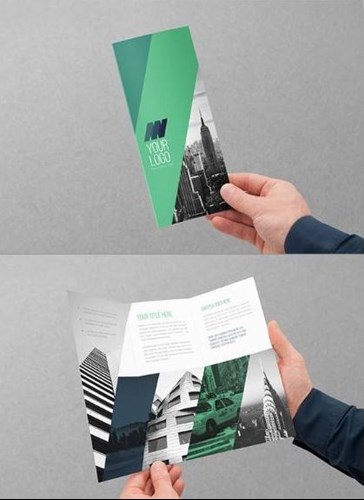 Image: graphicriver.net
On the Menu
Whether it's a C-Ffold takeaway menu, Z-fFold drinks menu or a hHalf-fFold main menu, folded flyers are a staple item in restaurants, cafés and bars.
Although the main focus of any eatery will of course be on the food, there's never any harm in designing a memorable menu – in fact, we recommend making your menu design as tantalising as possible. The menus below are clean and stylish with easy-to-read layouts and minimal colour palettes.
We're particularly partial to the second one, which has loads of character thanks to the quirky copy it uses to head up each course!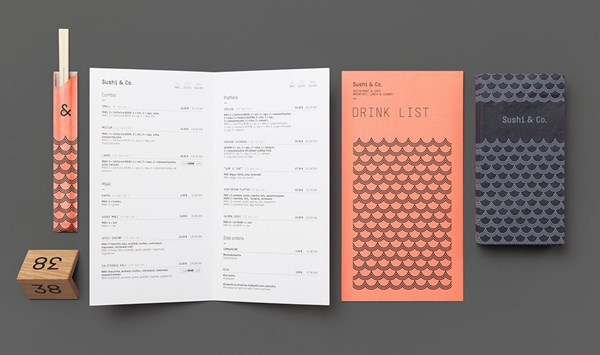 Image: behance.net
Image: underconsideration.com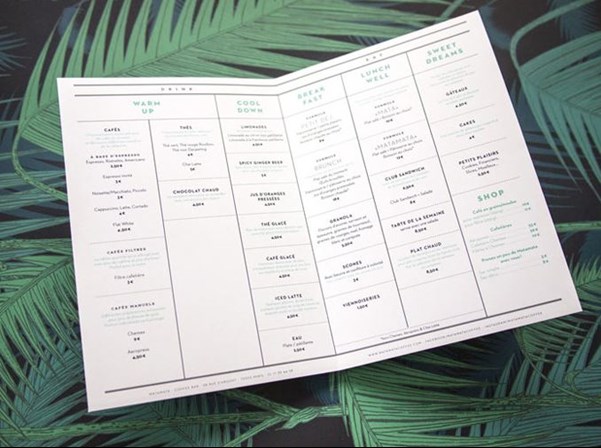 Image: underconsideration.com
In the Fold
Who says a folded flyer has to be packed with streams of information? As this design proves, illustration can work wonders as well.
We love how this flyer defies convention by positioning the whale illustration across the fold. Not only does this separate the text, but it really draws your eye to the centre of the page. The block colours are a nice touch too!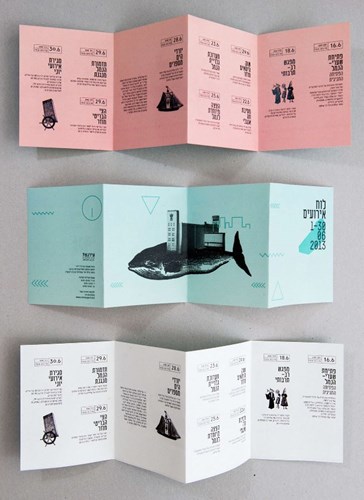 Image: behance.net
Mail Out
If you want to send out a fun, promotional mailer to impress your customers, create an infographic full of interesting facts about your business and print it on an A3 poster. This can then be folded down in sections to an A6 size (which is perfect for posting!), making it a brilliant alternative to a standard folded flyer.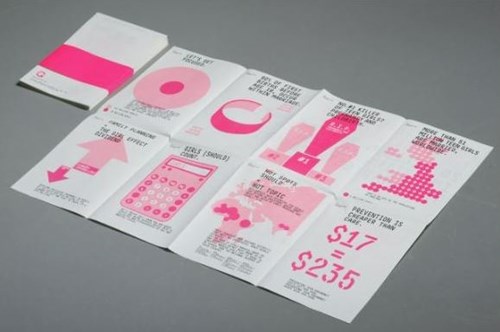 Image: typefornow.co.uk
Read All About It!
Looking for a more cost-effective way to publish a magazine? Go with a folded flyer! This bitesize pull-out from Esquire proves just how effective this method can be.
To create your own, choose a prominent colour scheme to run throughout and cut the waffle that's used to pad out larger magazines. Instead, showcase only your strongest stories per issue. The size and streamlined content will be appealing to readers on the go, who can pick up a copy and pocket it for later.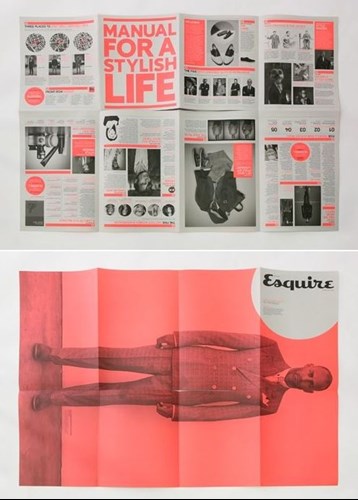 Image: abduzeedo.com
Wanderlust
If there's one thing a folded flyer does well, it's maps! The travel guides below are both stylish and informative. Each one has opted for block colour to help make the maps stand out. Throw in some top tips of where to go and what to do and you'll have yourself a must-have guide!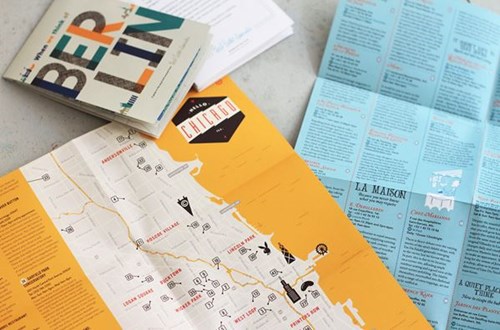 Image: travelettes.net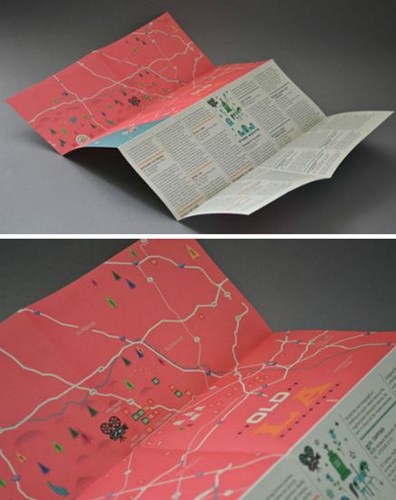 Image: huaban.com
Folding Statement
If you want to strike a chord with your message, take heed from this masterful design. Position your typography cleverly across the folds to create a cool perspective that packs a powerful punch!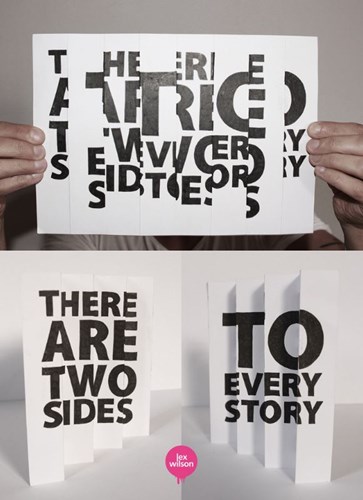 Image: pinterest.com
Wedding Bells
Instead of going with the traditional order of service booklet, why not opt for something different? We're obsessed with this fold-out order of service, which maps out the big day using fun illustrations. The result is clean, clear and easy to follow; the perfect keepsake for guests!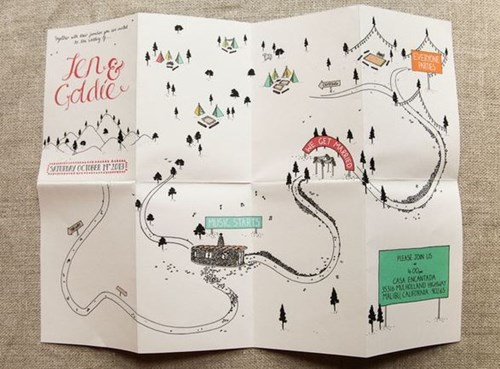 Image: glamour.com
Fit for the Job
Portfolios come in all shapes and sizes, but did you ever think to print yours on a folded flyer?
These photography portfolios are stunning. They'd be ideal to take along to a job interview or, if you're a freelancer, to hand out at networking events or exhibitions. Not only would they be cost-effective, but using them would allow clients or potential employers to keep hold of a copy of your work. Much better than dragging around one huge portfolio and having to worry about leaving it in the wrong hands!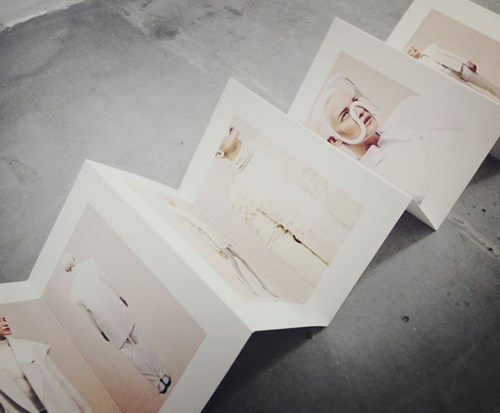 Image: pinterest.com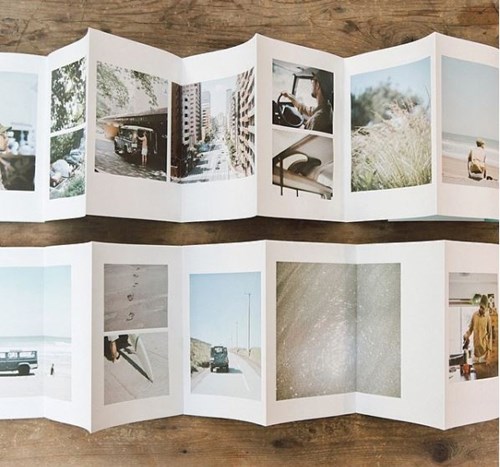 Image: instagram.com
If you've ever used a folded flyer for something out of the ordinary, let us know! In the meantime we'll be over here making maps, mailers and magazines out of a Z-fold!
Not a professional designer? You can use our high quality flyer templates to create flyers that look awesome! We have hundreds of templates to choose from, so there's sure to be something to match your business perfectly.