It's that time of year again; time for workplace secret Santa. A time of year where a hat full of your colleagues' names gets passed around the office and you've now got mission impossible on your hands trying to find Karen in finance a gift she's going to actually like on the most impossible budget. Easy right? Love it or hate it, it's a pastime which has graced offices up and down the country for many, many years.

Whether you've been told to stick to a £10 budget or not, Secret Santa comes with some serious dos and don'ts – and if you want your gift to stand out from the rest and put a smile on the receivers' face, fear not. Here at instantprint, we dug a little deeper into this office tradition to find out what exactly ends up on people's desks and whether we actually like our gifts or not.

DO take part in the festivities!
With more than 60% of Brits surveyed admitting they love taking part in Secret Santa swaps, it seems a shame that despite our seemingly giving nature, a third of people surveyed stated they would still rather not take part. Don't get a scrooge reputation; at the end of the day, it's only once a year!

DO agree on a budget
Before everyone rushes off to buy a huge box of smellies, an expensive cologne or a designer shirt, make sure you all agree on a budget. That way, it's inclusive of everyone in your office/team, no matter what they earn.
Our research found that Brits prefer it to be cheap and cheerful anyway, with the majority agreeing that £10 is the most appropriate budget. And don't go way over budget either. Remember: no good ever came from an office where one person gets a £50 gift while everyone else's only cost £10.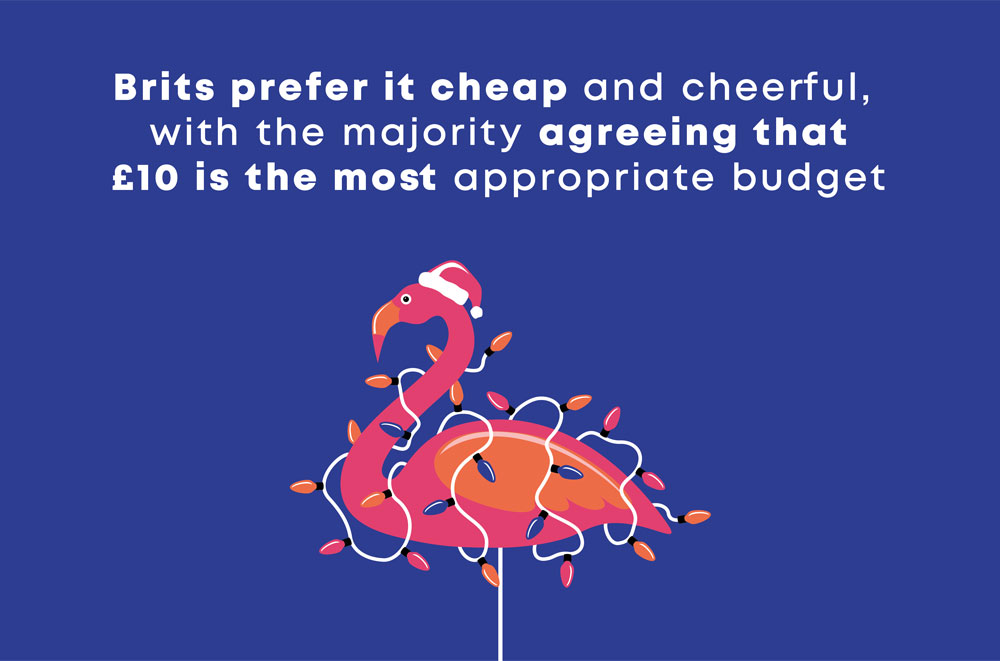 DON'T ignore who your audience is
To avoid awkward situations, remember where you are. Inappropriate gifts might be OK at home and with your friends, but in among your colleagues and boss, maybe not! Remember you want Christmas cards not letters from HR.
According to our research, 10% of Brits prefer the homemade approach with women (23%), being twice as more likely to be delighted to receive something homemade, as opposed to men (11%).
Not sure what to buy your co-worker? Well you're in luck! We found among the topmost loved gifts to receive are chocolate, alcohol, books and gift vouchers, with cheap jewellery, something rude, makeup, soft toys and CDs making up some of the worst.

DON'T leave buying your gift to the last minute
Are you lastminute.com? Unfortunately, with Secret Santa this doesn't work. Remember if you're on a budget, you may have to shop around a little to find the perfect gift. This may mean hitting the Highstreet one weekend or heading online to order something. Either way, these things take time and research.

You'll have few options left the night before you're all due to exchange, and a cheap box of chocolates from your local petrol station probably won't cut it and will be spotted from a mile off.
And while you're not being lazy, why not consider making your gift giving more eco-conscious? Think bio-degradable paper wrapping instead of plastic, no plastic ribbons or bows, and how about trying to buy something that comes in no plastic packaging either?

Fancy winning £100 of Shopping Vouchers?! Of course, you do!
We're on the hunt for some of the worst secret Santa gifts ever received – or given! Perhaps you've been the recipient of an unwanted pet, or maybe you've been gifted something useful but dull, like a potato peeler?
If you've been on the receiving end of the worst Secret Santa gift imaginable, we want to see it.

To enter, simply share a photo and brief description of the weird and wonderful gifts you've been given on Twitter. Don't forget to tag us in using both of the following @instantprintuk and #instantprintChristmas.
*Closing date: Midnight on 30/11/2019.

Over 18s only, T&Cs apply.

Follow our dos and don'ts for the perfect gift giving
So, this festive season, why not put a little extra effort into your Secret Santa with our simple dos and don'ts. Trust us when we say, it'll show! It's easy to start everyone's Christmas off right with the perfect gift.