If you're planning a big event for the Christmas period, one of the best and most cost-effective ways to get people interested is to shout about it with print. Products such as flyers, posters and banners are ideal for event marketing as they can often reach a wide audience fast. Other print products, such as booklets, business cards and table talkers can be surprisingly effective additions on the day to help make sure your event goes down a storm.
Whether it's a charity event, a dinner party or the office Christmas do, we've whipped up a print wish list of everything you'll need to spread the word…
Flyers
Get your event marketing off to a flying start with, well, flyers! With so many sizes and stocks on offer, there are plenty of ways to be creative with flyers. The general rule of thumb is to make them as eye-catching as possible, and for a Christmas event, this would mean a palette of festive colour and charming Christmassy imagery. Don't forget to include the what, where, when, who and why, and be sure to mention any special Christmas promotions you might be running or any event requirements such as whether your do is fancy dress or a formal affair.
The great thing about flyers is that they present you with the opportunity for direct, face-to-face marketing, as you can arm yourself with a huge stack and hand them out in the street. Alternatively, you could use them as mailers and post them out to local addresses. Whichever way you use them, flyers are a fun and cost-effective way to reach out to your target audience and let them know about your event.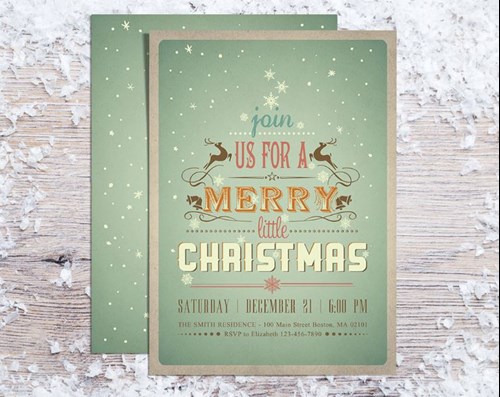 Image: etsy.com
Posters
Like flyers, posters do a brilliant job of increasing local awareness of your event. Placed in the right location, whether that be a window, a bus stop, an A-Board, a notice board or a wall, posters can attract the attention of passers-by and inspire action. Of course, to do this, your Christmas event poster will need an eye-catching, festive design and a short, snappy headline to draw people in. Again, like flyers, you'll need to include the what, where, when, who and why, but as posters are known to be less informative, you can keep this short and sweet. Just remember to throw in a phone number, email address or website URL so that viewers can find out more information if they're interested.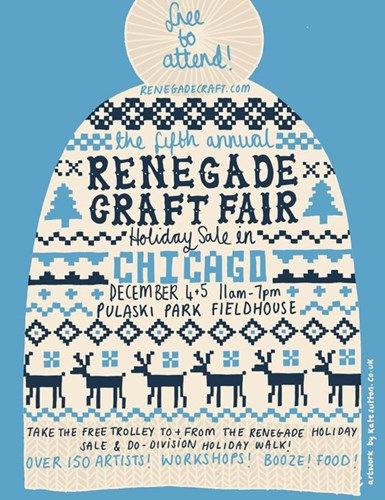 Image: pinterest.com
Image: pinterest.com
PVC Banners
If your event is open to the public, let them know with a striking PVC banner! Hang them on walls, attach them to railings or display them either inside or outside your venue to grab the attention of passers-by. If you're making an announcement at the event or if your party is doubling up as a celebration, you could even use a PVC banner as a decorative accessory. A simple 'Congratulations!', 'You did it!' or 'Merry Christmas Everybody!' would look great splashed across a banner and hung inside the venue for all to see.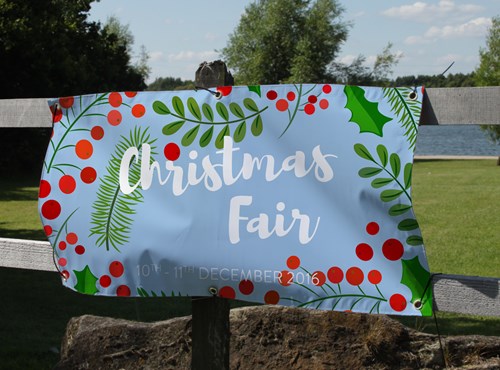 Image: instantprint
Invitations
If your Christmas event is exclusive, make sure your guest list RSVP's by sending out impressive, festive themed invitations. Be sure to include all the must-know details such as the date, time, and venue, along with how to RSVP. If you're putting on a spread at your event, it would also be worthwhile to send out a copy of the menu with the invitations, so that people can decide on what they'd like to eat ahead of time. The point of an invitation, other than to formally invite your guests, is to get people excited about your event. A great way to do this is to offer them a teaser or some insight into what to expect. So if you're planning on playing party games or if you're hosting a competition for the best Christmas jumper, pop it on the invite! The more your guests know about the event, the more likely they are to secure their spot!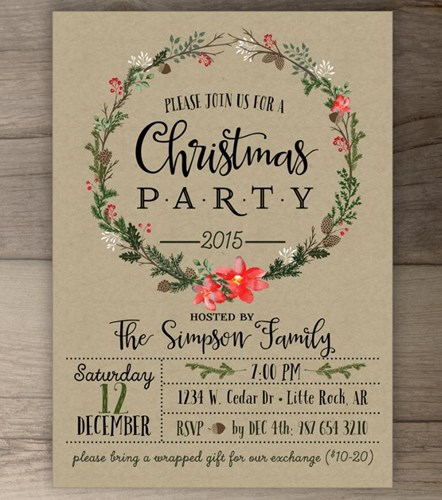 Image: etsy.com
Tickets
An alternative route to sending invitations is to sell tickets for your Christmas event. DL flyers on 250gsm Silk make great tickets thanks to their tall and slim design and professional feel. You could sell them locally at the venue or via your own website. You could even sell them on the door the night of your event. A great way to get people to attend your event is to include an exclusive offer in exchange for buying a ticket. This could be a free drink at the do, or if it's a Christmas market, a discount on one of the food stalls. All the buyer would need to do is keep their ticket after entry and hand it over at the till to claim their reward.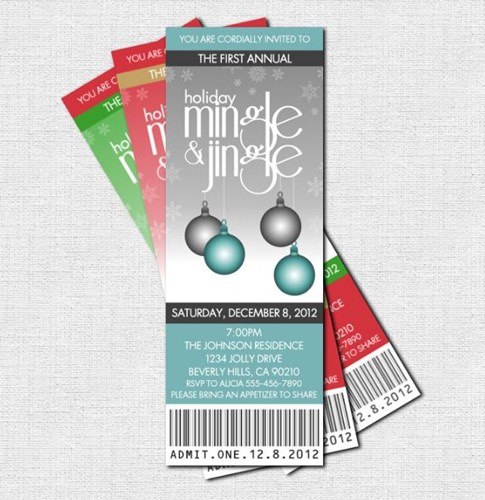 Image: etsy
Programmes/Brochures
If you have entertainment planned at your event or you're hosting a ceremony of sorts, you could keep your guests informed of what's coming up with a handy programme. Similarly, if you're a hotel or venue, you could use a brochure to let your audience know of all upcoming Christmas events or promotions. Booklets of any kind allow you the space, scope and platform for extensive detail, and with so much choice on size, stock and binding, they're versatile, affordable and super impressive!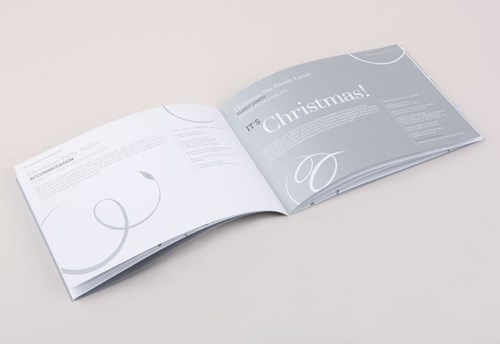 Image: thetouchagency.co.uk
Place Settings
Hosting a fancy dinner at your event? Use square or mini business cards or perhaps even a postcard to create cute festive place settings! They couldn't be easier to make – just pick a colour that matches your table decorations, write on the name of the guests and add some Christmassy graphics such as holly, snowflakes, wreaths, reindeer antlers or baubles. Voila! Instant homemade place settings!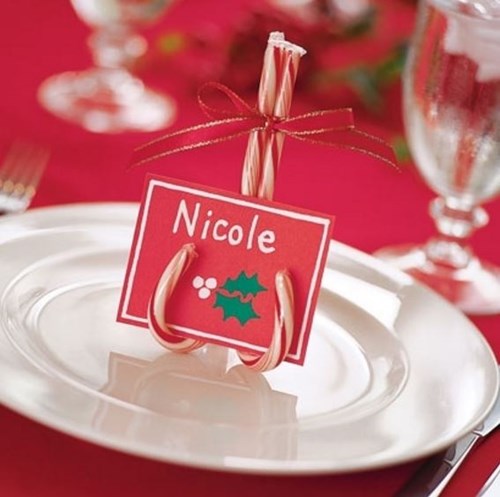 Image: weheartit.com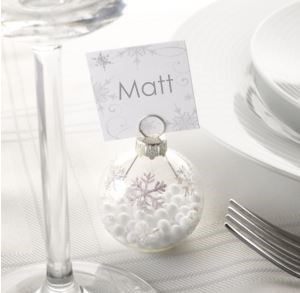 Image: fuschiadesigns.co.uk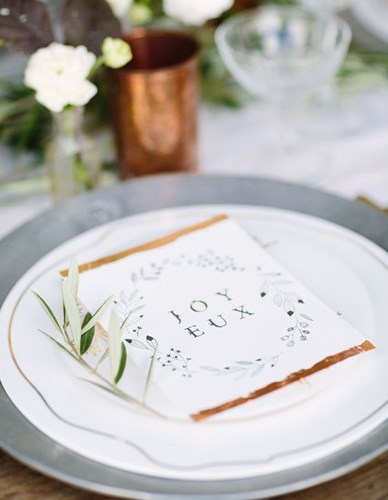 Image: freepeople.com
Certificates
Got a jokey, end of year awards ceremony planned for your office Christmas party? Whip up some fun certificates using A4 flyers to hand out to employees. 'Best dressed'? 'Office clown'? 'Most likely to tuck into the buffet first'? Make it official! You could even throw in a few serious ones too such as 'Employee of the year' or 'Best team player'.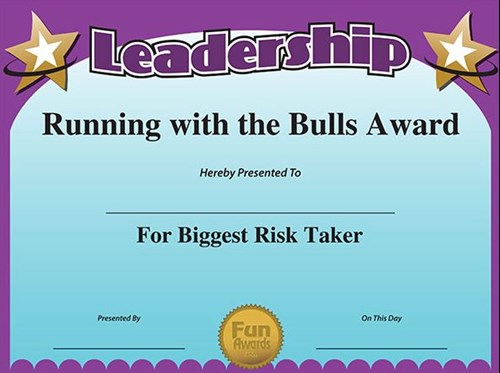 Image: pinterest.com
Table Talkers
If you have a special Christmas drinks menu or a festive promotion planned for your event, pop the details on table talkers and scatter them on every table in the venue. Table talkers are a great way to make people aware of your promotions on the day without the need for any aggressive marketing. As your audience will already be at the event and most likely be in the mood for celebrating, just sit back, relax and let the print do the talking!
Image: instantprint

So there you have it - all the print you need to help make your Christmas event a success! Now all that's left to do is enjoy it (just don't forget to send us an invite!)!