When you want try something a little different from the norm you can't go far wrong with a mini business card. With the right design, these small size business cards can really pack a punch. With the right design, these small size business cards can really pack a punch. And they're a great option if you're hoping to stand out (in the best possible way) at your next big networking event.
But, it can be hard to know where to start when you're trying something new. And the same can be said for designing new print. To help get your creative juices flowing, we've gathered our 5 favourite eye catching mini business card designs.
What Size is a Mini Business Card?
Our mini business cards are the same length as standard, but half the height (and, some might say, double the impact). This gives them their iconic narrow look that makes them perfect for long names and phrases. It also means that they still fit into wallets and business card holders without any problems.
Their finished printed size is 85mm x 25mm.
1. A Splash of Colour
Different coloured text can help keep your mini card looking clean and clear when you have a lot to say. We love this use of colour to highlight key details – something that's so important on any business card! You can recreate this look by using small splashes of your brand colours on a white background.
Not sure what colours to use? Check out our guide to creating your own brand guidelines so you'll always know which colours to use and your branding will be consistent.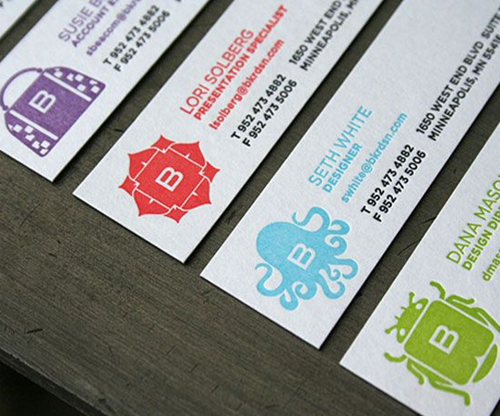 2. Keep it Minimal
If you prefer to keep it minimalistic, our mini option is a great choice. There's just enough room to feature your contact details clearly and their long shape is great for displaying your name loud and proud. Whether you are using your own design or a business card template be sure to include your name, job and vital contact details.

If you're prone to overdo it on the design, try and draw out your design beforehand. We also recommend sticking to one or two key colours – like a brand colour paired with black or white. This helps create a really appealing card design.
3. Go Double Sided
But just in case you do want to include more text, it pays to keep the flip side sweet and simple. The beauty of business card printing is that you can go single or double sided. So you can keep one side for your important info and show off your design skills on the other side!
We particularly like the idea of keeping one side really colourful and the other minimal. It's a great, eye-catching contrast that stands out well on this shape business card.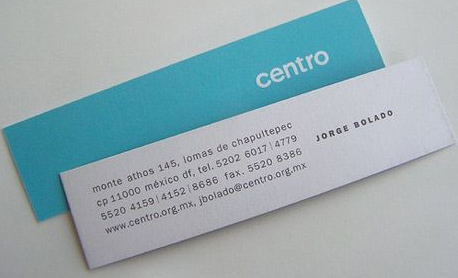 4. Have Fun with Shapes
Geometric designs look great on the mini business card – and the more colour you use, the more eye-catching your card. We love how this design keeps the front side really minimal and then uses (extremely trendy) geometric shapes to add an element of fun to the back.
We'd go one step further and add the company logo to the design side too, just to make it extra clear who to get in contact with. Here's how to design your own company logo.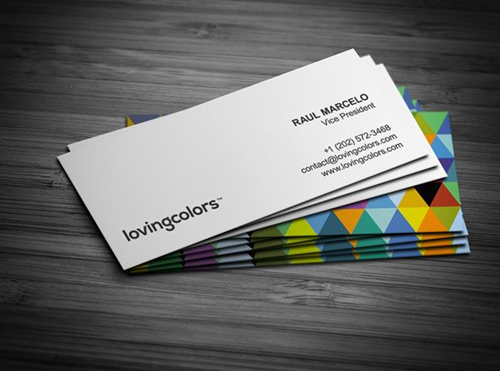 5. Black and White
If colour isn't your cup of tea, the mini card can pull off black and white in style! We love the block black background used here. We don't know about you, but we're imagining it with a soft touch velvet lamination on one of our thick card stocks. Black and white designs are great for creating a high-end feel, and this is a perfect example of just that.
Black and white also looks incredible with Spot UV. This is a shiny varnish that coats certain parts of your card to elevate the design or bring attention to important information. To print spot UV, choose matt lamination when you're ordering your cards.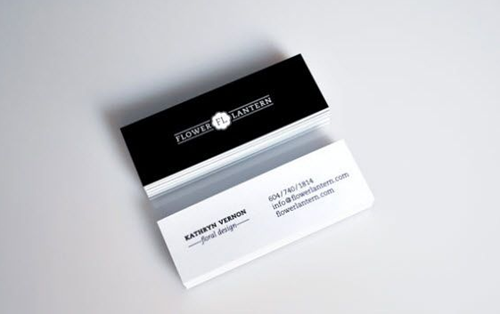 How to Design a Mini Business Card
Feeling inspired? Why not take the next step in your mini business card printing journey and make a start on your very own design! Here's what you'll need to do to design a mini business card.
Size – set your document size to 85mm x 25mm, then add an extra 3mm to each side for your bleed area (making the overall size of your canvas 91mm x 31mm).
Colour – the colour spectrum we print in (CMYK) is different to the colours you see on your computer screen (RGB). For a better idea of how your mini business card design will print, change the colour mode in your design software to CMYK.
Resolution – your mini business card may very well be the first impression a customer or client gets of your brand. Make sure you use high quality images and logos, and save your file with a resolution of at least 300dpi.
Embedding fonts – we include a free 10 point artwork check as standard on every order, which means opening up your file to check it's set up correctly. We recommend saving your finished design as a JPEG or PDF file to lock (or embed) your fonts and images into place so nothing moves or changes when we open it up.
How to Design a Mini Business Card Online
Think designing a mini business card is out of your comfort zone? Think again with our free online design tool. We've got loads of free templates, or start with a blank slate for something completely unique to your business. You can add text, images and change colours – why not give our free mini business card design templates a whirl right now?

Top Tips
Here are a few top tips for designing your own mini business card.
For legible text, keep fonts above 7pt in size
Always use your brand colours and fonts
Add your logo!
Include key information like name, email address and website URL
Go double sided to get the most out of your design
Pick a laminate finish to give your card a unique feel
Keep non-essential text to a minimum
We hope these mini business card design examples inspire you to create your own stunning print. Ready to start? You can use our free online tool to design from scratch. Or, if you'd like a little more help, check out our free business card templates and get customising.
We'd love to see your finished design. Tag us on Instagram or Twitter @instantprintuk or #instantprintuk for a chance to be featured on our channel. Or follow us for even more print design inspiration!