If you're considering designing some printed materials for your company it can be hard to know where to start. We created a free downloadable roadmap to help you plan your next print campaign! Read on for our top tips, from market research to execution.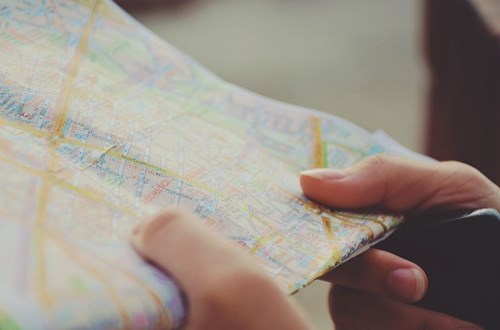 Identify Your Goals
Before you begin your print campaign, it is important to identify what you want to achieve. Once you have identified a goal, it will be much easier to both plan your campaign and to determine whether it has been successful. It is also prudent to decide on your target audience at this stage – this will help with the design process and tone of voice of your print.
Choose a Target Audience
Before creating your print, it is important to choose who you would like to target. Take a look at your current customer base and see what sort of people your product attracts. If there is a certain demographic (e.g. age range, profession) that you would like to bring on board, do some market research to see what messaging, style etc appeals to that audience.
Do Your Research
Take a look at what your competitors are doing and what your target market are already responding well to. This will help you to formulate ideas on the type of print to produce and how it should look. Start by making a note of all your competitors and looking into the print they have previously produced. Ask yourself what they have done well and what they could have improved on. Perhaps you have a unique selling point that they do not. If so, aim to make this apparent in your marketing materials.
Set a Budget
So, you've decided on the who, how and why, now you need to set yourself a budget for the printed materials themselves. Many factors will contribute to this budget – including the amount of people you want to reach, the design you have in mind and your brand. When coming up with a budget it is important to be realistic. Consider how many potential customers you will be able to reach and determine a realistic return on investment.
Decide What to Say
Here is where you consider what you want to say about your company. However, rather than trying to fit every selling point onto one page, instead focus on one key advantage or USP. Keep your tone of voice tailored to your audience and consider what words will grab their attention. You may also want to include a call to action such as directing them to your website or social media. Always make sure you ask you friends and family to read over the message to make sure it makes sense.
Choose a Product
It is now time to choose the type of product you would like to produce. Whether it's business cards, booklets, leaflets, posters, banners or something completely different, each product has its unique purpose and set of advantages. For example, Booklets can be used to communicate a lot of information about your brand – perfect for if you want to showcase your products or outline the services you offer. Alternatively, a poster will create a big impact and give you the opportunity to catch the eye of any potential customers. Depending on the idea behind your campaign, it may be beneficial to use a combination of products in order to effectively reach your clients.
Design
Possibly the most important aspect of your printed campaign is the design of the print itself. Take a look at our previous blog posts on The Psychology of Colour and Typography to learn how to effectively use colour and font in your marketing materials. Keep your target market and company values in mind when considering these visual aspects. Our mind jumps to conclusions when presented with certain colour palettes so you'll want to make sure your customers are jumping to the right ones!
Bear in mind when designing that your image should be produced in CYMK and at a resolution of 300 DPI (you can read more about DPI in our previous blog post). Choosing these settings when you begin your design will allow your print to look its best and save any headaches later!
Distribute
The way you choose to distribute your print will largely depend on the type of print you have chosen to produce. Business cards can be left in local shops and cafes that your target audience are likely to visit. However, this is only appropriate for certain types of businesses. You should also aim to always have some on you in case you meet someone you'd like to share your contact information with.
Flyers can be distributed by going door to door in a targeted area. Alternatively, you can hand them out on the street and place them straight into your potential customer's hands. Location is always key for both of these options as you want to ensure you are reaching the right people. There are also distribution companies that can do this for you – usually, distribution companies will be experts at getting your promotional materials to the right people, but make sure you do your research and choose the right partner.
Assess
Once your print has been distributed, you can assess how well it has performed. Adding a call to action to the text of your print is a fantastic way to do this. If you have included a special offer code or a QR code for customers to follow, you will be able to see how many people have acted fairly easily. Remember to leave a fair amount of time before you assess – most people won't act on a leaflet or flyer immediately.
We hope this has helped you to plan and create your print campaign! Remember, if you have any questions regarding print and design, one of our friendly team are always here to help. Do you have an example of a great print campaign? Share with us on Facebook or Twitter!