A picture paints a thousand words – and this phrase has never been truer when it comes to print advertising.
The best print ads do much more than effectively convey a brand's deepest-held values in an instant. A good ad sticks with its reader, telling a story that neatly connects the dots between what they want and what you provide.
Print marketing in all its forms – from flyers through your letterbox to splash pages in Sunday supplements – needs to tell an instant story, one which conveys your brand's values and invites you to find out more. More often than not it's effective, with a Print Power survey from 2013 stating that 70% of respondents find magazine and newspaper advertising to be their most important source for purchase decisions.
So while you and your designers get to work on making your own bold statement in print – whether that's on a billboard or a line of posters, why not take a look at some more of our favourite print ads for inspiration?
Warping Reality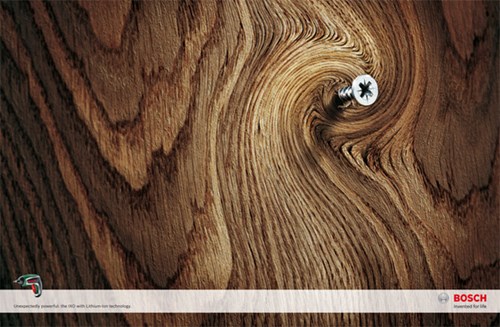 Will your product really warp the walls around it as your customer uses it to screw something in? Highly unlikely, but the visual is nonetheless one that would likely stick in the head of prospective customers. The story told here contains all the important elements – the screwdriver and screw indicate product and use, while the unique visual of the wall promotes a new and interesting effect.
Be careful not to stretch the truth too far. There's a fine line between enhancement and misrepresentation.


A Bold Statement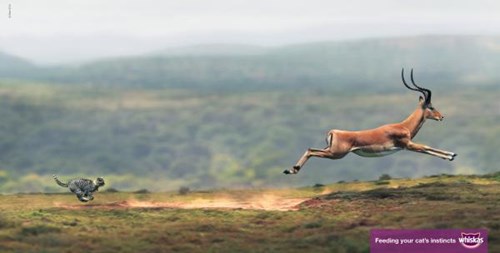 The larger-than-life depiction of a product on the page is always a rather bold statement.  We don't think that a housecat that's fed on Whiskas could really have a gazelle running scared like its larger family members do. But going big on your brand messaging and making that suggestion might be effective enough to perhaps plant a seed in the reader's mind the next time they're out shopping for cat food.
A good print ad takes your product's unique selling point to extremes – what one image would best sum up your brand's custom flyer design?
The Whole Picture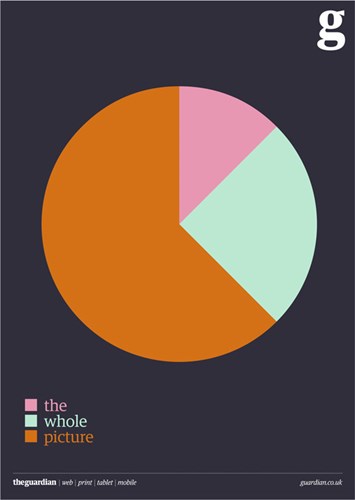 It may not be actually representative of any facts or figures, but this striking pie chart perfectly illustrates The Guardian's pursuit of news reporting with an emphasis on stats and research. With a 2014 Ofcom survey revealing that four in 10 UK adults rely on papers for their news, The Guardian stamps their trademark G in the top right corner of this ad, almost as the answer to a formula, where G represents 'the whole picture' for prospective readers.
Where a surreal image like those from Bosch or Whiskas stirs the imagination, The Guardian's representation on facts tells an equally strong story.
Why not use charts and graphs on your banner display to make an immediate impact?
Good Things Come in Small Packages

Speaking of unique selling points - when LG released their new OLED TV in 2014, it measured only 4mm thick. The agency tasked with promoting it realised that this thickness equalled that of one of the country's leading tech magazines, and the ad practically wrote itself.
It's a simple ad but tremendously effective, providing viewers with a literal visual comparison of the TV's most compelling feature by simply spelling out its dimensions.
When bigger isn't necessarily better, is there something you can demonstrate on your business card design to illustrate your product's advantages?
Imagination Running Wild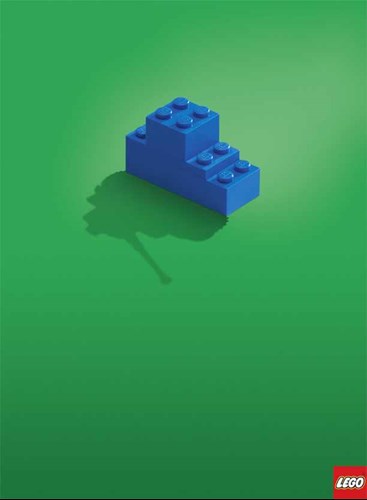 Onto what is perhaps the simplest but most effective ad of all - a basic representation of a product and, on the other extreme, one of its applications combined in the very same image. Such is its iconic status, the Lego line of toy bricks practically sells itself, but by helping project your imagination into the possibilities of what the bricks can do, the effectiveness of the image is multiplied tenfold.
Where the other products featured are limited by their more practical everyday applications, Lego excels in letting users' imagination run wild and has summed it up perfectly in one simple print concept.