The creativity of our customers often impresses us, we see alternative uses for our products which we never would have thought of. One example is The Source who ordered circle stickers to decorate YoYos.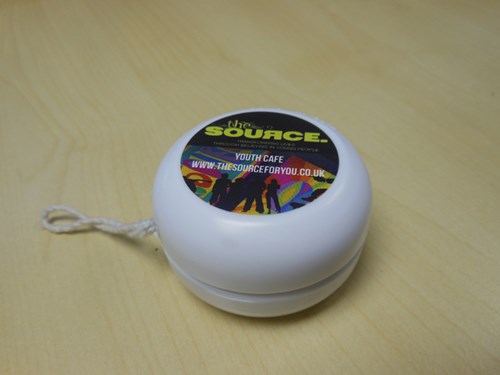 The Source is a small youth charity based in Aldershot aimed at building relationships with young people and providing them with a safe place to "Be, Belong & Become." They provide a Youth Café four nights a week where young people can socialise in a safe environment as well as support services such as anger management, counselling and young-parent mentoring.
The CEO of The Source, Adam, said "We were donated some yoyo's from a local company who had an excess of the product. We decided that we should get them branded so turned to instantprint to help – fortunately they provided stickers the exact size we needed. So a couple of days later the stickers arrived and we've begun the task of applying all 1000 of them!! Our Detached Youth Workers will be giving out the yoyo's as they work out in the community and our hope is that it will encourage young people to come along to Aldershot's only youth cafe! "
When asked why he chose instantprint he said "I first chose instantprint for their competitive pricing. I've used them for a variety of different jobs and organisations through adsta design and I've always been pleased with the quality, price and turnaround. We used instantprint's design online tool to fully customise our stickers."
We hope the YoYo promotion is successful and gets lots of people involved in such an inspiring project.
Have you got any great designs or have used our products for something a little less ordinary? Get in touch via twitter with the hash tag #enjoytheprint or email enjoy@instanprint.co.uk and you could be featured on our business boost hub.