With Easter fast approaching everyone's bracing themselves for the usual deluge of chicks, bunnies and egg-scruciating wordplay (sorry). It doesn't always have to be this way. With a little imagination you can create a memorable campaign that won't break the bank. Here are some of our favourites from the last couple of years.
McDonald's: Happy Easter
Sometimes the simplest ideas really are the best. Here McDonald's take their iconic golden arches and let them bleed off the bottom of the ad. The result? A gentle witty suggestion of some seasonal bunny ears poking into the frame that's unmistakably McDonald's and is relatively low cost for a brand campaign.
Hovis: Happy Easter
Another simple solution. Once again, the idea is straightforward: to show off the actual product they're selling – delicious loaves fresh out of the oven – and adding a seasonal touch by having them also make up the ears of an Easter bunny. If you're planning an Easter campaign, is there an element of your existing branding you can use to create a visual that's uniquely yours?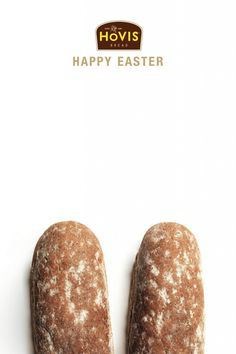 McDonald's: The Hunt Isn't Over Yet
Yes, they're back. But this time, they're subverting rather than recreating traditional Easter iconography. Referencing Easter eggs, egg hunts and egg decorating, all family staples at this time of the year, this ad seems to suggest that Easter isn't complete until you've tracked down a Big Mac. Subtle, clever and with a sneaky subliminal message. Not bad for a photograph of an egg.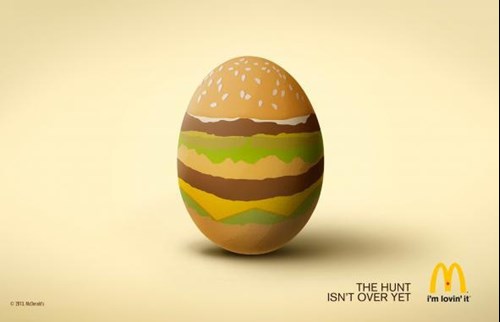 M&Ms: Arriving in time for Easter
Another take on the egg idea, the cracked shell of this M&M shows the arrival of their latest Easter-themed 'Bunny Mix'. It's a sweet idea that adds a fresh spin to a recognisable product, whilst also suggesting that you'd better get your skates on if you want to get some before they're all hatched. Easter and spring are times for renewal and fresh beginnings – is there something your business can do to mark a new product launch or special edition?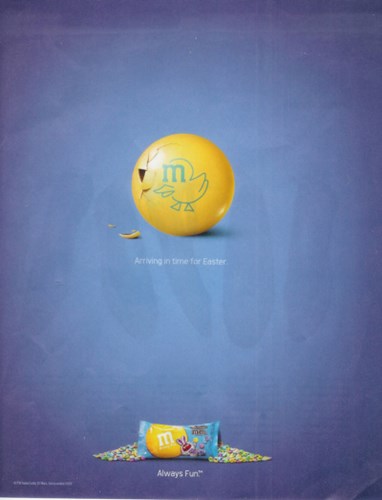 Arteidea: It's Easter and We're Already Ready for Swimsuit Season
Finally, perhaps the cheekiest take we've seen on Easter eggs. Italian swimsuit brand Arteidea gives us all a tantalising glimpse of what to expect if you're heading to the beach this Easter. Fun and unexpected, it takes a staid, traditional subject and brings it up to the boil. It might not be right for every brand, but if you've got a daring visual it's certain to get your flyer, poster or insert noticed.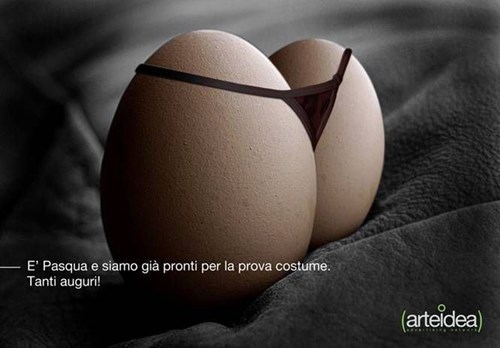 Do you have any favourite Easter ads? If you think there are some great ones we've missed post them in the comments below.