Shop Signs
Using recommendations following lockdown lifting on 19th July, we've put together this bespoke collection so you know you've got everything you need to operate safely.
Shop Displays and Point of Sale Products
Using every available surface to get your message across within your shop will help customers not only stay safe, but know when you're open and what promotions you are currently pushing. We've launched a range of new retail large format and point of sale items to help you sell to your customers in the best way possible.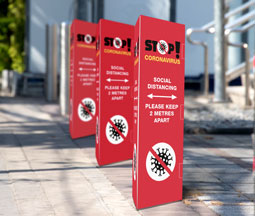 We recommend placing one on each external bollard to help with social distancing or re-opening promotions.
Waterproof white Correx® by Corplex
Easy to assemble
1122mm high with 3 printable panels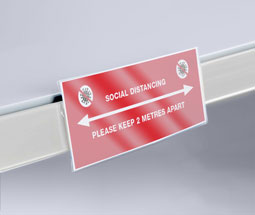 Place shelf talkers along your aisles to advertise sales, pricing plus any social distancing measures you want to include.
Silk printable sheet with transparent casings
Clip easily onto your shelves
Two sizes available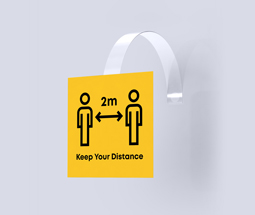 Attach these throughout your shelves for a fun way to push new sales, promotions and safety messaging.
Circle and square options
Two flexible R-Pet plastic shelf arm lengths
Adhesive pad to attach wherever you like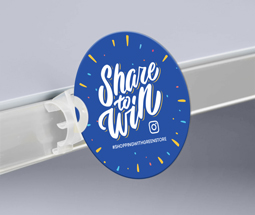 Place one printed aisle fin at breaks throughout your aisles to help with queue management and safety promotions.
Comes with a self-adhesive aisle fin holder
Premium 450gsm silk card
Single or double-sided printing available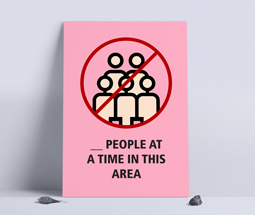 These free-standing strut signs are perfect banners to place outside your shop front for a large, easy safety message.
Printed on sturdy 2000mic display board
A0 and A1 sizes available
Strong corrugated cardboard strut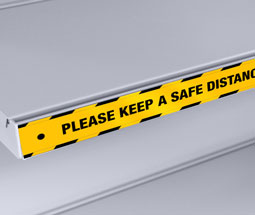 Place these along your shop shelves for consistent social distancing messaging plus to advertise any new products you are selling.
Printed on 170gsm silk
Plastic casing included
Easy to cut down to suit any shelf size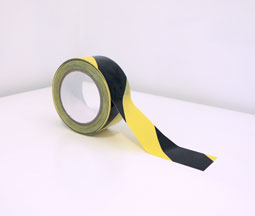 We recommend using floor tape to mark a minimum of 1 metre distances throughout your shop.
Long lasting and strong tape
Yellow and black colour for even hazardous areas
Suitable for outdoor and indoor use
Social Distancing Signage
With many shops already open to the public it's important that you've got everything you need to operate your retail shop successfully and safely. Operating in a pandemic means you've not only got to think about the best ways to advertise your business, but also how to keep your staff and customers protected.
Setting up social distancing in your shop can assist shoppers and staff to stick to the minimum of 1 metre distance as recommended by health experts. One way of doing this is to set up a one-way system inside your store so customers must follow a path through instead of turning back on themselves, and only allowing a sensible number of customers in your store so it's realistic they can keep the distance – the exact number will depend on the size of your shop.
FREE Coronavirus Designs for Your Business
Our full collection of free templates to keep your business safe during the Covid-19 pandemic. Simply download a template and upload after you've selected your product options.
View all Designs
We're Highly Rated for Print Quality