Political Campaign and Election Printing
Printing election materials is an essential part of any successful political campaign, but even more so during the COVID-19 pandemic. And discovering election print at an unbeatable quality and on budget? That's going to be key to your party's success.
Deliver election leaflets that really pack a punch, create campaign signs that you're proud to display, and print political brochures that showcases your manifesto and candidates in the best possible way. Plus, we've got plenty of tools and tips to help make sure you can run your local election campaign safely in 2021. Whatever your strategy, make sure you're the Covid-secure frontrunner with political campaign printing that makes you look amazing.
Election Flyers - Calling Card, Newsletter and Tabloid Printing
Election Print Marketing Printing Service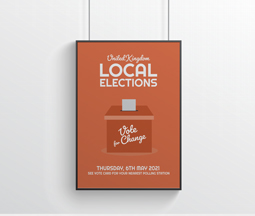 Create an election poster that's worth the vote
Our political campaign posters come in 8 different sizes
Sharp, full-colour printing to match your party's brand
The best way to showcase your manifesto promises in public places
Express next day delivery available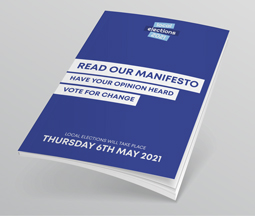 Election campaign brochure printing options to suit every budget
Ideal for a political brochure that looks and feels professional
Show off candidates and your full manifesto
Print up to 120 pages to impress the electorate
Delivered in as little as three working days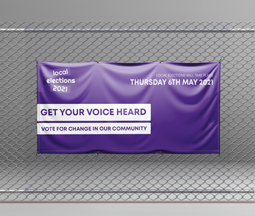 Get the public to "vote now!" with political banner printing
Be seen from a distance
Weatherproof material for indoor and outdoor use
Easy to secure to a fence or gate with ready-cut eyelets
Delivered within four working days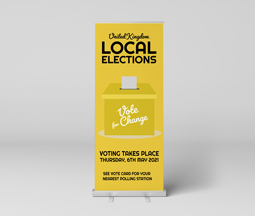 The ultimate tool for public campaigns
Easy to assemble and transport
Free carry case included
Start a conversation with a political roller banner
Express next day delivery available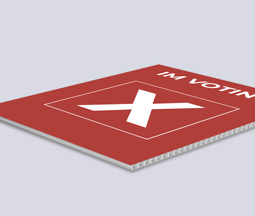 Lightweight fluted plastic material for indoor and out
Ideal for "I'm Voting X" political party signs
Short term political sign printing for polling booths
Easy to recycle after the campaign
Express next day delivery available
Great for communicating more information
Perfect way to reach voters through the post
High-quality professional feel
Print up to 56 pages
Express delivery available (Two working days)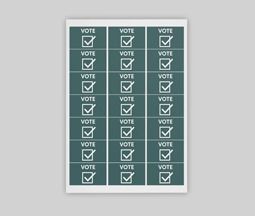 Turn supporters into promoters with our circle political stickers
Print your party logo and colours to spread
Ideal for branding envelopes
Our stickers are suitable for all clothing
Delivered within two working days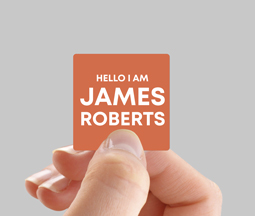 Print name labels for elections
Identify yourself to potential voters
Ideal to wear around your local area
Our stickers are suitable for all clothing
Delivered within two working days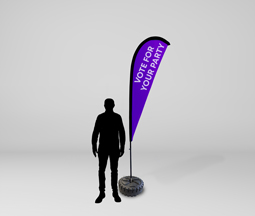 Demand attention for your party
Print political campaign flags with a range of bases
A range of sizes to suit the venue or outdoor space
Aeromesh material means you can take your campaign outside
Delivered within four working days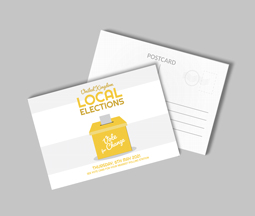 A standout direct mailer for a standout election campaign
A glossy side gives your political postcard design the edge
Reach out to voters with a handwritten message
Free blank political postcard templates available here
Delivered within two working days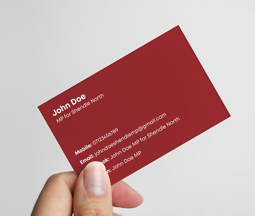 Hand out important information on one nifty card
Print politician business cards on a range of quality stocks
Give voters a contact point to reach out for extra info

Add anti-bacterial lamination for a safer way to reach out

Express next day delivery available
Shop by Polling Station Essentials
Our Inspirational Blogs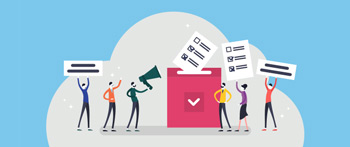 An Essential Guide to Election Campaign Marketing
Election campaign success comes down to one thing: making a connection with the voters. As voters ourselves (and print experts), we've created this guide to help you look at the best ways to get your message across in a transparent but also exciting way that'll make voters take action.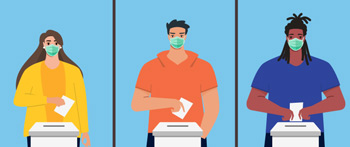 How to Run Your Local Election Campaign Safely During a Pandemic
Running a successful political campaign during a local election requires juggling a lot of priorities. In 2021, you'll also need to factor safety into the equation. Here are our top tips for planning your election campaign during the Coronavirus pandemic.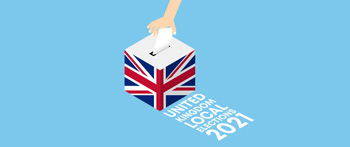 How Political Parties Are Preparing for a Local Election During a Pandemic
We spoke to UK political parties who are preparing to run their local election campaign during the pandemic. Read on to find out the different campaigning techniques they're planning on using and what traditions they're twisting to keep safe.
instantprint Customer Reviews
What is Election Material?
If your material is aimed at the public or a section of the public? Is it justifiably intended to influence voters to vote for or against political party? If so then your print is classed as election material as per The Electoral Commission.
What is an Imprint and Do I Need to Include One?
According to The Electoral Commission, an imprint must be added to any and all printed marketing materials that can be categorised as election material. An imprint includes certain details that show who is responsible for the mailing. This is to help ensure complete transparency about who is campaigning.
What Does an Election Material Imprint Need to Include?
On printed materials such as election flyers and posters, you must include the address of the printer and the promoter.
A promoter is a person who will be placing the order. Ideally, the person ordering the print will be resisted with the electoral commission as a non-party campaigner, also known as a recognised third party. If you're acting on behalf of a group or organisation, you must also include the group or organisation's name and address (home or office).
Not including an imprint on printed election material is an offence.
Example of a standard imprint:

instantprint LTD,
Unit A Brookfields Park, Manvers Way, Manvers, Rotherham.
Promoted by (Promoters name) on behalf of
(the campaign group),
Both of (Home or office address).

For more information please visit the Electoral Commission website here.
How to Plan a Winning Political Campaign with Print
The way you use election print can make or break your political campaign. Ensuring that the print you use is superior quality, delivers your message effectively and lingers in the voter's mind are all key aims to keep in mind when printing election materials. Here are our top tips for planning your political campaign with print.
Build Trust for Your Party
Did you know? Print is actually the most trustworthy form of marketing! In our recent survey, flyers were not only seen as the most informative way of getting a message across (30%) but also the most trustworthy (21%).
That means by choosing print for elections, you're already giving your campaign a huge boost and making your party look a lot more trustworthy.
A lot of this could be to do with the fact that print often facilitates face-to-face conversations in a way that online ads (voted most intrusive form of marketing at 43%) can't. By getting out in your local area and talking to voters about your policies, you're building important relationships that can help you win votes.
If you then hand out a flyer or folded leaflet after your discussion, you're giving them something to refer back to once you leave and information on how to get in touch if they have more questions.
Order Your Print Sooner Rather than Later
Staying ahead of your competitors is crucial when it comes to elections and other political campaigns. That's why you need a political printing service you can trust to delivery high quality print in no time at all.
We strive to offer next day delivery options on the most popular political print options, such as election leaflets and campaign signs. That means you can pip competitors to the post and take the lead when it comes to reaching out to voters in your local constituency.
See our full range of products available with next day delivery here.
Create Memorable Election Print Marketing
Once you've planned out what political campaign printing products you're going to be using, it's time to focus on how you're going to make them stand out in the voters' minds. For this, we asked our print experts in our in-house Studio team to give us their best tips.
3 top tips for engaging election print from our print experts:
Repetition
When you receive your ballot paper, there's always at least one person standing who you haven't heard of – and even more commonly, you don't know what they stand for. If you want avoid this fate, make sure you get your message across again and again. A political leaflet posted once is never going to be as effective as one that's posted two or three times over the course of a month or two.
Get Feedback
Meeting people and listening to their concerns is just par for the course for politicians, especially in the run up to an election. A great way to do this and save time (a win-win by all accounts) is to use your print to direct people online, whether that's to fill out a feedback form, register their support or download your full manifesto.
Make it Easy to Get in Touch
When it comes to politics, everyone's got an opinion. That's why your political prints should always make it as easy as possible for people to get in touch with your party. Remember to list your contact information clearly and invite people to get in touch with any questions or suggestions.
Leading the Way for Environmentally Friendly Election Print
Environmentally friendly print is one of our policies – is it yours? Take action and show that you support environmental causes by using a political printing service that's accountable and you'll never have to worry about a lack of transparency.
As well as recycling 97% of all waste output, every single one of our paper stocks is FSC certified, meaning we support sustainable forestry in the manufacturing of paper. If you would like to use the FSC's 'tick tree' logo to indicate that your print is certified under the FSC system, get in touch with our Personal Artworkers at pa@instantprint.co.uk*.
*Please allow one extra working day for delivery.
Best Practice for Political Campaign Direct Marketing
Wondering how you can get messages to voters in a post-GDPR world? We've looked into the law for political direct marketing so you can get your facts straight and promote your cause worry-free.
How to Contact Voters
If you're a candidate, employee or volunteer working for a political party, you can contact potential voters in different ways as long as you have their consent. These are:
Post personally addressed to you*
Email
Text message
Voicemail
Fax
Phone calls
Automated phone calls
*This method may be used unless your party has been asked not to write to someone or send them marketing materials by post. However, electoral law sets out whether a you have the right send a single election or referendum mailing by Freepost even if you have been asked not to contact them.
For more information on direct mail best practice for political campaigns, please see the full official ICO guidelines here.
%MCEPASTEBIN%