When people first think about a Look Book they automatically assume it's just a book to showcase some pretty photographs of your products to boost sales. However, producing a Look Book for your company can be the perfect tool for raising awareness of your brand. It's ideal for handing out as a marketing material at events, for sending to potential stockists, and as a stylish way to announce new collections throughout the year.
In short, creating a Look Book is all about generating a buzz around your products and getting people excited for what your brand has to offer. Here are a few tips to help get you started on designing your very own:
Target Your Audience
Define who you want your Look Book to be aimed at. Is it for a kid's range of clothing? A jewellery line for young women? Or a range of soaps aimed at the mum-market?
Set the Scene
Think about the style of photograph you want to use and make sure it attracts your target audience. For example, high-end women's workwear will suit professional, glossy shots in a stylish office, whereas you could play around with teenage fashionwear and shoot your photos in a muddy festival field! The important thing to remember is to set your scene and show your audience what your products will look like in real-life (albeit slightly more glam) scenarios.
Give it a Theme
Your Look Book should tell a story and flow nicely when flipped through. You can do this by having a theme. Take a spring theme, for example. You could take your photographs in a barn, a meadow, with an old fashioned car, farm animals etc. They would all have slightly different settings but on a whole, would tie together flawlessly.

Sketch It Out
Once you have both your style and story concepts nailed, sketch out a plan of your Look Book before you take any photographs. It'll help you to think about how many photographs you need for each product and where you might need blank space to overlay a title or some product text.
Less is More
Be selective about the products you want to feature, stick to one product line and do it justice. Too many lines may confuse the reader and stop your story from flowing smoothly.
Keep Your Photos on Point
Your images are the main focus of your Look Book so they have to be top quality. If you're not confident in taking good quality photographs you could always hire a professional photographer. But if you're going to take a crack at it, check out our beginner's guide to product photography.

Throw in Some Props
You might like to add a few props to your photos to help with your story or theme (don't let them distract from the main attraction though!). If you make your own products, it could be a nice idea to style your shots with some of the tools or materials you use dotted about in the background. This gets across the idea that your products are handcrafted as well as looking a bit more "arty". Bonus points as these props won't cost you anything!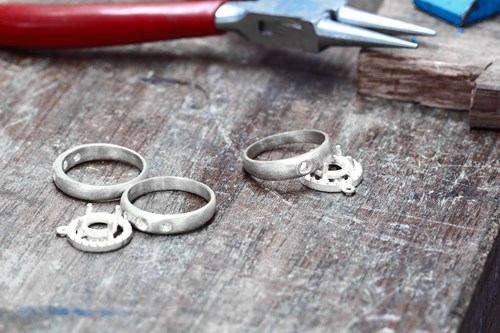 Strength in Design
Keep a consistent design theme throughout your Look Book. Stick to one or two fonts and colours to use throughout that compliment your photographs. Create a style for your headings which might include a couple of extra details like lines or shapes etc. If you have a lot of products to show, you might want to include a contents page; little details like this that have clearly been thought out will add to the style and feel of your Look Book.

Pure and Simple
If you're not a designer, or don't feel confident coming up with a style for the design of your Look Book, there's nothing wrong with using your photographs as full pages. Let your products speak for themselves and keep it simple on the front cover for a chic flair.
The Finer Details
Don't forget to include details of the products featured in the photographs! If you're going for the full page photo effect, these can easily be overlaid on the page.
As well as printing your Look Book, you could upload it to Issuu and share the link for even more exposure. When you're print-ready, check out our range of gorgeous booklets and brochures – they're perfect for platforming your products!