When we began advertising for a marketing executive role to come and join the instantprint team, the last thing we expected was for a candidate to pull their own guerrilla marketing stunt in our car park.
On the 17th January, hiring manager Craig received a received a call to inform him that something strange had happened in the company car park and that he'd better come and take a look.
Even just looking out of the office windows, Craig could see that something strange had indeed gone on as it was evident that someone had been around and left flyers on all of the car windscreens.
Upon closer inspection, he saw that the flyers were loud and bright, featuring a QR code linking to one of the marketing executive candidate's online CVs.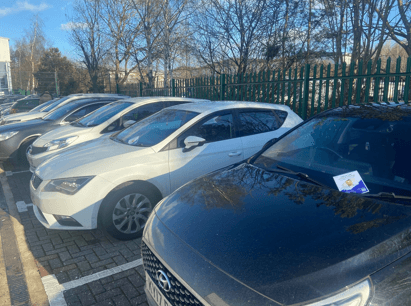 instantprint Gets Flyered!
But who was the culprit behind the car park flyer stunt? None other than 24-year-old Jonathan Swift, a digital assistant who lives locally to our HQ – perfect pranking distance, apparently!
The flyers disclosed Jonathan's contact information and an introduction as well as a QR code linking to an online CV.
When Craig saw what had happened, he knew there was no way this candidate wasn't getting an interview. The ingenious flyer campaign worked, and Jonathan got a call that day inviting him for an interview with instantprint.
We'd had a fair few applicants for the role, but none who had shown such out-of-the-box creativity as this one.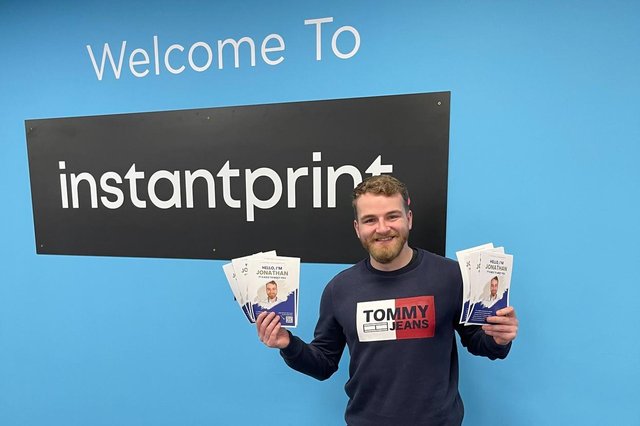 An Inspired Stunt
In his interview, we of course had to ask what had inspired Jonathan to take to the car park with his job application. He told us that he'd been inspired by a previous successful candidate who'd used print to secure a job on the design team a while back.
Back in October 2020, instantprint received a more than unusual application from graphic designer, Lauren, who printed out a life-size version of herself on a roller banner. This was during one of the Covid-19 lockdowns, during which all interviews were taking place virtually. Lauren wanted to give the design team an idea of what it would be like to work with her, so although she couldn't come and meet the team in person during the application process, sending a life-size printout was the next best thing.
With Lauren's permission, we tweeted a picture of the banner, and the hundreds of comments, likes and retweets only confirmed what a #Genius idea this really was.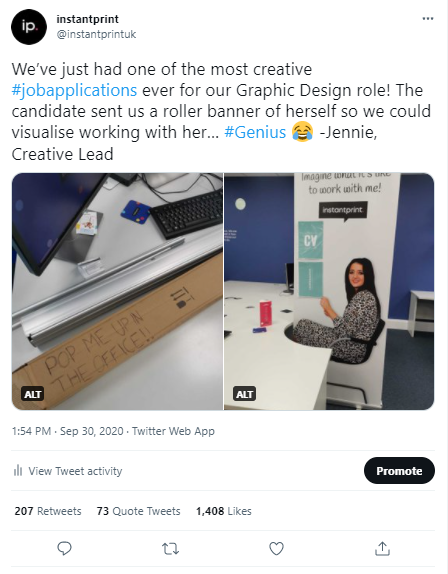 Awed by her creativity, Lauren was invited to an interview and successfully secured the job. Since then, she's moved on to become the team's Senior Graphic Designer, making key decisions for the brand's marketing materials.
Putting his own spin on using print to prove his marketing prowess, Jonathan designed and printed 500 of instantprint's recycled flyers before heading out to the company's car park to make his mark.
You're Flyered!
Jonathan's striking application helped him beat off the competition and we're glad to say that he accepted the role with us following a fantastic interview.
He joined the marketing team on 24th January, joining 'roller banner girl' Lauren and has already made fast progress for improving our marketing processes and coming up with more creative ideas to engage and communicate with our clients.
Craig said of the flyer stunt:
"Jonathan's application did more than grab my attention. It showed that he'd researched the brand, and that he had the right attitude, creativity and sense of humour to fit the team perfectly. I can't wait to see what ideas he brings to the table."