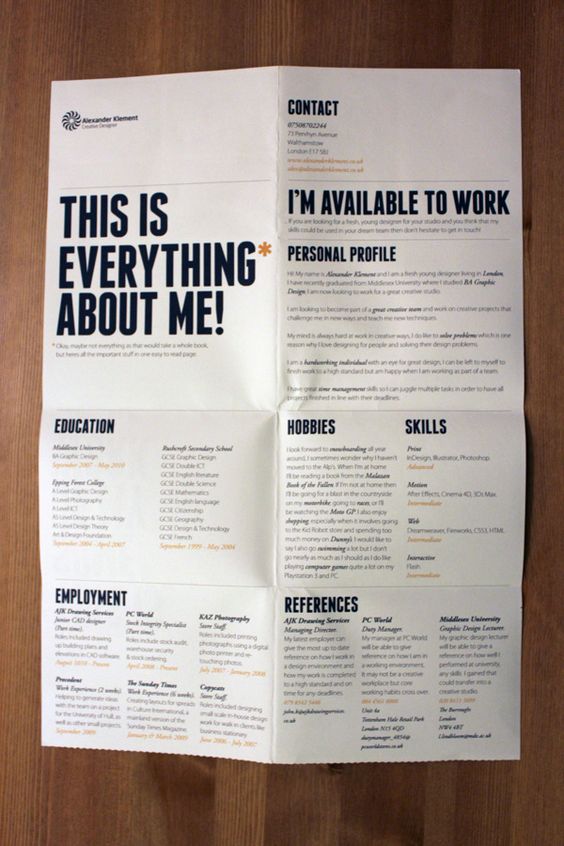 (Pinterest)
1. Send A Poster
Send a paper CV with a little something different to make your application more memorable. Creating a large format CV on a poster is certainly one way of standing out! If you're local to the company, and are feeling bold, you could even put up a couple of copies in the business foyer (with permission!) or hand it over personally to the hiring manager. You're sure to be remembered!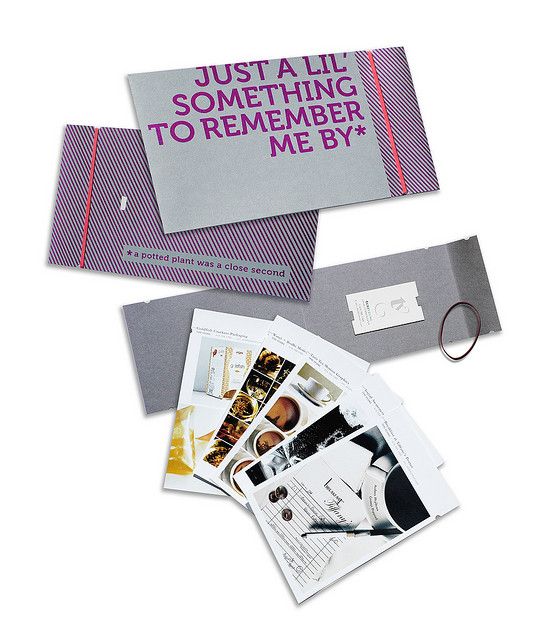 (Teri Yeung - Flickr)
2. Send Out Pitch Packs
Sometimes a standard two-page CV just isn't enough to show off what you can do. Create a presentation pitch pack instead: collate a range of printed materials into a smart presentation folder and send that to the hiring manager instead of your CV.
This approach works particularly well in creative industries, such as for graphic designers, as the range of print media (such as a brochure, flyers, and business card) are a fantastic way to show off your portfolio.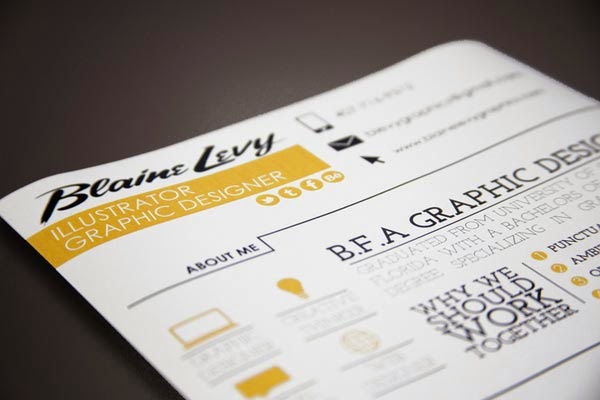 (Blaine Levy)
3. Design An Infographic CV
Even if you're not a designer, an infographic CV is a great way to make your skills stand out! The concept of an infographic is to present key facts that tell a story – in the case of a job application, that is the story of how you got to your current place in life, and the key skills you've picked up along the way that make you perfect for the role!
4. Use A Video URL
Send a business card or postcard for your job application and drive your potential employer online. Show them that you've got the digital skills it takes to survive in this competitive technological age!
A sticker, business card, or flyer that has your basic information and the URL to a video will certainly catch the attention of a potential employer. Your video could be hosted on your portfolio website or a service such as YouTube – it's entirely up to you! Make it short and to-the-point, and your personality will come across far better than any paper CV. Give it a go!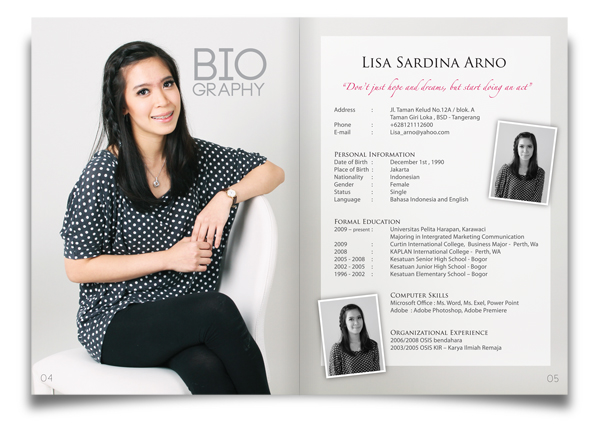 (Thomas Kurniawan)
5. Print A Magazine
Your skills don't need to be listed in a boring sea of bullet points. Make your application visual and engaging by presenting it as a magazine or brochure. Sell yourself and your skills as if you're selling a product (your skills) and a brand (you!).
Present each section of your CV like a magazine article instead of a list, to make your application easy to read, engaging, and fun. For example, instead of listing your education, create an article called "The Knowledge Journey" and pick out some important projects that you've covered at school which are relevant to your job application. If, for example, you earned a qualification in web coding, you could write this in a pull-out quote style that says: "Top of the class in Java project at My School, 2017".
Why Print Can Make Your Job Application More Appealing
Your job application is your chance to shout about your achievements, so this isn't the time to be humble! Be as creative as possible to make potential employers sit up and pay attention to your job application.
Sending a bog-standard CV might be the way companies want you to apply, but if you want to show them that you've got a creative mind that's a cut above the rest, try using one of the tactics above and you're guaranteed to be noticed by innovative employers (and that's the type you want to work for!).