At instantprint we want to make creating print products as simple as possible. You may have heard the terms bleed, safe zone, CMYK, dpi before but not really understood how they effect your print.
These all have to be considered before embarking on your design journey. Fortunately for instantprint customers we have a service that helps makes this process simple, it's our amazing Design Online Tool. You can move text and images around the screen using our intuitive interface. To help you get started we've created a quick mini-guide which illustrates the four steps to creating your very own flyer in a matter of minutes.
Step 1: Backgrounds
Before you begin, decide on your background. Do you want to keep it clean and leave it vanilla white? Our system allows you to pick a colour to help reflect your brand, product or service. Try using reds and oranges if you want to create urgency.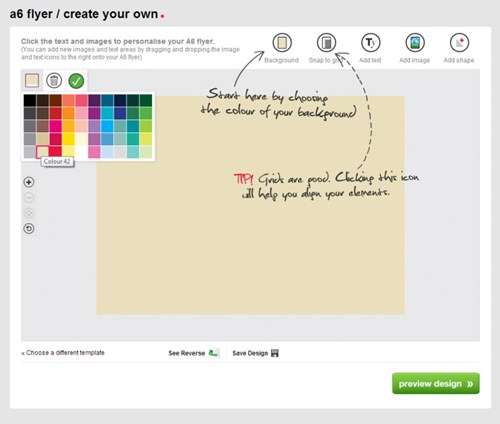 Step 2: Add Shapes
With the shapes tool you can insert squares, circles, triangles or even stars. These elements are useful for drawing attention to a particular area on your design. Try adding a red circle with white text over the top this is ideal for sales tags or highlighting sale prices.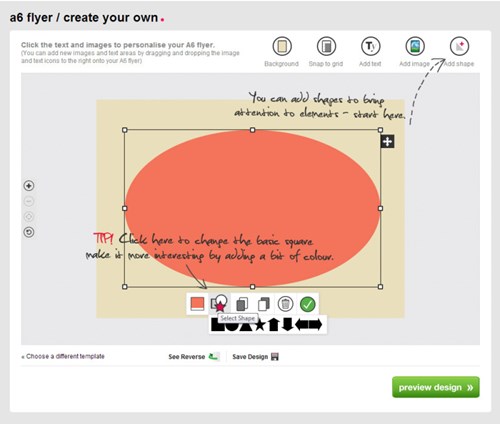 Step 3: Add Images
They say a picture is worth a thousand words and the right image could make design look even better. For example if you're selling cakes, let people know what they look like. The extra desire it stirs could leave your customers wanting more.
Step 4: Add Text
The next stage involves adding your text. Tell people what you want them to know and keep the message clear and concise. Try to use a typeface and colour that accents the design or message but be cautious of the size and make sure it's easy to read.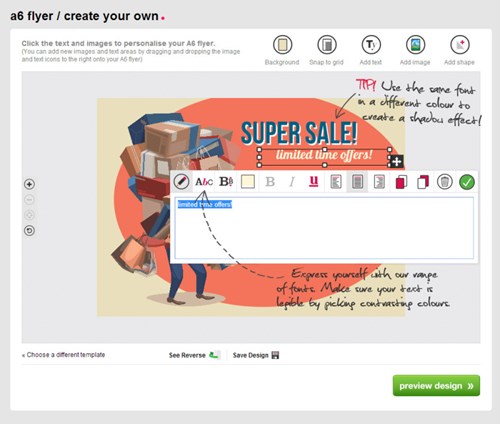 You're Done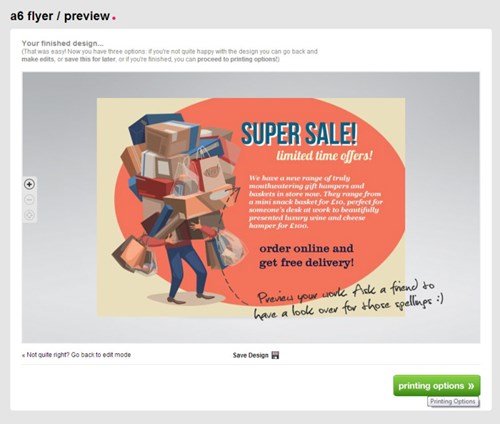 Once you've finished your flyer be sure to save and preview it. We recommend having a read over it and making sure there's no spelling mistakes (check both sides if you've used both). Choose your printing options (quantity and weight) then add to basket. Job done.
If you don't know where to start? Don't worry our designers have been busy creating you a plethora of eye-catching designs which you can use as a starting point. These designs are totally free and in just a few clicks of the mouse, you can have a professional looking design winging it's way to you.